100 Footballers In The World 2018 (Nos. 10-1)
There are many footballers in the world. We've compiled a list of some of them.
To coincide with The Guardian's excellent list of the 100 best male footballers in the world — compiled by a panel of 225 experts from 69 nations — we here at The18 have compiled our own list over the last couple years. There are no experts involved, there's no rhyme or reason for anything, but we do hope you'll join us on this adventure into the bowels of the beautiful game.
The18's 100 Footballers In The World: 2017
The18's 100 Footballers In The World: 2016
Today, we unveil our final 10 names on the list. Buckle up. (Scroll down for today's entries.)
100 Footballers In The World 2018: 100-71
#100: Tesapara (Club Sporting 2 de Mayo | Paraguay)
We begin our list with a dog, because we want to give you a good sense of how this'll go. We have reservations about making Tesapara No. 100 — there's a general agreement that the dog who became assistant manager of Paraguay's Club Sporting 2 de Mayo after being fed an empanada should be 99 spots higher on this list. 
RT
Si queres ver al Gallo Norteño junto a Tesapará en Primera División. #VamosGallo #JuntosPodemos pic.twitter.com/HkNCiyVfY5
#99. Artem Dzyuba (Zenit | Russia)
The 6-5 brick shithouse of a man became a national icon after his performances leading the line for Russia at the World Cup, scoring three goals. We often think of black grizzly bears when we think of Russia, and Dzyuba embodied that raw power out on the pitch.
Moment of the Day

When Artem Dzyuba netted

@TeamRussia

's third against

#EGY

in Saint Petersburg

Highlights https://t.co/LOdKDX2Cwn
TV listings https://t.co/xliHcxWvEO pic.twitter.com/GMbDaxZ8wn

— FIFA World Cup (@FIFAWorldCup) June 19, 2018
#98. Landon Donovan (Leon | USMNT)
The American legend came out of retirement in 2018 and absolutely redefined excellence and the sporting landscape of Mexico's Liga MX. His stats from Leon are hugely impressive: six appearances for a total of 112 minutes, zero goals, zero assists, one brawl and a paycheck of $185,000 per month.
#97. Herve Renard (Morocco)
Coming in ahead of Donovan on the strength of his hair is French dreamboat manager Herve Renard. Renard was the hunk on the touchline for Morocco at the World Cup, and although it was his side that got the shaft in Russia, a lot of people wouldn't mind his *redacted*
#96. Ballou Tabla (Barcelona | Canada)
The 19-year-old Canadian international completed his rise from the Montreal Impact youth team to training alongside Lionel Messi at Barcelona in 2018. He's currently doing work for the reserve team, and Canada's 2026 World Cup chances rest on the shoulders of him and …
#95. Alphonso Davies (Bayern Munich | Canada)
See what we did there? The 18-year-old Davies is the other great hope of the Canucks, and we can't wait to see him do his thing in Bavaria.  
.@AlphonsoDavies with the finish pic.twitter.com/sPig7LvejA
#94. Yenith Bailey (Panama women's national team)
Seventeen-year-old Panama goalkeeper Yenith Bailey captured the hearts and minds of viewers everywhere when facing 17 shots from the USWNT during the CONCACAF Women's Championship. Although she conceded five goals in the game, she pulled off 12 saves, including a string of improbable stops on a woman more than twice her age, one Carli Lloyd. 
#93. Freddy Adu (Las Vegas Lights | USMNT)
The 29-year-old phenom made a triumphant return to football in 2018 with Las Vegas in the USL. He scored one goal and added one assist in 14 appearances, and his movie review page on The18.com continues to be much better than Rotten Tomatoes.
#92. Neymar (PSG | Brazil)
We saw Neymar cry this year; we watched him as he rolled; we still know he's poetry in motion. 
Avec le ralenti pic.twitter.com/dFFxoGSWaT
#91. Kylian Mbappe (PSG | France)
Mbappe cracks the top 100 (and he's ahead of Neymar, tehe) this year because he really helped our SEO game in 2018. How fast is Kylian Mbappe? Why don't you Google it and FIND OUT.
#90. Ellll Chucky Lozano (PSV | Mexico)
Mexico don't play pic.twitter.com/yTrKIKBCBo
#89. Bobby Boswell (Goodnight, sweet prince)
The 2006 MLS Defender of the Year and holder of three caps for the USMNT retired in 2018. Your memory lives on at The18, Bobby.
#88. Ronaldinho (Banned from Barcelona Legends)
It wasn't a great year for Ronaldinho with regards to politics and his bank account, but who cares when you deify athletes! The buck-toothed freak can still serve up a flick or two.
Ronaldinho doing @10Ronaldinho things... pic.twitter.com/C8Z6b06CYt
#87. Diego Maradona (Wherever all the wine is)
Maradona's stint in charge of Ascenso MX side Dorados was better than anything else in 2018. He answered his phone during games, mumbled his way through interviews, chugged Red Bull to stay awake on the touchline, earned a ban for the final by threatening to punch the other coach, was spotted drinking beer during said final and then fought with fans after losing said final. 
Diego Maradona with one of the greatest post-match interviews ever. pic.twitter.com/GjwjdyTXOq
#86. Romelu Lukaku (Manchester United | Belgium)
It began during the World Cup third place playoff ...
WHAT KIND OF TOUCH IS THAT FROM LUKAKU AFTER GETTING A PERFECT PASS????!!!! AWFUL. DISEASE. pic.twitter.com/nYAYR5XYGZ
And it's continued to this day ...
First of all mans first touch is compromised of FOUR touches, which almost take the ball out of play with no pressure from the opponent. Then, unprovoked, he makes the most deluxe of passes to the opponent.... Lukaku is the gift that just keeps giving pic.twitter.com/yI67jxdQzo
#85. Harry Kane (Tottenham | England)
He edged Lukaku to the Golden Boot, and Kane edges him here. BUT ...
#MundialTelemundo ¿Pero cómo falló eso? @HKane deja ir el segundo gol de #ENG pic.twitter.com/qQLeyzVh6q
#84. Jonathan Gonzalez (Monterrey | Mexico)
In the year of "How Do We Fix U.S. Soccer?", one word to the wise was the story of Jonathan Gonzalez. The California kid's switch from the U.S. to El Tri still hurts.
#83. Paul Aguilar (Club America | Mexico)
The best goal celebration of the year.
: América se impuso a Toluca por 3 a 2, en el juego de vuelta de cuartos de final del torneo apertura 2018. Roger Martínez, Bruno Valdez y Pablo Aguilar le dieron tres goles de ventaja a las Águilas; sin embrago, Rubens Sambueza William descontaron por los Diablos Rojos. pic.twitter.com/cRJ59vCNo1
#82. Catarina Macario (Stanford women's soccer)
Excuse us while we pick our jaws up off the floor.

— Stanford Athletics (@GoStanford) October 28, 2018
#81. Francisco "Kikin" Fonseca (Living large)
#80. Efrain Alvarez (LA Galaxy | Mexico)
He only turned 16 this year, but we're hoping that Alvarez makes the step from LA Galaxy II in the USL (12 goals and three assists in 17 games) to the senior side in MLS come 2019.
He's 15 YEARS OLD. Efrain Alvarez scores two (more) bangers for @LAGalaxyII, good for six goals in his last three @USL matches. pic.twitter.com/lo0REICEvN
#79. Hatem Ben Arfa (Rennes | France)
The feel-good story of 2018: Ben Arfa made $12.3 million without playing a game for PSG last season, and now he's back to scoring bangers with Rennes.
#78. Josh Sargent (Werder Bremen | USMNT)
Two goals in his first six USMNT caps? We haven't seen this sort of impact since the Grown Ass Man back in 2004.
Moving up the ranks!

— U.S. Soccer MNT (@ussoccer_mnt) October 17, 2018
#77. Brent Kallman (Minnesota United)
There's so much to like about Brent Kallman. He graduated from Woodbury High School in Minnesota, and he's been with Minnesota United since the club's NASL days. The boy's all heart.
Leave it all on the pitch, Brent #CINvMIN | 0-0 | @BMKhaveiturway pic.twitter.com/MdyuYTwbHK
What's more, the club pays him in peanuts, so it was a pretty awesome story when he nearly doubled his salary by taking home $62,111 at a poker tournament in November.
#76. Marouane Fellaini (Manchester United | Belgium)
2018 was the year of the Fellaini. His ability to be a weeping willow demoted Paul Pogba to the bench, and then he nearly killed a man.
Fellaini nearly killed a paramedic pic.twitter.com/8uS3Gu6hhx
#75. Nigeria Home Kit (Nigeria)
#74. Vagina Stadium in Qatar
The Al Wakrah Stadium is coming along nicely for the 2022 World Cup, and thankfully, it's going exactly according to plan.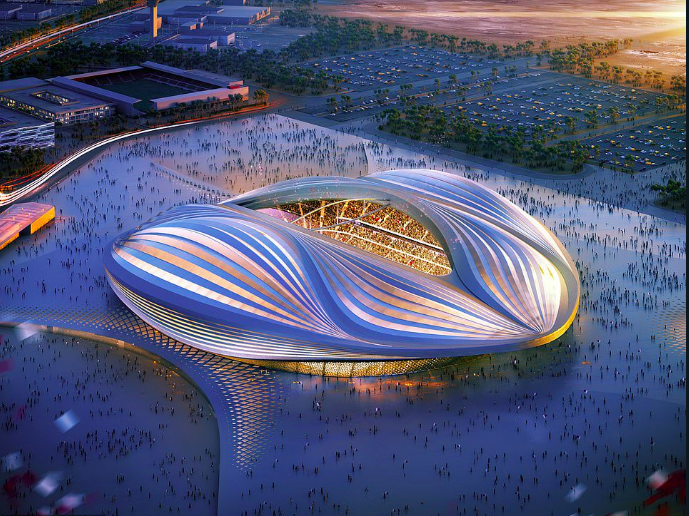 #73. Andres Iniesta (Vissel Kobe | Spain)
Iniesta has joined Hulk in providing us with weekly bangers from the Far East. It's much appreciated.
He's only gone and done it AGAIN!

— Goal (@goal) August 15, 2018
#72. Andre Villas-Boas (Off-roading)
AVB is the only member of our list who actually does motorsports, but what do you expect from the man with the greatest life of any human on the planet?
#71. Eder (Lokomotiv Moscow | Portugal)
Eder is slowly falling on our list, but he's still got a few years left thanks to this banger.
100 Footballers In The World 2018: 70-41
#70. Loris Karius #69. Sergio Ramos
#68. Ousmane Dembele (Barcelona | France)
A hero of our time: plays video games all night, never sets an alarm, misses training, scores clutch bangers. Repeats the cycle all year.
#67. Rapid Man (Colorado Rapids)
#66. Dario Benedetto (Boca Juniors | Argentina)
#65. DaMarcus Beasley (Free Agent FC)
With the Dynamo trailing the Sounders 4-0 in the 87th minute of an October MLS game, the 36-year-old full back marauded forward and made the score 4-1. Whenever the ESPYs are, this is sure to win.
#64. FIFA 10 Wayne Rooney
#63. Matt Miazga   #62. Diego Lainez
#61. "The Next Messi"
It was a huge year for The Next Messi. The dude was everywhere, showing so much potential and promise. He's going to be "The Next Messi" for sure.
#60. Karamoko Dembele (Celtic | Scotland)
We don't know where he's gone since 2016, but we suspect that he's improved some.
#59. Sambu (Club Leon)
Tan contentos estamos con el nacimiento de los tres leones en el @zooleon, que uno de ellos está en casa. Aquí se los presentamos: pic.twitter.com/npZ5qZ83Jo
#58. DJ Martin Solveig (Ballon d'Or Ceremony)
#57. Backflip Penalty Guy (Rubin Kazan)
#56. Michael Oliver's Garbage Bin Heart (Anti-Juventus)
#55. Croatian Firefighters (Gainfully Employed)
#54. Erin Cuthbert (Chelsea | Scotland women's national team)
The tekkers. @erincuthbert_

— Kitbag (@KitbagUK) December 9, 2018
#53. This Heineken Champions League Ad
#52. Adebayo Akinfenwa (Wycombe Wanderers) 
The strongest player in FIFA 19, and the 36-year-old scored 17 goals in 42 appearances in League Two last season. 
#51. Lionel Messi Lookalike (Not Employed We Imagine)
#50. Lieke Martens (Barcelona | Netherlands)
Lieke Martens ladies and gents pic.twitter.com/7bkkyBsyxX
#49. Mario Balotelli (Nice | Italy)
After getting his career back on track in France and earning a recall to the national team, the 28-year-old has scored zero this campaign in 10 appearances while manager Patrick Vieira recently revealed how he wants to fight him. Nothing to see here.
He hasn't looked very happy at #mufc, but there was a time when Jose Mourinho smiled a lot and told funny stories.

Here is the then Real Madrid manager talking about what it was like manage Mario Balotelli when they worked together at Inter Milan.

— foomarketer (@foomarketer) December 19, 2018
#48. Phil Jones (Manchester United | England)
#47. Rodrigo Palacio (Bologna | Argentina)
#46. Peter Crouch (Stoke | England)
The guy wrote a book that has a 4.28 rating on Goodreads after 352 reviews. The 37-year-old also managed five goals in the Premier League last season. He's a real renaissance man. 
#45. Douglas Costa (Juventus | Brazil) 
Entered as a sub for the ineffective Gabriel Jesus against Belgium in the 58th minute. His half hour on the field was insane, and it almost sent Brazil through to the semis.
#44. Michael Bradley (Toronto FC | USMNT) 
If 2017 was great for Toronto, it's really worth noting how bad 2018 was: TFC suffered a drop-off of 33 points. Bradley had zero goals and two assists in 32 appearances, and the nine games he spent playing center back really shouldn't be spoken of. 
#43. Ricardo Quaresma (Besiktas | Portugal)
#MundialTelemundo ¡Así lo narró @sadovnik1965 ! Un poema de gol nos regaló @07RQuaresma quien definió de 3 dedos para darle el triunfo de #POR sobre #IRN. Síguelo EN VIVO por @Telemundo pic.twitter.com/8ycB0fu4tn
#42. Fan Favorite Andre Gomes (Everton But Loved In Barcelona | Portugal) 
#41. Joe Hart (Burnley | England) 
Although getting Panenka'd by Andrea Pirlo is the better highlight, Hart vs. Paul Pogba's walk-up is a good one too.
100 Footballers In The World: 40-11
#40. Ante Rebić (Eintracht Frankfurt | Croatia)
The ultimate mad lad of 2018. No one knew him before the World Cup, but he's all any one thinks of after.
Can't blame this one on Messi. Woof, Willy Cabellero–and a heck of a hit by Ante Rebic #ARGCRO (via @FoxSoccer) pic.twitter.com/wgEs9GJUzK
#39. Kerlon (Half Man Half Seal)
The Brazilian phenom is now 30, and he's been retired since October of 2017, so he's slipping down our list some, but not that much. 
#38. Zack Steffen (Manchester City | USMNT) 
He brought Manchester United legend Wayne Rooney's first season in MLS to an abrupt end in the playoffs, and then he promptly transferred to Manchester City. Already a Citizen legend, really. Also, his mind was shaped and molded by Gregg Berhalter, so he's a soccer genius. 
Cool moment for Zack Steffen, saving a Rooney PK. pic.twitter.com/7mAky8Fj4p
#37. Wolf Nine Carroll (Signed By Quest Records | Released From The Label)
Andy Carroll's baby boy is the future of the target man position. He also has, potentially, the greatest terrace chant of all-time. 
#36. Cristiano Ronaldo (Juventus | Portugal)
Not the Brazilian Ronaldo, the other Ronaldo, but not Ronald Reagan either.
Cristiano Ronaldo's third (hat-trick) goal against Spain in #FIFAworldcup2018 with Malayalam commentary. ENJOY! pic.twitter.com/JvUYXVLaqO
#35. Cristiano Ronaldo Jr. (Juventus) 
Now the Junior one.
Cristiano Jr. is no joke pic.twitter.com/L0JldWylq9
#34. Thiago Messi (Barcelona)
The six-year-old's drawing skills are improving.
Thiago Messi and Benjamin Suarez showing Messi their drawings in the middle of the match yesterday pic.twitter.com/vb9uqxlJju
#33. Riccardo Orsolini (Bologna | Italy) 
We are watching. We are waiting. 
Ascoli's Riccardo Orsolini - Special Ability: Dribbler. Amazing skill! pic.twitter.com/VQWCmOA326
#32. Ricardo Ferrino (Las Vegas Lights)
Some people say Manuel Neuer is the world's best sweeper keeper, but all of those people have never seen Ferrino play ball.
#31. Luka Modric (Real Madrid | Croatia) 
Only three goals for Real Madrid and two for Croatia, so not a great year. 
#30. Crystal Dunn (North Carolina | USWNT)
The 26-year-old scored eight goals and added seven assists in 24 games for the NWSL's best-ever team, but she continues to be jettisoned to left back for the USWNT. We don't really get it either.
Crystal Dunn just killed a woman. pic.twitter.com/DxflOvoU6a
#29. Giovani dos Santos (LA Galaxy | Mexico)
Another player who's been slowly falling since one moment from many years ago, but woof. What a moment.
But probably not worth $6.5 million per season.
Giovani Dos Santos legendary goal vs USA at the Copa de Oro 2011 final.

— Football Great Goals (@footygreatgoals) December 8, 2018
#28. Alexandre Pato (Tianjin Quanjian | Brazil) 
Did you know he still isn't 30? Did you know he's still scoring wonder goals out in China?
#27. Bastian Schweinsteiger (Chicago Fire | Chicago Fire World Cup Team)
He's now appeared in a total of 60 matches for the Fire, although his 2018 season certainly got a lot less coverage than 2017 (because Chicago was terrible). But the 34-year-old might charge back up this list in 2019 …
Happy to announce I'll be returning to the @ChicagoFire the 2019 Season #cf97 pic.twitter.com/0nWIE7afux
#26. Sam Kerr (Chicago Red Stars | Australia) 
Ok FIFA, enoughs enough... https://t.co/lOHV8QmeE4
#25. Edinson Cavani (PSG | Uruguay)
"I am a footballing worker — I am not a star."
"A divine strike from Edinson Cavani!"

— FOX Soccer (@FOXSoccer) July 1, 2018
#24. Toni Kroos (Real Madrid | Germany)
Minute 95 goal by Kroos, Germany versus Sweden pic.twitter.com/SkOfYTaqMD
#23. Diego Godin (Atletico Madrid | Uruguay) 
We're a bit sad we didn't get Uruguay vs. Argentina at the World Cup to once and for all decide the winner of that fantastic Gatorade ad, but we can still cherish these Godin vs. Messi moments forever and ever.
Messi ve Godin... pic.twitter.com/h4CqptQ7AP
The moment Diego Godin sent back Lionel Messi from field to home in a second. pic.twitter.com/ECqgmPP3fz
#22. Dries Mertens (Napoli | Belgium) 
HAVE SOME PANAMA!!!! The most overkill goal of all-time, but a beauty.
Dries Mertens vs Panama pic.twitter.com/ivzHLR9qyd
#21. Bernardo Silva (Manchester City | Portugal) 
The Amazon fish-frog man bloometh.
Can you imagine being as good at anything as Bernardo Silva is at close control pic.twitter.com/ubgVnk6NU5
"HOWS YOUR TOUCH?????"

— Jake (@Everything_City) February 13, 2018
#20. Denis Cheryshev (Valencia | Russia) 
And to think our humble little media company got to interview the Russian godhead a few months before the World Cup ...
Happy birthday Denis @Cheryshev!

— FIFA World Cup (@FIFAWorldCup) December 26, 2018
#19. 2019 MLS SuperDraft No. 1 Pick (FC Cincinnati) 
Probably better than 2017's Abu Danladi and 2018's João Moutinho, but worse than 2015's Cyle Larin and 2016's Jack Harrison. 
#18. Benjamin Pavard (Stuttgart | France)
PAVAAAAAAAAAAAAA!!!!!!
French commentators' reaction to Pavard's goal is priceless.#FRA #FRAARG #WorldCup pic.twitter.com/JCFx1uoE6C
#17. Marco Reus (Borussia Dortmund | Germany)
Holy shit he made it to the winter break without getting hurt!
Marco Reus. More than just raw talent

— Bundesliga English (@Bundesliga_EN) October 13, 2018
#16. Isco (Real Madrid | Spain)  
They don't love him like they used to at the Bernabeu, but those people never know what they've got until it's gone.
Isco rescuing a small bird pic.twitter.com/z9x9fCn0wa
#15. Lucas Torreira (Arsenal | Uruguay)
He's much loved at The18.
وحششششش ياتوريرا pic.twitter.com/5ceMx1SfOf
#14. Alisson (Liverpool | Brazil)
Maybe not as handsome as Loris Karius, which could come back to haunt Liverpool.
#13. These Three People (Chernobyl United) 
As it is #Halloween, I feel obligated to tweet the scariest soccer photo you will ever see @the18com pic.twitter.com/rbhsaLmUB5
#12. The Boiler (West Brom)
Apparently West Brom's new mascot is a boiler

The Bolton fans' reaction was more than fair...

( @MikeyGregory)#WBA#BWFC pic.twitter.com/iNsyQ9iBEq

— The Sportsman (@TheSportsman) August 4, 2018
#11. Viktor Claesson (Krasnodar | Sweden) 
The most overlooked assist of the World Cup belongs to Viktor Claesson pic.twitter.com/orJFJ91ryz
100 Footballers In The World 2018: 10-1
#10. Fabio Quagliarella (Sampdoria)
September 2018
December 2018
#9. Christian Pulisic (Borussia Dortmund | USMNT)
Goddamn you, Jadon Sancho.
#8. Jadon Sancho (Borussia Dortmund | England)
NOOOOOOOOOO! *see above* 
#7. Gareth Walker | (Your Despised Rival)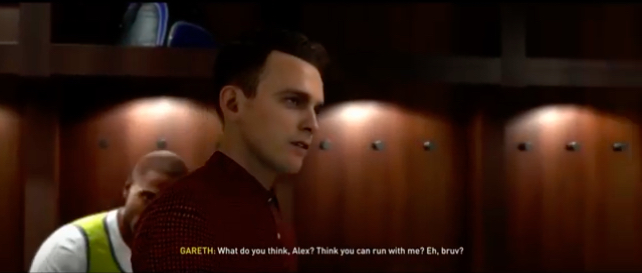 #6. Sam Klomhaus (The Mountain Mail | Behind A Paywall) 
#5. Lionel Messi (Barcelona | Argentina)
You can't argue with the Ballon d'Or, y'all. 
LIONEL MESSI Goal - Nigeria v Argentina
2018 FIFA world cup pic.twitter.com/sfZPWEaR96
#4. Steve Nash (The Voice Of The Champions League)
No one in America knows soccer like the two-time NBA MVP, and his fandom for Tottenham really shines through during do-or-die moments on matchday six of the Champions League. 
#3. James Milner (Liverpool) 
.@JamesMilner putting it on a plate for the Reds.

— Liverpool FC (@LFC) September 10, 2018
James Milner: Most ever assists in one Champions League season pic.twitter.com/dcrt3GxgG2
#2. This Guy (Mexico)
#MundialTelemundo ¡Se acabó el sueño! La afición de #MEX inconsolable tras la derrota ante #BRA pic.twitter.com/uvEalIH8gT
#1. Gourav Mukhi (Jamshedpur FC | Super Sweet 16)
Back in October, this dashing young man became the Indian Super League's youngest-ever goalscorer when netting against Tim Cahill's Bengaluru at the tender age of 16. Unfortunately, he's since been suspended for six months because it turns out he's 28. 
You should never cheat to gain an advantage, except when it's this boldfaced.
Like, if you're going to participate in the Olympic 400 meter dash but show up driving a Ferrari with a top hat on the roof and a spectacles-mustache disguise on the windshield, then that should be allowed — it's up to the rule makers to stop it before the race begins.
That, in essence, is what Mukhi pulled off for a little while, and that should be commended.