The 21st edition of the World Cup kicks off in Moscow on June 14. It's the most popular tournament for the world's most popular game. But do you actually know how the World Cup works?
The World Cup has had dozens of different formats since its inception in 1930. Since the World Cup expanded from 24 to 32 teams ahead of the 1998 edition, the tournament has finally found a system it likes. FIFA has stuck with the same format of eight groups of four turning into a 16-team knockout playoff for six tournaments now, including Russia 2018. 
But how the World Cup works isn't simple. From qualification, team selections, group format, yellow card accumulation and extra time, there's a lot to digest.
Fortunately, we've compiled a World Cup 2018 Guide For Dummies just for you, our favorite dummy reader. 
How The World Cup Works
Qualification
While Russia qualified automatically as host, the remaining 209 members of FIFA played 868 matches, scoring 2,454 goals, to determine the other 31 teams. The first qualifying match was played between East Timorese and Mongolia on March 12, 2015. The final qualifying match was played on Nov. 15, 2017, between Peru and New Zealand. 
Each nation qualified through its respective confederation (Africa, Asia, Europe, Oceania, South America and North, Central America and Caribbean). Concacaf had the most qualifying rounds with five; UEFA had the fewest with two. There were two intercontinental playoffs: Oceania vs. South America and Concacaf vs. Asia. More details can be found here. 
The World Cup team distribution ended up as follows:
Asia — 5 (including Australia)
Africa — 5
Concacaf — 3
South American — 5
Europe — 14
Oceania — 0
World Cup Draw
After the 32 teams were decided, a draw to determine eight groups of four was held in Moscow on Dec. 1, 2017. Nations were seeded by FIFA rankings into four pots, with the top seven teams and Russia in Pot 1, the next best eight in Pot 2, and so on. This was the first tournament in which seeding was done entirely by FIFA ranking, instead of by geographic considerations as was done in the past. 
Rules stipulated no group could have more than one team from each continent with the exception of Europe because of the number of teams from UEFA. We ended up with these groups.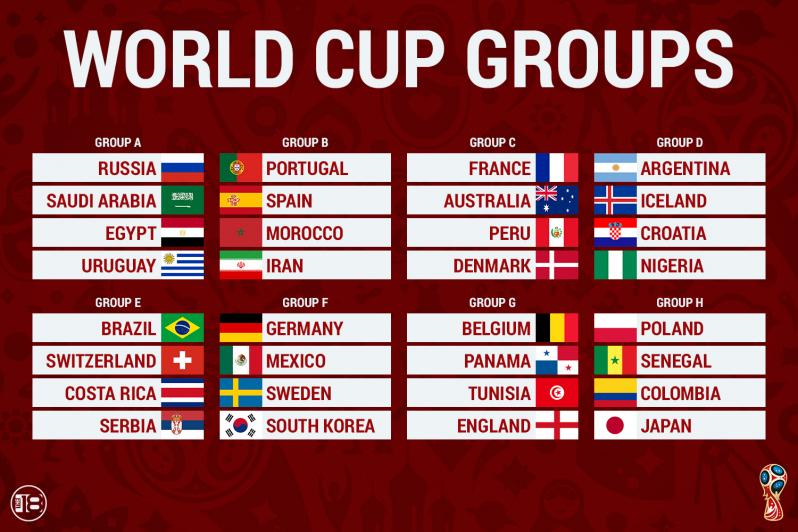 World Cup Group Stage Format
The tournament begins with eight groups of four teams. Each group plays a round-robin schedule, with no extra time played. Teams earn three points for a win, one point for a draw and no points for a loss and the top two teams in each group advance to a 16-team knockout stage. 
The final matches for each group are played simultaneously to prevent any team from gaining an advantage by knowing exactly what's at stake ahead of time. 
Tie-breakers, if necessary, will be as follows: 1) points obtained, 2) goal difference, 3) number of goals scored. If two or more teams are tied after those rankings, the following tie-breakers come into play: 4) points obtained in matches between teams concerned, 5) goal difference in matches between teams concerned, 6) number of goals scored in matches between teams concerned, 7) fair play points (earned by receiving yellow and red cards), 8) drawing of lots. 
World Cup Knockout Stage Format
After the group stage, 16 teams are placed into a bracket where the tournament becomes single elimination. The Round of 16 pits group winners against group runners-up. Winner moves on; loser goes home. 
Because these are one-off matches with no replays, a tied match after 90 minutes goes to extra time, with two 15-minute halves. After that, a penalty-kick shootout is played to determine who advances. (Side note: The winner of the shootout does not actually win the match in the record books, nor does the loser mark down a loss; both receive ties but the winner moves on.) For the first time in this tournament, a fourth substitution will be allowed in extra time.
The losers of the semifinals are the only ones who continue playing in the knockout rounds, with a third-place playoff played the day before the final. The World Cup final is scheduled for July 15 in Moscow.
How Many Players Are Allowed On A Team?
While 11 players are allowed on the pitch at one time, each nation is allowed to bring 23 players to the tournament, three of which must be goalkeepers. These players can be changed up to 24 hours before the team's first match in case of injury, but are typically decided in the month before the tournament. 
Prize Money
The World Cup has a $400 million prize pool, a $42 million increase from the 2014 World Cup. About 10 percent of the World Cup prize money will go to the champion. The full prize allotment is as follows: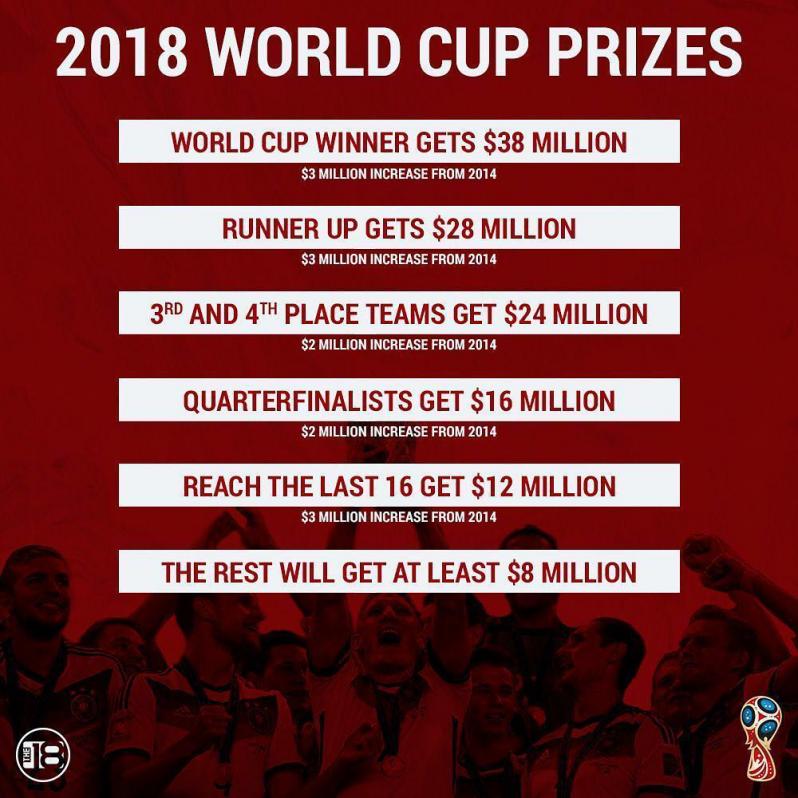 Champion: $38 million
Runner-up: $28 million
Third Place: $24 million
Fourth Place: $22 million
Quarterfinalists (fifth to eighth place): $16 million
Round of 16 (ninth to 16th place): $12 million
Group Stage (17th to 32nd place): $8 million
Broadcasting And Streaming
The U.S rights to the 2018 World Cup are held by Fox (English) and Telemundo (Spanish). 
Fox will broadcast 38 of the 64 matches on FOX, with the remainder on FS1. Telemundo will broadcast 56 matches while it will show the remaining eight (the simultaneous kickoffs) on Universo. 
Both broadcasters will offer online streaming through their normal avenues with an appropriate cable subscription. 
A full TV schedule can be found here. 
World Cup Venues
World Cup matches will be played in 12 stadiums spread across 11 cities (two stadiums are in Moscow). A complete list and photos of the World Cup stadiums can be found here. 
The largest stadium is Moscow's Luzhniki Stadium, which holds 81,000. The smallest is Kaliningrad Stadium, which holds 35,212. Four of the venues rank in the top 15 most expensive World Cup stadiums. 
Referees
FIFA selected 36 referees and 63 assistant referees representing each of the FIFA confederations. Six head referees were chosen from each of the Asia, Africa and Concacaf federations, two from Oceania and 10 from Europe. The U.S. is the only country represented by two head referees (but no soccer team).
In addition, VAR will be used at the World Cup, which means Luddites around the world will be angry. In all, 13 video assistant referees will be at the World Cup.
When Do Yellow Cards Clear In The World Cup?
Players are suspended for accruing two yellow cards throughout the tournament. However, to prevent players from being suspended for the final, FIFA wipes out yellow cards ahead of the semifinals. 
How The World Cup Works For Dummies
With the basics out of the way, here are some answers to some more questions on how the World Cup works that will no doubt be asked by viewers at some point this summer.
Why Does The Clock Count Up In Soccer?
Because it's cooler that way. But more seriously, it's because of added/stoppage time. 
A match is slated 90 minutes. But because the referee never stops the clock during a match for things such as injuries, substitutions, goals and the ball being out of play, the referees add time at the end of the first and second halves. This is typically between one to five minutes, but can go into double digits if necessary, as can happen when there is a serious injury. 
Therefore, instead of a countdown clock dipping into the negative numbers, the clock counts up as much as necessary. 
How Many Subs Do Teams Get?
Three substitutions are allowed per match per team. A fourth substitution is allowed in extra time during knockout stage matches. 
What Makes The World Cup So Great?
Soccer is the most popular sport in the world, we should all agree on that. More importantly, the World Cup brings together all the nations of the world into an egalitarian competition where the best team wins. While money helps organize and train teams, the World Cup is all about who has the best players, not who can afford the best players like in club soccer. 
Why Is The World Cup Every Four Years?
There are many reasons the event is only every four years and not every year or every other year. For starters, there are countless qualifying matches, as mentioned above. When the World Cup started in 1930, it was difficult for national teams to traverse the world for a tournament, so it made sense to space the events out. Also, it's a huge undertaking for a country to host a 32-team tournament. 
Read more about why here.
How Much Is The World Cup Trophy Worth?
$20,000,000. Yeah, that's a lot.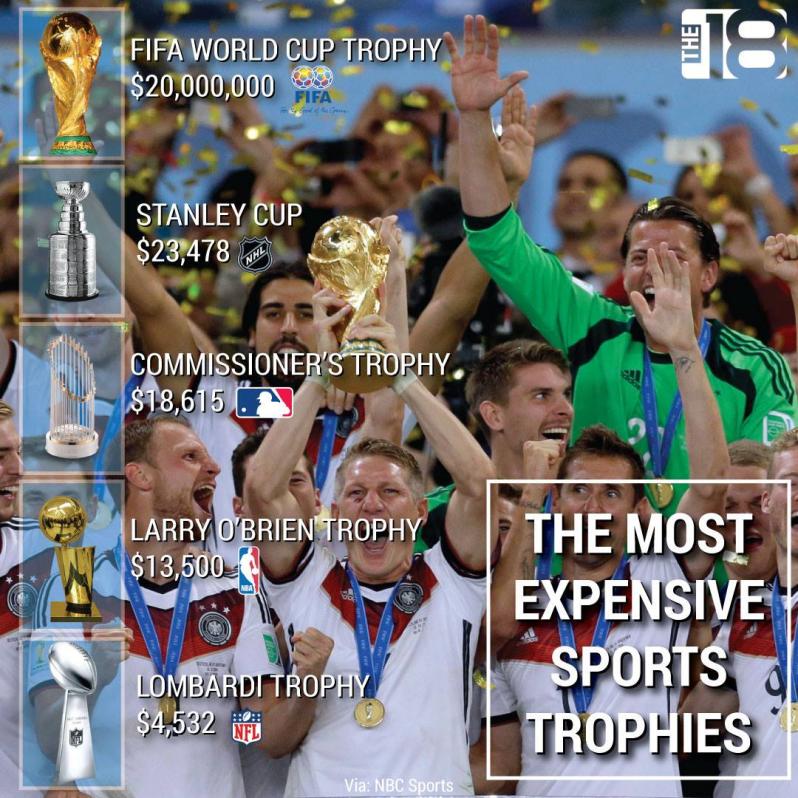 How Do You Get World Cup Tickets?
It's too late for most matches at the 2018 World Cup in Russia, but it's never too late to start planning for 2022 in Qatar (unless FIFA does the humane thing and strips them of the tournament). Read about getting tickets here.
Who Has Won The Most World Cups?
Brazil with five, but Germany and Italy are close behind with four each. Read about each World Cup winner here and who should've won here.
Who Has Scored The Most World Cup Goals?
Miroslav Klose of Germany holds the record with 16 World Cup goals. However, he did it in 24 matches while second-place Ronaldo of Brazil scored 15 in 19 matches. Germany's Gerd Muller had 14 in 13 but France's Just Fontaine may have the most impressive number, scoring 13 in a single World Cup. 
Check out the full list here. 
Who Will Win In 2018?
Look, I ain't no Nostradamus, so when I say it'll be France, you should probably ignore me. But you can read our predictions on the group stage here.
I will go out on a limb and say it won't be the U.S., Netherlands, Italy or Chile. 
What About Lionel Messi?
The magical Argentine better win a World Cup or all the haters who can't appreciate him for all his countless club accomplishments will never shut up. Can he win it all after reaching the final four years ago? Maybe. Read more here. 
Where Is Zlatan Ibrahimovic?
The great Swede retired from international football and will not join the national team at the 2018 tournament despite still playing professionally for the LA Galaxy. He mulled a return, but he'd just mess up the great chemistry Sweden created in qualifying for the tournament without the 36-year-old striker. 
Which Team Should I Support?
Is There An Official Song For The World Cup?
Unfortunately, yes. Jason Derulo's "Colors." It's already annoying us.
What's The Official Match Ball Of The World Cup?
The Adidas Telstar 18 will be the official match ball, an homage to the first Adidas World Cup ball in 1970, which was the iconic, pentagonal black-and-white sphere. And yes, goalkeepers are already complaining about it .
What Will Teams Be Wearing?
Some killer threads from the likes of Nike, Adidas, Puma and more. Check them all out here.
What is Gazprom?
Gazprom is a giant Russian gas company that loves to slather its marketing all over soccer matches, especially those in Europe. Gazprom became an official FIFA partner in 2013 to sponsor FIFA tournaments from 2015-2018, including, of course, the 2018 World Cup in its home nation of Russia. 
What The Hell Is That Mascot Thing?
Oh, it's just a fuzzy wolf named Zabivaka, which means "the one who scores" in Russian. Adorable, isn't it?
How Much Is This Costing Russia?
The Russian government initially earmarked $20 billion for the tournament, but it's actually closer to $12 billion. This included stadium and infrastructure upgrades. 
What Does Vladimir Putin Have To Say About The World Cup?
He wants the Russian national team to try harder. We think the players should listen to him, lest they end up with a bad bout of polonium poisoning. 
And while we're on the subject, it's probably best not to bring up the whole illegal Crimean invasion thing or the fact Putin's Russia actively fights against human rights for groups such as LGBT people; Putin might be reading and send some nasty trolls after us. 
Why Haven't You Posted Any Cat Images In This Article Yet?
Here, are you happy now? I know I am. 
What Is A Nutmeg? What Is A Trivela? What Is A Rabona? What Is A Dummy? What Is That Word They Keep Saying?
Some soccer terms to know:
Nutmeg — Kicking the ball through the opponent's legs.
Trivela — A kick with the outside of the boot, typically with a lot of curl on it.
Rabona — A kick where you swing your leg around the outside of your plant leg.
Dummy — A feint where you pretend to play the ball only to let it roll past you (often through your own legs).
Brace — Scoring two goals in one match.
Hat trick — Scoring three goals in one match.
Caps — A player earns a cap each time he or she represents his or her country in an international match. 
50-50 challenge — When two players go for a loose ball with both having a 50 percent chance of winning possession. 
Hospital ball — A slow pass that allows a defender to intercept, typically with a crunching tackle on the pass receiver, who may or may not end up in the hospital.
Why Isn't The U.S. At The World Cup?
You're a real jerk for bringing this up, ya know? 
The reason the U.S. isn't at the World Cup is because, for the first time since the 1986 event, the USMNT did not qualify. It involved one of the craziest nights of soccer you'll ever see followed by a lot of heavy drinking from The18 staff. 
Basically, the tl;dr of it is the U.S. had to win or tie against last-place Trinidad and Tobago or have first-place Mexico and second-place Costa Rica not both lose on the final match day. But it all fell apart for Bruce's boys. Now, if you'll excuse me, I have some more heavy drinking to do after being reminded of this terrible night.