Heroes And Villains Of The World Cup: Matchday Nine
Costa Rica's going home, but groups D and E will be lit come June 26 and 27.
Get the best email in soccer.
Heroes and villains, heroes and villains ... today made me question the labels. I mean, there are only two truths in this life of ours, according to Jamie Treays: (1) everybody hates the law and (2) everyone loves a bank robber. So who are the heroes and who are the villains? Kinda makes you think ... where am I? Oh yeah.
Matchday One | Matchday Two | Matchday Three | Matchday Four | Matchday Five | Matchday Six | Matchday Seven | Matchday Eight
Heroes and Villains of the World Cup: Matchday Nine 
Hero: Xherdan Shaqiri (Switzerland)
This World Cup has confused things. Who's actually the GOAT? Cristiano Ronaldo has four goals, but as Cesc Fabregas has pointed out, that's really a loaded statistic. Neymar, like Lionel Messi, hasn't delivered and his theatrics, like Ronaldo, have been as savory as Joachim Low's hands. 
So when you really break it down, it turns out the GOAT of the 21st century is actually the Alpine Messi, Xherdan Shaqiri. 
The little imp only scores stunners, and he stayed true to himself against Serbia to pop up and deliver the coup de grâce at the death.
#MundialTelemundo ¡Héroe sobre la hora! @XS_11official le está dando el triunfo a #SUI sobre #SRB pic.twitter.com/3MCmLToIDe
The 26-year-old has now scored four World Cup goals in his career — that's just one less than the likes of Messi, Michel Platini, Zinedine Zidane and Garrincha.
Honorable mention: Just More Heroic Set Piece Defending (Switzerland)
We've had too many goals from set pieces, and it's absolute hell because now every Fox broadcaster says, "Just like Alexi Lalas always says, 'set pieces, set pieces, set pieces.'" It was unbearable enough when just Lalas said it. 
But after watching the number Tunisia did on Harry Kane, Switzerland did one better on Aleksandar Mitrovic today. It's like A Night at the Roxbury out there. 
An absolute mugging on Aleksandar Mitrović#SUI #SRB #SUISRB pic.twitter.com/QyVGvWRXcP
Antihero: Neymar (Brazil)
That's right, we're switching it up. Neymar's performance today wasn't heroic, but it wasn't villainous either. He was the classic antihero — he acted only out of self-interest and lacked the traditional heroic qualities of courage and morality. He got his goal and entertained, but he also dived, complained and sobbed throughout.
Also, this whole sharing a photo of Neymar's socks after the game and acting like his markers did that to him has got to stop. It's just not true.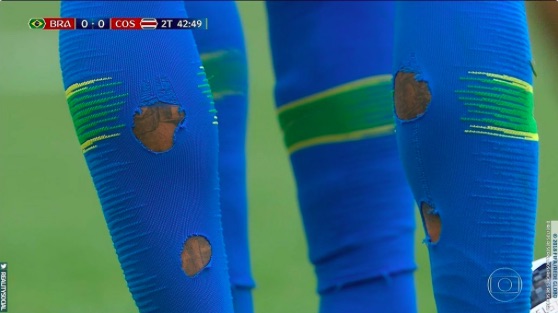 they're holes he's cut himself to ease strain on calf muscles, though
Honorable mention: Leon (The18)
Leon was wrong. Let's riot. Let's feast on lizard flesh.
Bookmark/Search this post with