Heroes And Villains Of The World Cup: Matchday Seven
Three nations have been eliminated from the World Cup, two have clinched spots in the Round of 16.
Get the best email in soccer.
Things are getting serious over in Russia. In Group A, Russia and Uruguay are through to the Round of 16 whereas Egypt and Saudi Arabia are going home. In Group B, Morocco suffered an early exit while both Spain and Portugal enjoy positions of strength. Let's take a look at who's become legend and who's become a cautionary tale following day seven of the World Cup.
Matchday One | Matchday Two | Matchday Three | Matchday Four | Matchday Five | Matchday Six
Heroes and Villains of the World Cup: Matchday Seven
Hero(es): Gerard Pique and Isco (Spain)
Pique didn't want this bird to se queda, he wanted it to soar through the Kazan night sky. We can safely assume that Mr. Shakira is the tender half of Spain's central defensive partnership.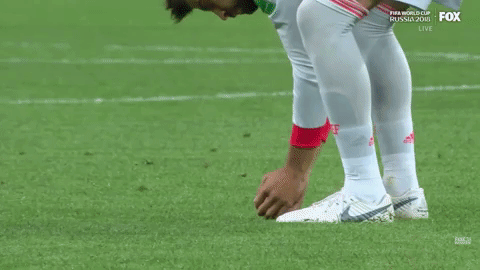 Isco also got in on the action, portaging this little birdie to the touchline to receive medical attention. 
Isco saved a bird pic.twitter.com/3Fexbw6eDu
Isco also helped David de Gea put on his gloves.
¿Admiración? el acto que sorprendió al mismo @D_DeGea por parte de su compañero @isco_alarcon #MundialTelemundo pic.twitter.com/KoqfnTdk0Y
And Isco did a fun thing.
This Isco pass

— TalkForsberg (@TheAFC_talk) June 20, 2018
Honorable mention: Uruguayan School Children (Niños)
Oscar Tabarez is still searching for that bit of spark in his starting XI, but two 1-0 victories see the two-time world champions advance beyond the group stage for the third straight World Cup. The niños reaction to the winner against Egypt is now legend.
Every school in Uruguay are cancelling classes to watch the national team in the World Cup.

— Caño Football (@CanoFootball) June 15, 2018
And you can't begrudge another school for getting in on the action against Saudi Arabia.
¡#VamosUruguay! Así se celebró el primer gol de #Uruguay. Gracias @LuisSuarez9 por la alegría que le das a estos pequeños. #MundialxLaTele #Rusia2018 pic.twitter.com/KM4p1lvDIM
Villain: Pepe (Portugal)
By this point, we all know Pepe. Pepe has to know that we all know Pepe. There's no way in hell a ref could still buy his shit, and now we've got VAR, so why's he still doing this? 
Pepe is the best. pic.twitter.com/OfhbyeIucc
The only explanation is that this is some next level Pepe ish: he's diving and knows it's obvious, but he's banking on the chance that a Morocco player will see it, run over and justifiably punch him in the face, thus earning his side a man advantage. Pepe is evolving with the times.
Honorable mention: Medhi Benatia (Morocco)
For whatever reason, chance after chance kept falling to the Morocco center back. He had four shots, failing to work the keeper with three of them (including two he blasted over the bar from inside the area). 
The Juventus man also couldn't react quickly enough to this ball in the box. 
#MundialTelemundo ¡Muy cerca estuvo #MAR del empate antes del descanso! Pero @MedhiBenatia no logró definirla dentro del área pic.twitter.com/YLwnwKecDt
Again, he's a center half, but for the love Herve Renard, just hit the target. 
Benatia has been selected by the football gods today to have all the chances and still waste them.
Bookmark/Search this post with