Portugal vs Spain, 2018 World Cup Group Stage: Who Wins?
The winners of the last three European Championships square off on June 15 at Fisht Olympic Stadium in Sochi. Who prevails?
Get the best email in soccer.
In terms of glamour, no group stage game comes close to matching Portugal vs Spain on June 15 at Fisht Olympic Stadium in Sochi. This is, after all, a meeting between the last three European Champions (Spain in '08 and '12, Portugal in '16), and a clash between arguably the world's best player, Cristiano Ronaldo, and a who's who of talent concentrated at the mega clubs of the world's two best domestic leagues.
On paper, this is some Charles Bukowski shit. We've got the preternatural savagery of eternal footballers like Ronaldo and Andres Iniesta. We've got the melodic genius of poets like Isco and Bernardo Silva. We've got the wily, red-card-waiting-to-happen madness of crunch masters Sergio Ramos and Pepe. 
Ultimately, we've got what could've amounted to a pretty great World Cup final coming on Day 2 in Russia. Mix in a bit of the antagonism that's present in any border battle and you can bet on your daughter's life that this Iberian Derby is going to make for one helluva spectacle. 
But who's the favorite here?
Well, given that you'll get about 6:1 odds on Spain winning it all versus 25:1 for Portugal, the answer is pretty obvious. What's more, defeat for either nation won't be catastrophic — it's 42nd ranked Morocco and 36th ranked Iran contesting the other Group B match on the day.
Having said that, you never want to lose your opening match (please Venmo me for this incredible insight). But seriously, dating back to the 1998 World Cup, 60 nations have lost their opening game. Only seven have advanced to the Round of 16. There's no margin for error in this thing. Both Spain (defeated by Holland) and Portugal (defeated by Germany) learned that in 2014.
Portugal cannot afford the same start they experienced at Euro 2016, when they drew all three of their group games. In a traditional European Championship, they would've gone home. But in the expanded format, they were allowed to continue as the third-best third-placed team. 
And so while they'll rightfully enter the World Cup with the European Championship belt, it won't be without the aforementioned caveat. Nor the fact that while Spain, Germany, Italy and France had to contest one side of the knockout bracket, Portugal got to ride the wave of Croatia, Poland and Wales on the road to the final.
Unbeaten in 18 matches and with incredible recent displays against Italy (3-0) and Argentina (6-1), Spain's frightening mix of the old guard with the new makes them the obvious favorites here.  
But then again, Cristiano Ronaldo. With Ronaldo and 10 extremely competent, skillful players around him (which Portugal has), anything is possible.  
Portugal vs Spain Projected Starting Lineups 
Spain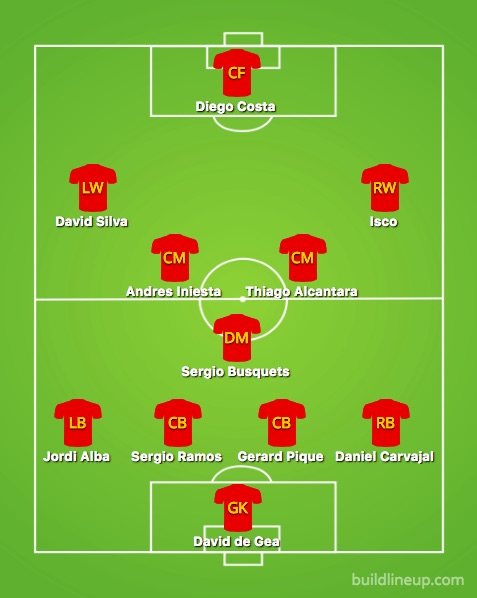 GK: David de Gea
LB: Jordi Alba | CB: Sergio Ramos | CB: Gerard Pique | RB: Daniel Carvajal
CDM: Sergio Busquets | CM: Andres Iniesta | CM: Thiago Alcantara 
LW: David Silva | ST: Diego Costa | RW: Isco 
Impact subs: Iago Aspas, Koke, Marco Asensio, Lucas Vazquez, Saul
Portugal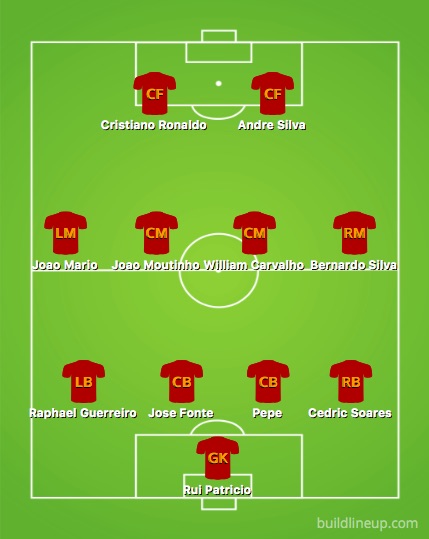 GK: Rui Patricio 
LB: Raphael Guerreiro | CB: Jose Fonte | CB: Pepe | RB: Cedric Soares 
LM: Joao Mario | CM: Joao Moutinho | CM: William Carvalho | RM: Bernardo Silva 
FW: Cristiano Ronaldo | FW: Andre Silva 
Impact subs: Bruno Fernandes, Ricardo Quaresma, Goncalo Guedes, Gelson Martins
Portugal vs Spain Time, Date and TV Information 
Portugal vs. Spain, Friday, June 15, 2 p.m. ET
Fisht Stadium, Sochi | FOX and Telemundo
Stream on foxsportsgo.com  
Portugal vs Spain 2018 World Cup Prediciton
Spain 2 - 0 Portugal 
Goals from Diego Costa and Isco 
Bookmark/Search this post with