Germany Completes Epic Collapse With Pathetic Defeat To South Korea
The defending champions whimpered out with a 2-0 defeat to a team with little to play for.
Get the best email in soccer.
Who could have foreseen this? Germany, the defending champion, had never been knocked out in the group stage, advancing in its previous 18 tournaments. Die Mannschaft won the 2017 Confederations Cup with ease. All that was needed was a win for Germany vs South Korea and Joachim Low's men would have moved on to the next round. 
Instead, it was a tepid 2-0 loss for Germany vs South Korea, sending the 2014 World Cup champion home with a last-place finish in Group F.
So, who could have foreseen this? Anyone who learns from history.
Confirmation #SWE and #MEX progress to Round of 16.
How many of you predicted this table at start of the #WorldCup? pic.twitter.com/lfAmgW4pZ0
Germany finished last in Group F (which we called the Group of Death back in May). It was a shocking end to a team many thought could repeat as champion for the first time since Brazil did it in 1958 and 1962. 
But this Germany team never got going in Russia. 
It started with a surprising 1-0 loss to Mexico to open Group F. El Tri played well, but it was still surprising to see a Germany that spanked Mexico 4-1 in the Confederations Cup a year earlier struggle so mightily.
Die Mannschaft struggled against Sweden, needing a late goal in stoppage time to save their hopes of advancing. The win with 10-men merely glossed over glaring issues with this Germany team, which struggled to really create anything moving forward. 
Going into the match with winless South Korea, Germany knew a win would likely be enough to advance. As Sweden took control against Mexico in the second half, the impetus was on Low's men to score to create a three-way tie, from which Germany and Sweden would advance.
However, Germany couldn't find any fluidity on offense. Much of that was down to South Korean goalkeeper Cho Hyun-woo, but most of it was down to Germany's attackers.
Mesut Ozil, restored to the side after being benched against Sweden, was the primary playmaker for Germany vs South Korea, trying to unlock the defense with his usually positive passing. Although he provided more going forward than most of his teammates, more often than not South Korea was well placed to cut out any of Ozil's incisive passes. 
3% - Germany have scored with only 2 of their 72 shots at the World Cup 2018 (3%), only Costa Rica (0 goals) have a lower shot conversion rate. Disaster. #WorldCup #KORGER pic.twitter.com/yWwtctmMr3
As Germany ran out of ideas, South Korea kept pushing. The Taeguk Warriors were probably well aware their chances of advancing were gone thanks to Sweden's lead over Mexico, but they didn't give up, taking the lead with two goals in stoppage time.
#MundialTelemundo ¡Con polémica! Pero #KOR sorprende a #GER con gol de Young-Gwon Kin pic.twitter.com/DhMODTdbRn
The second goal was comical, with Manuel Neuer caught way out of goal trying to be a hero.
#MundialTelemundo Heung-Min Son de #KOR pone el último clavo al ataúd de #GER pic.twitter.com/zHm5xqaq1v
It's shocking to see Germany fail to advance to the knockout rounds for the first time ever. But at the same time, we shouldn't be surprised — this is following a common theme.
Germany became the fourth champion from the last five tournaments to fail to make it out of the group stage. France (1998 champ), Italy (2006) and Spain (2014) all fell apart trying to defend their titles. Add Germany to that list now. Three of those four finished last in their respective groups.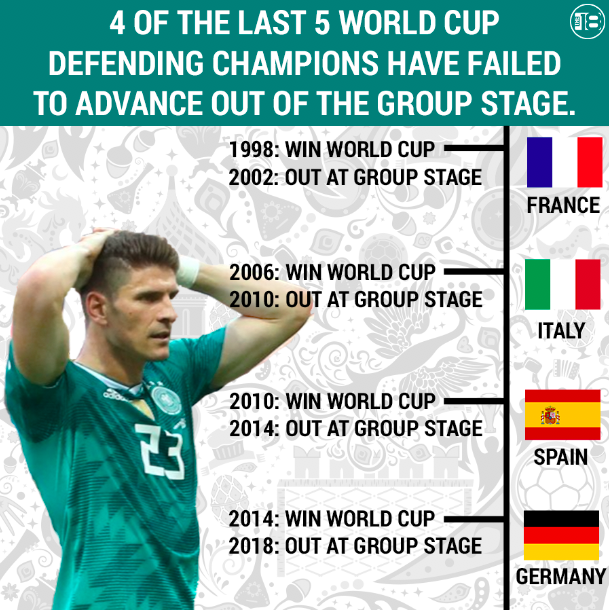 The only champion that made it out of the group stage was Brazil (2002 champion), which reached the quarterfinals in 2006. 
France in 2002 failed to win a match, losing its opener to Senegal, drawing 0-0 with Urugay and losing to Denmark to finish last in its group. 
Italy also finished last in its group in 2010, drawing with Paraguay and New Zealand before losing to Slovakia to go home early.
Spain at least finished third in 2014, but the lone win (over Australia) came after La Furia Roja had already been eliminated thanks to losses to the Netherlands (5-1) and Chile (2-0). 
In the end, Germany has no one to blame but itself. It came out flat against Mexico and was punished. They then failed to build on a dramatic (and perhaps undeserved) win over Sweden. Despite 70 percent possession and 26 shots (only six on target), Die Mannschaft did not create enough. And when they did, the shots were right at Cho Hyun-woo. 
Germany now must deal with the worst failure in the history of the national team. 
Bookmark/Search this post with