Why We Should Really Care About Zinedine Zidane Stepping Down From Real Madrid
Zinedine Zidane is leaving his post as Real Madrid coach after winning the Champions League in his three seasons in charge.
Get the best email in soccer.
Zinedine Zidane stepped down from the lofty perch he created with Real Madrid on Thursday. After two-and-a-half seasons as coach in which he won three Champions League titles, the 45-year-old Frenchman will not return to go for an unprecedented fourth straight crown. But exactly why Zidane quit Real Madrid could have more to do with Cristiano Ronaldo than anything else. And why we should care goes far beyond the local impact in Madrid. 
Ostensibly, Zidane stepped aside because of the common soccer belief that success cannot be maintained unless a team refreshes either its players or its coach. He said as much at a hastily assembled press conference on Thursday.
"I am doing this for the good of this team, for this club," Zidane said. "It would have been difficult for me to win again next year. There have been good moments, but also difficult times. I do not forget that. And at this club, you must know this: I do not want to start a season and have a bad time. I want to end with Real Madrid when everything is going well. I did it as a player, and now again as a coach. This (is) the right moment to end things well."
This makes sense on a basic level. Real Madrid has experienced extraordinary success in the last three years, at least in the Champions League. But Los Blancos rode their luck a few times in the Champions League this season and finished 17 points out of first place in LaLiga behind archrival Barcelona. 
Zidane won one league title in three seasons and while that would be plenty for most clubs, finishing a distant third is dangerous territory in Madrid. It's been a decade since Los Merengues won back-to-back LaLiga championships; a change at the top could be what the team needs to perform at a higher level in the league. 
But there are likely other reasons why Zidane quit aside from the stated motive. 
When Zidane, or any other coach, looks objectively at the Real Madrid roster, there is a lot to like. But at the same time, there hasn't been much investment in new players over Zidane's tenure. Since January 2016, when Zidane took the reins, Real Madrid has sold more players than it has bought.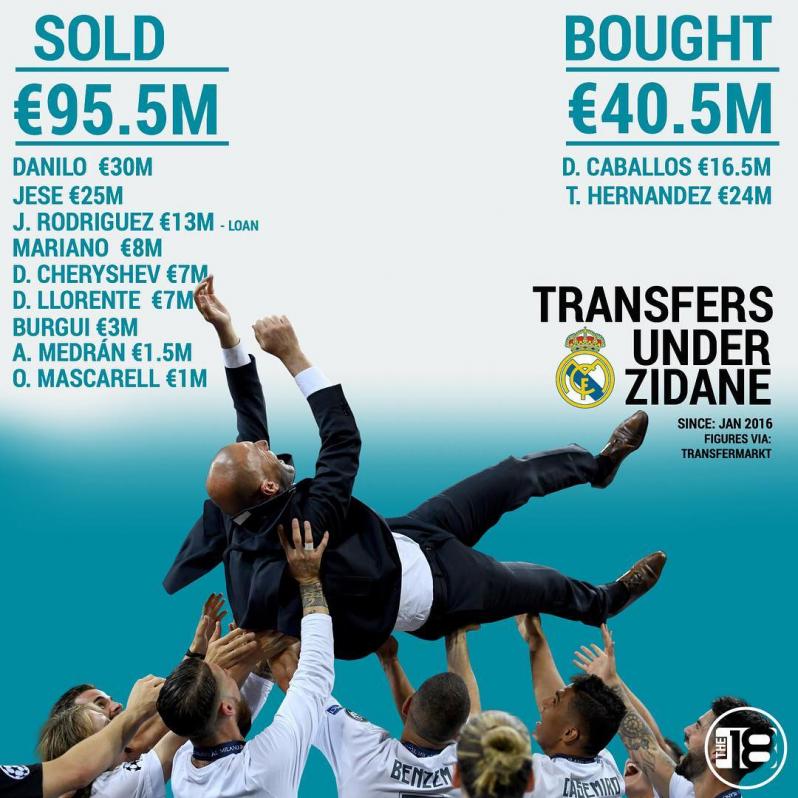 Zidane could have looked at this and realized he can't possibly succeed with this team, especially considering Cristiano Ronaldo's continued flirtations with moving and Gareth Bale's consistent injury woes. Unfortunately for Los Blancos, they can't count on Loris Karius being in goal every match. 
If any club can afford to bring in fresh talent, it's Real Madrid, which broke the record for highest transfer five times from 2000 to 2013. The club hasn't made a big move since buying Bale from Tottenham five years ago, so it wouldn't shock anyone if this summer's biggest World Cup star (or stars) ended up in Madrid come August. Thus, it wouldn't make sense for Zidane to step down because of a lack of new players, unless there was some behind-the-scenes argument of which players to sign.
In the end, the real reason why Zidane quit may have to do with the one player who outshines him in Madrid: Ronaldo.
Real Madrid is stuck right now. With CR7 in the squad, Zidane must build his entire strategy around the megastar. It wouldn't be too difficult to argue there are players just as (or maybe even more) important as Ronaldo, but the Portuguese winger's presence demands everything be about him. Ronaldo is still one of the all-time greats and must be accommodated. 
Zidane knows as long as Ronaldo is in Madrid, he is limited in his flexibility with the team. He can't fully rebuild a squad in the manner he desires if new signings all have to kowtow to No. 7. Zidane may not want to be held hostage by the whims of one of the most vain men in soccer. 
One major fallout of Zidane leaving Real Madrid after less than three seasons in charge is the official death of the long-term manager. 
After Arsene Wenger's departure from Arsenal, there are few coaches in the game left who have stuck with a single team for any significant period of time. Instead, expect to see a new era of coaching, where managers stick around for a few years then move on, believe its best for the team, the players and even the coach him or herself. 
This isn't exactly anything new and it's already the case in other sports throughout the world; the only long-term coaches left in the U.S. are typically in college athletics, which refreshes players every four years. Pep Guardiola has bounced from super-successful team to super-successful team ever since leaving Barcelona after just a handful of seasons. He has become the new model: come in, build up a team, win some titles, move on before you outstay your welcome. It's something Roman Abramovich's Chelsea is familiar with and something Arsenal is likely to experience with a revolving door of coaches following what is likely to be an underwhelming first year under Unai Emery. 
The answer to why Zidane quit could be as simple as Zidane wanting the best for Real Madrid, knowing that a fresh coach has a better chance to succeed over a long LaLiga campaign than himself. But it could also be an admission that Cristiano Ronaldo is holding the club back from truly transforming itself into what Zidane envisions for the most successful club in European history. 
Bookmark/Search this post with