World Cup Predictions For Day 7 Of The Tournament: Spain Vs Iran, Portugal Vs Morocco
The second of the round of group stage matches sees Uruguay trying to build off its late winner against Saudi Arabia. Then Spain and Portugal will face off against Iran and Morocco, respectively.
Get the best email in soccer.
This World Cup has been insane to say the least. There have been five own goals already and four free-kick goals (there were three in all of the 2014 World Cup). Favorites are losing or drawing and we love it. 
Here are the picks from Connor Fleming (@conmanfleming), Bryce Badwan (@bbadss) and Travis Yoesting (@travisyoesting).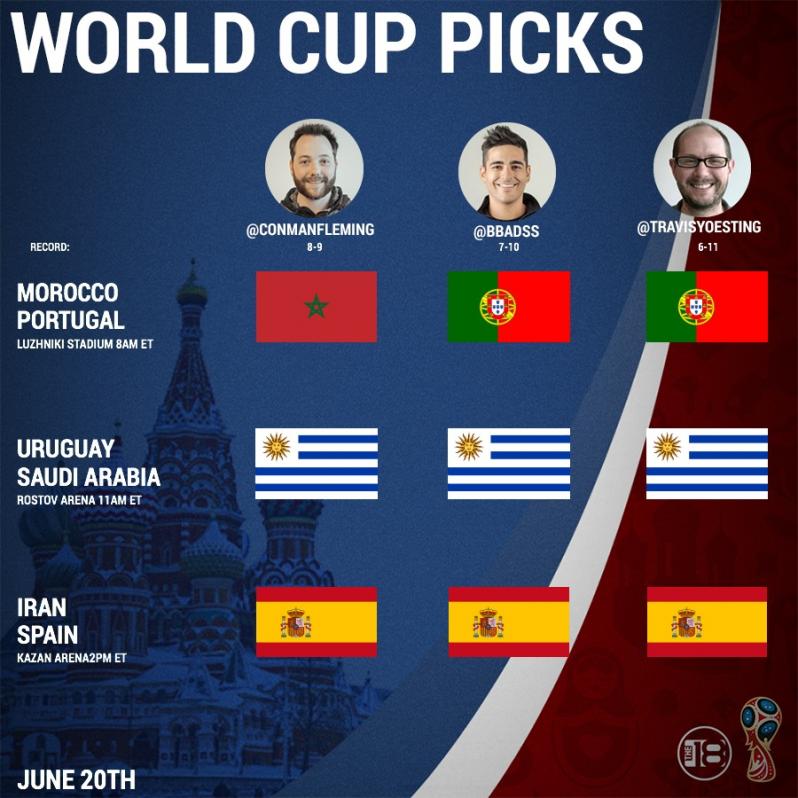 Portugal vs Morocco 
Connor: Morocco - I said Morocco would upset Portugal a while back and I'm holding myself to it. Cristiano Ronaldo played the perfect match against Spain — his every movement and every touch of the ball was a lesson in footballing excellence — and that kind of performance against Morocco would tear them to shreds. But Morocco didn't deserve to lose to Iran, so I'm banking on a much-improved performance from the Atlas Lions and a Ronaldo hangover. Feel free to crucify me after. 
Bryce: Portugal - Cristiano Ronaldo looked like a man possessed against Spain. I don't expect him to let his side take this game lightly. I see a brace from Ronnie and a 2-0 victory for Portugal.
Travis: Portugal - If Cristiano Ronaldo plays half as well as he did against Spain and Morocco plays twice as well as it did against Iran, I'm still picking Portugal.
Game Info:
8:00 a.m. ET 
Luzhniki Stadium
FS1, Telemundo 
Uruguay vs Saudi Arabia  
Connor: Uruguay - After being presented with three incredible opportunities against Egypt and failing to convert any of them, Luis Suarez should get five or six chances against the Saudis. He'll convert a couple this time around, and Edinson Cavani will get off the mark as well. That's that for the Green Falcons; they're going home.   
Bryce: Uruguay - If Saudi Arabia couldn't cause Russia's backline problems, then I'm sure they'll have a hard time cracking the Diego Godin and Jose Maria Giminez strong hold. This is a perfect game to get Luis Suarez's confidence up after his poor showing vs. Egypt and for the young midfielders to make an impact. 
Travis: Uruguay - Saudi Arabia couldn't keep pace with Russia, so I don't have much faith the Green Falcons can slow down Uruguay's front line.
Game Info:
11:00 a.m. ET 
Rostov Arena 
FOX, Telemundo 
Spain vs Iran 
Connor: Spain - Cristiano Ronaldo deservedly stole the headlines, but Spain looked devastating in possession against Portugal. If not for some boneheaded, isolated individual errors from Nacho, David de Gea and Gerard Pique in defense (all leading directly to Ronaldo's glory), we'd be talking about this side in hushed tones. This match should serve as a showcase of the gulf in talent between Spain and the majority of nations at the tournament.
Bryce: Spain - I think Iran will be a little stingier than expected in this one. I'm sure former Real Madrid manager Carlos Queiroz will have a good plan for Iran, but there is just too much of a gap in quality. Spain get a tough 1-0 or 2-0 victory. 
Travis: Spain - Iran will make it tough but Spain has too much creative talent and will find a way to score at least once.  
Game Info:
2:00 p.m. ET 
Kazan Arena 
FOX, Telemundo 
Bookmark/Search this post with