World Cup Predictions For Day 6 Of The Tournament
Colombia-Japan, Poland-Senegal and Russia-Egypt all take the field tomorrow. Here are our picks for some crucial matches at the World Cup.
Get the best email in soccer.
Poland and Senegal highlight some big matches on day six of the World Cup. Robert Lewandowski will look to show the world he's one of the premier strikers and can deliver on the biggest stage. In a massive match for Egypt, will Mohamed Salah return? How will Russia tactically match up with Egypt knowing a draw is a huge result? Radamel Falcao will make his long-awaited World Cup debut, so will Colombia dismantle Japan like they did at the 2014 World Cup?
Here are the picks from Connor Fleming (@conmanfleming), Bryce Badwan (@bbadss) and Travis Yoesting (@travisyoesting).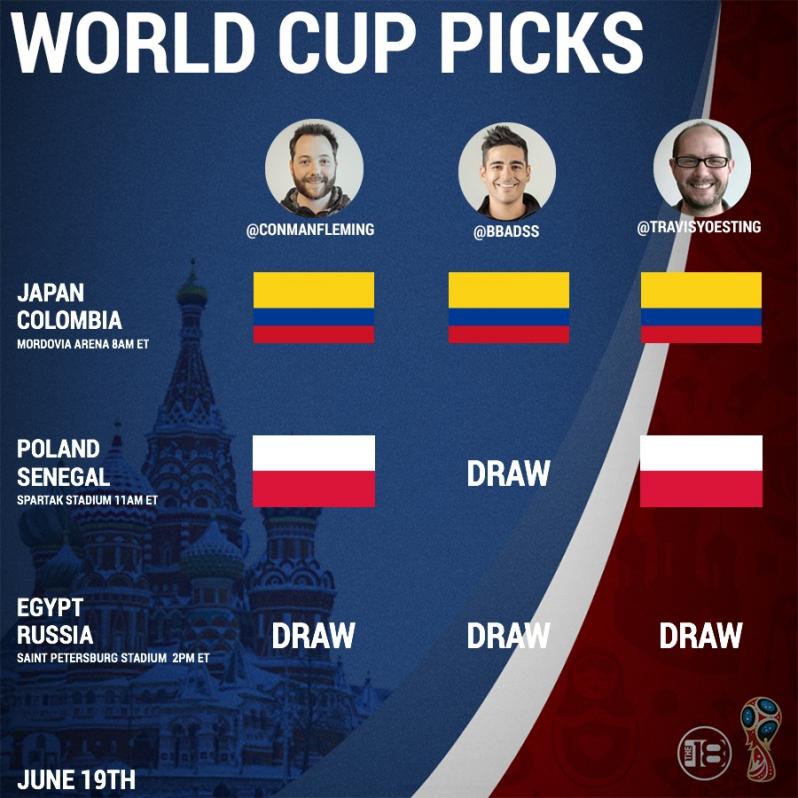 Colombia vs Japan
Connor: Colombia - Past form goes out the window once the World Cup begins (just look at how Russia and Brazil started things), but I can't convince myself that Japan will have it figured out after a rocky qualifying period followed by the dismissal of its manager. Plus, I want to see Falcao do a goal after the heartbreak of missing the 2014 tournament.
Bryce: Colombia - Los Cafeteros were too much for Japan in the last World Cup, and this time they have Radamel Falcao. Sure they've been struggling, but tomorrow they will be dancing.
Travis: Colombia - Radamel Falcao will relish his first World Cup opportunity and probably score a goal or two.
Game Info:
8:00 AM ET 
Mordovia Arena
FS1, Telemundo 
Senegal vs Poland  
Connor: Poland - It's time for Robert Lewandowski to make his mark on the world's stage. I think Lewy joins Cristiano Ronaldo, Harry Kane, Diego Costa and Romelu Lukaku at the top of the Golden Boot race. 
Bryce: Draw - I'm not convinced with Poland. Yes, they have Robert Lewandowski, but the likely absence of Kamil Glik worries me, and I think Senegal are better defenders than they get credit for with Kalidou Koulibaly leading the way. I think a 2-2 draw is in order. Take the over, folks.
Travis: Poland - Sadio Mane might trouble Poland's defense, but not as much as Robert Lewandowski troubles Senegal's back line. 
Game Info:
11:00 AM ET 
Spartak Stadium
FOX, Telemundo 
Russia vs Egypt 
Connor: Draw - After opening with a 5-0 win (huge for both the three points and the goal differential), Russia will be a bit more conservative against Egypt. I'm not convinced that Egypt can play in any style apart from conservatively, even with Mohamed Salah in the lineup. A draw will be huge for the Russians, damning for Egypt. 
Bryce: Draw - The host nation are feeling pretty good after a 5-0 opening victory. They'll try to not do anything stupid and pack it in vs. Egypt. I'm also weary of betting against the Russians on home soil, because Russia.
Travis: Draw - Russia knows a loss would be more harmful than a win would be helpful, so the host team will do everything it can to not lose. 
Game Info:
2:00PM ET 
Fisht Stadium 
FOX, Telemundo 
Bookmark/Search this post with