The 18 Best Soccer Jerseys Then And Now
We ranked the best new soccer jerseys for the 2019-20 season and compared them to classic kits.
It happens every year. Clubs release their new soccer jerseys and you're faced with a dilemma — which one do you buy?
It's a rite of passage, buying a new soccer jersey. When the new season arrives, the true fans always buy the newest kits. But it can be a bit daunting to choose from the plethora of options, no matter which team (or teams) you support.
Fortunately, we've sorted through the hundreds of new kits released for the 2019-20 season to find the very best — and compared them to vintage kits that may have inspired them.
Here are the 18 best soccer jerseys then and now. You can get all of them (and many more) at World Soccer Shop.
18 Best Soccer Jerseys Then And Now
1. Barcelona 
Vintage: 1997 Home Kit
There is no more unique kit in the 2019-20 season than Barcelona's new home kit. Borrowing as much from the Croatian national team as anything the Blaugrana have ever worn, the new Nike kit features a unique checkerboard pattern. 
While there will be haters (we're looking at you, Real Madrid fans), we think this is one of Barcelona's sharpest kits in years. 
But if you want something that will allow you to be seen, whether on the pitch or in pitch black darkness, you can always go for this brilliant Barcelona away kit, with a nice sash effect to throwback to the 1979 kit. 
2. Arsenal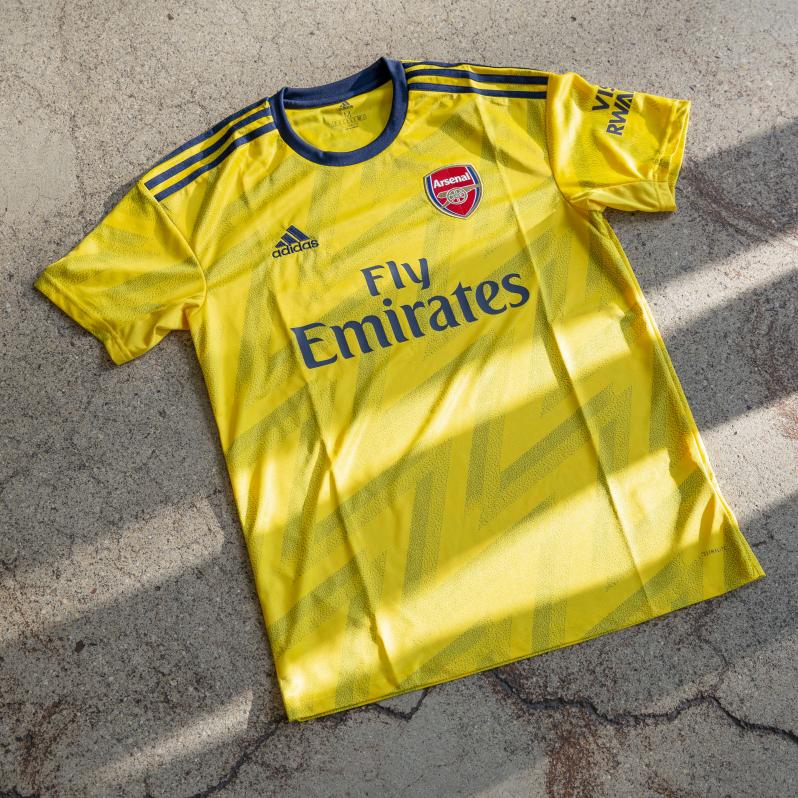 Vintage: 1992-93 Away Kit
It's been a rough few years for the Gunners, missing out on the Champions League while watching their rivals reach the unprecedented heights.
But Arsenal recently inked a new jersey deal with adidas and the first offerings are absolute fire.
We love all the new Arsenal kits, but the away jersey harkening back to the bruised-banana look of the early 90s is the undeniable winner of the group. 
Warning: Only purchase this kit if you want to look cool.
However, if you would rather not look like old fruit, might we suggest sticking with the Arsenal home kit, which is a great take on the classic Arsenal appearance.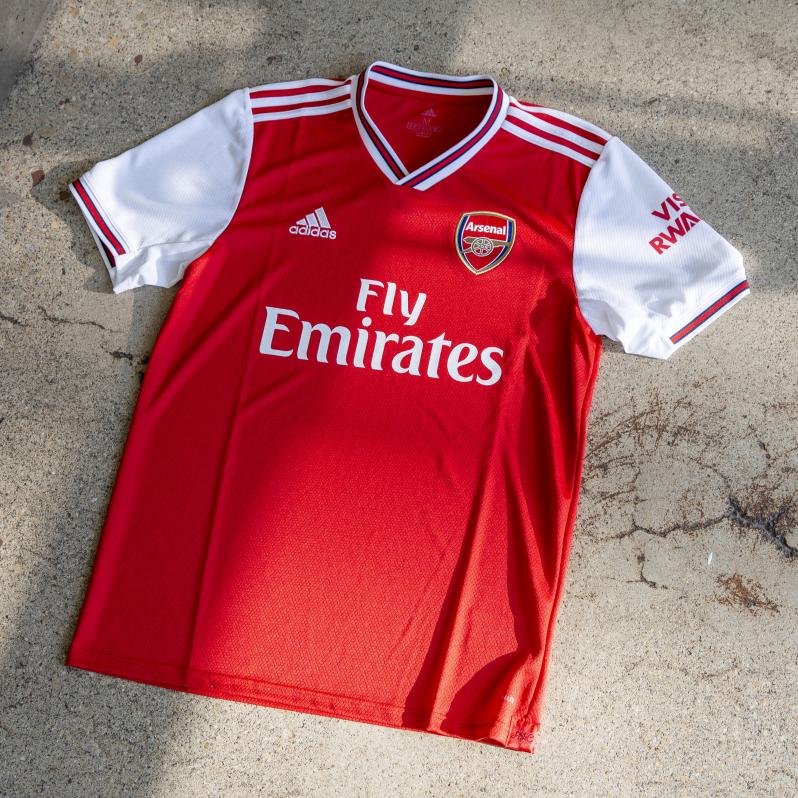 3. Ajax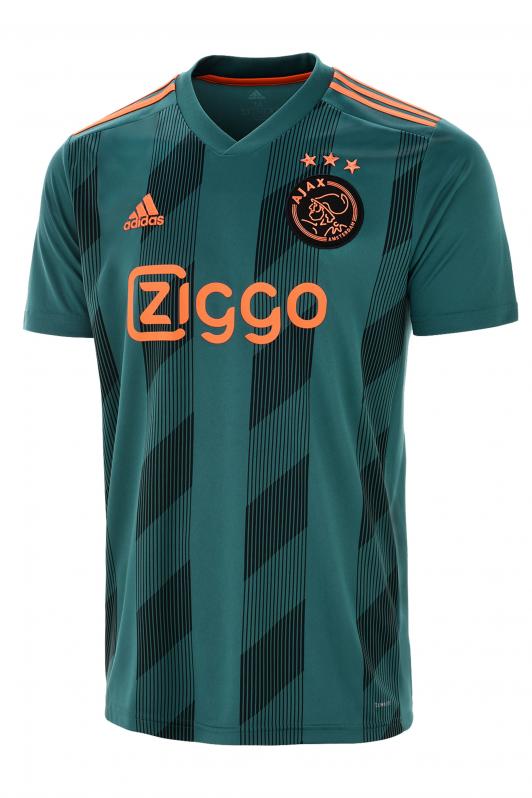 Vintage: 1972-73 Away Kit
Ajax is coming off one of its most memorable seasons in decades, reaching the Champions League semifinals and reclaiming the Eredivisie title. Although its new away kit doesn't immediately conjure images of Johan Cruyff — or even Ajax at all — the green-orange combination is absolutely stunning.
Ajax debuted its new kit in the final match of the 2018-19 season and you'll be seeing it plenty over the coming year. The subtle stripes are just enough to remind us of the kit Ajax wore to win the European Cup over Juventus in 1973.
4. Liverpool
Vintage: 1982-83 Home Kit
Liverpool, coming off a Champions League title, had to go with something special for the new season and its home kit certainly fits the bill. 
While sticking with the classic red look, the club's 2019-20 home kit pays homage to legendary manager Bob Paisley, coach in 1982-83 when the Reds wore pinstripes. Paisley would have turned 100 in January.
Adding to the prestige of this kit, Liverpool honors the lives of the 96 who died in the Hillsborough tragedy 30 years ago this year with a "96" flanked by eternal flames on the back collar.
5. Real Madrid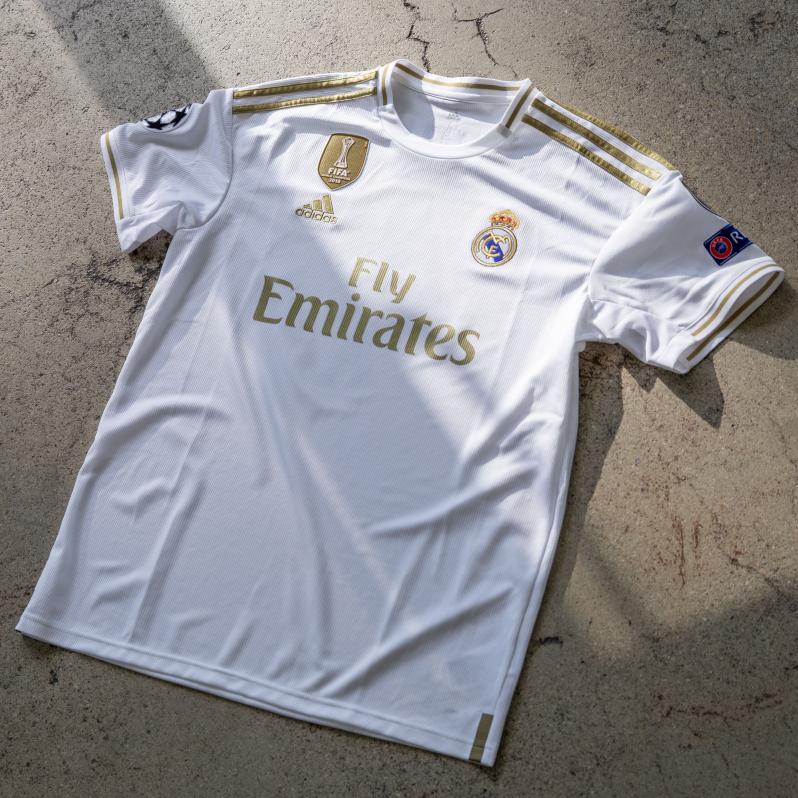 Vintage: 2011-12 Home Kit
It's hard not to love Los Blancos' latest white kit, even for Barcelona fans. 
A throwback to the 2011-12 kit, when Real Madrid won LaLiga and reached the semifinals of the Champions League, the latest home jersey features gold trim to let everyone know this is the most decorated club in the history of the sport.
No matter who comes and goes through the doors at the Bernabeu, Real Madrid is a cornerstone of European football and this kit is the perfect way to show that off.
6. Chelsea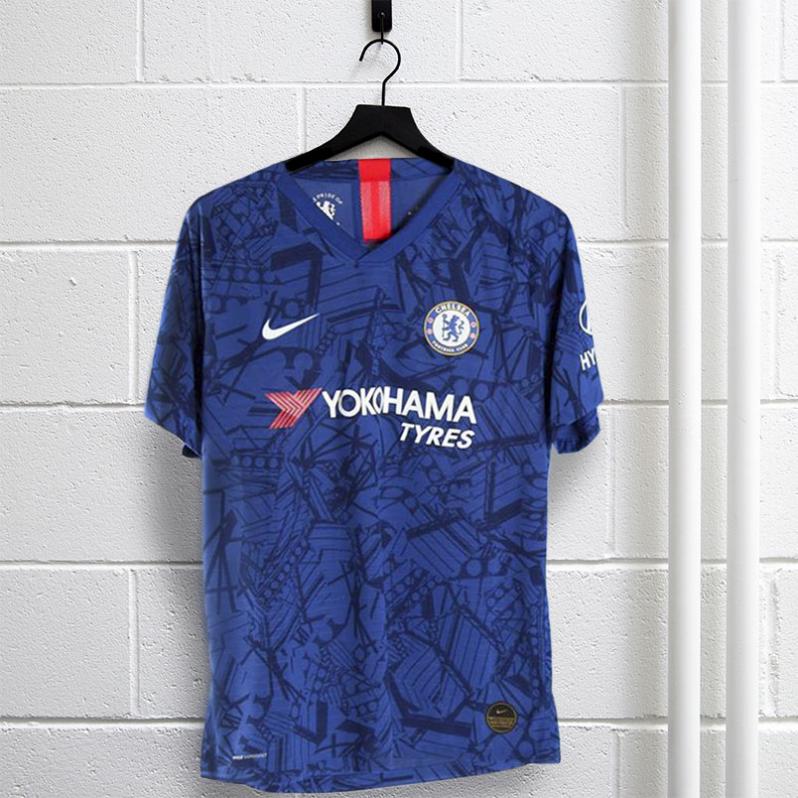 Vintage: 1913
Chelsea's 2019-20 home kit includes a gorgeous all-over graphic design inspired by Stamford Bridge, the club's home since 1905. So here's a throwback to an early Chelsea kit from 1913. 
With American Christian Pulisic joining the Blues, this kit will be a popular one, so make sure to grab it early and be a trend-setter instead of trend-follower.
7. AS Roma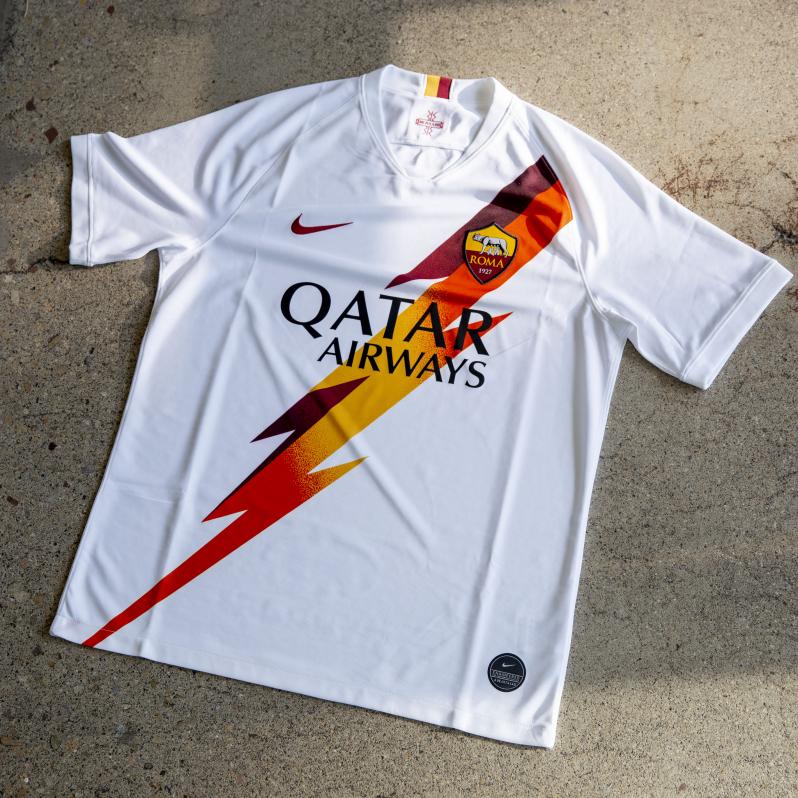 Vintage: 1998-99 Home Kit
No club has a better social media presence than AS Roma. The club from the capital of Italy knows how to connect with soccer fans around the globe and its latest away kit is more proof that the Giallorossi give the people what they want.
Not since the days of Diadora kits in the late 90s has Roma had so much flair. Both the home and away kits have lightning-bolt motifs in a nod to Roman mythology's Jupiter, God of the Sky, that make them must-buys for the hipster fan in all of us.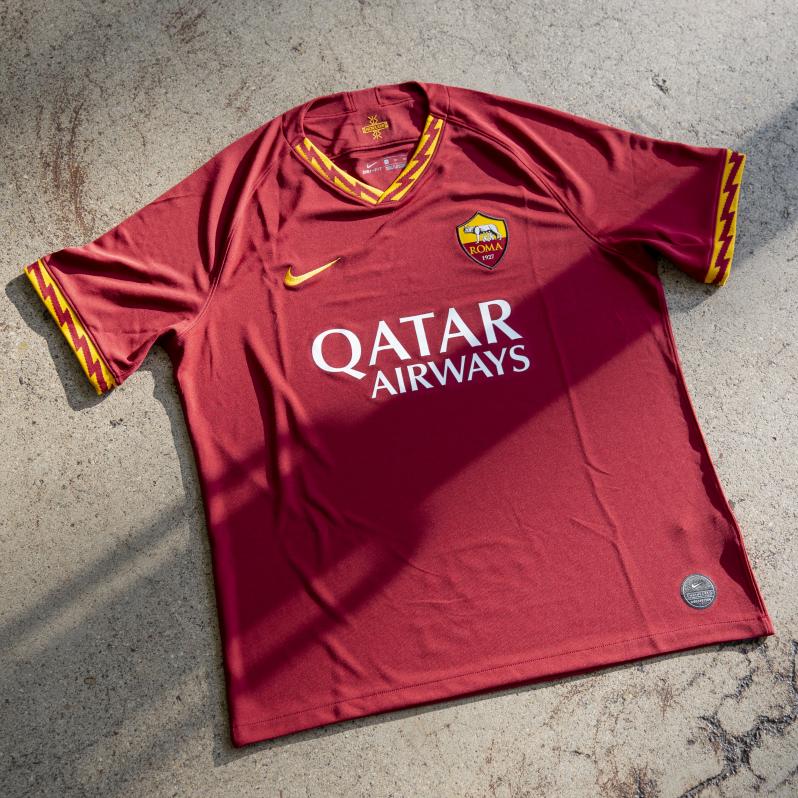 8. Manchester United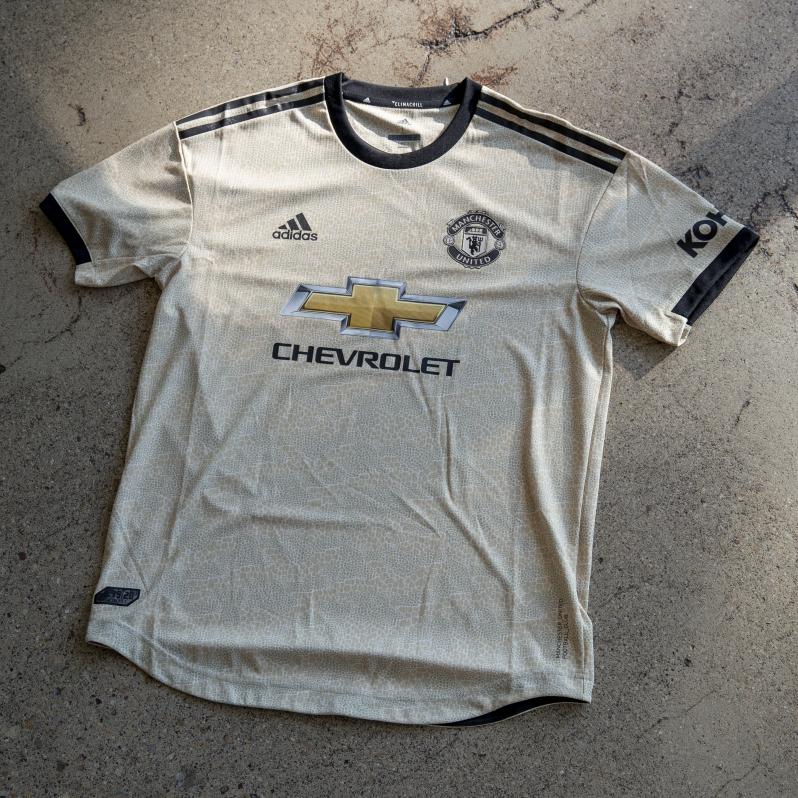 Vintage: 1992-94 Away Kit
The Manchester United home kit is again red — always has been, probably always will. While United's away and third kits have alternated with hues of blue and black regularly introduced, this year's away kit has unique coloring that hasn't been seen since 1992-94. 
What makes this kit stand out is the mosaic pattern inspired by public art from Manchester's northside; it's unlike anything you'll see elsewhere in the Prem and makes it one of the hottest kits of the season.
That said, you can never go wrong with the traditional Manchester United home kit.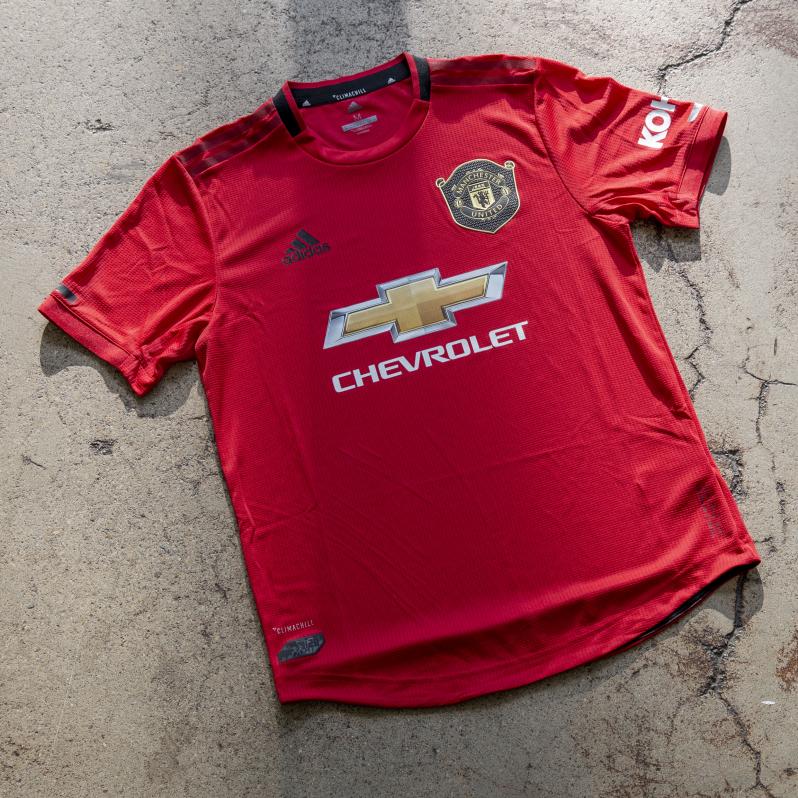 9. Juventus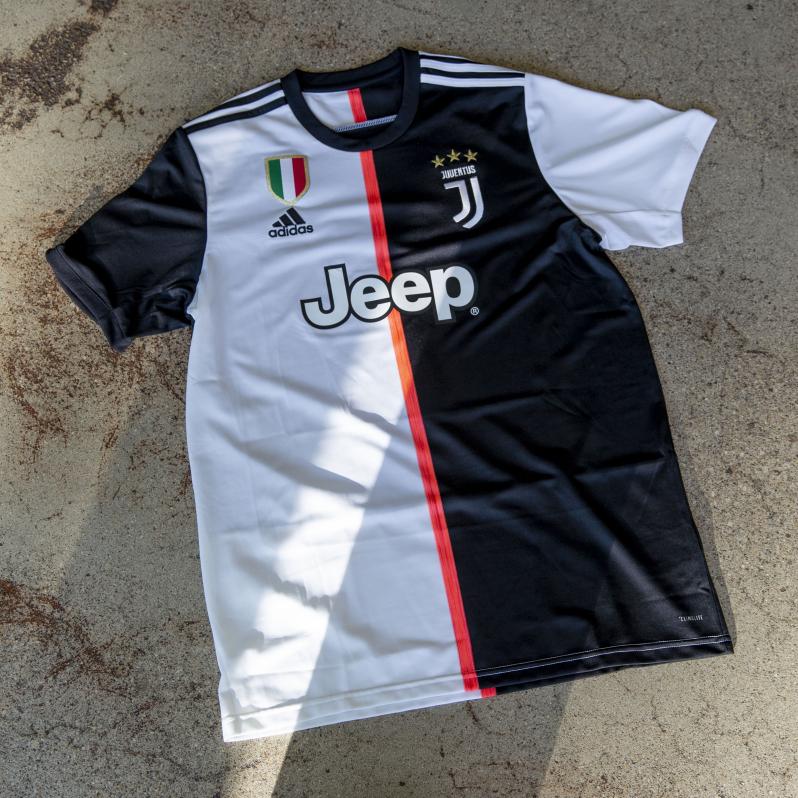 Vintage: 1996-97 Away Kit
Pink! 
Juventus has never shied away from wearing pink, although this latest home kit has caused a bit of a stir. 
If you're going to support the legend that is Cristiano Ronaldo, you may as well do it with a bit of flair.
10. Club América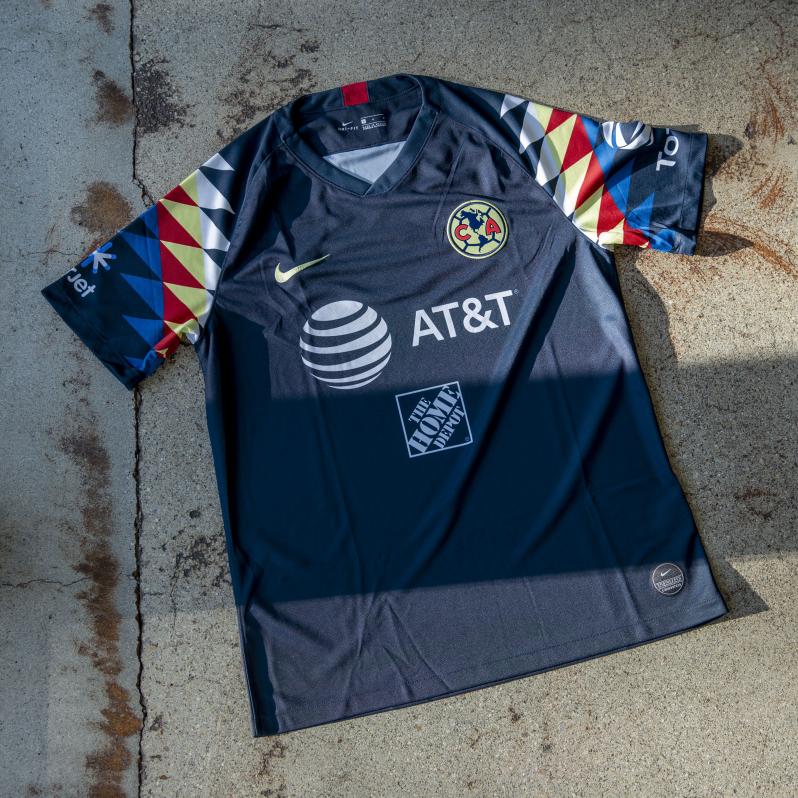 Vintage: 1995 Home Kit
Whether home or away, it's hard not to be drawn to the feathered pattern on a Club América kit. 
The Liga MX heavyweight's 2019-20 away kit is a bit subtler than past renditions of the feathered pattern, but this is one of the sharpest looks from Club América in recent memory — and a must-have if your closet is already full of yellow jerseys. 
11. Tottenham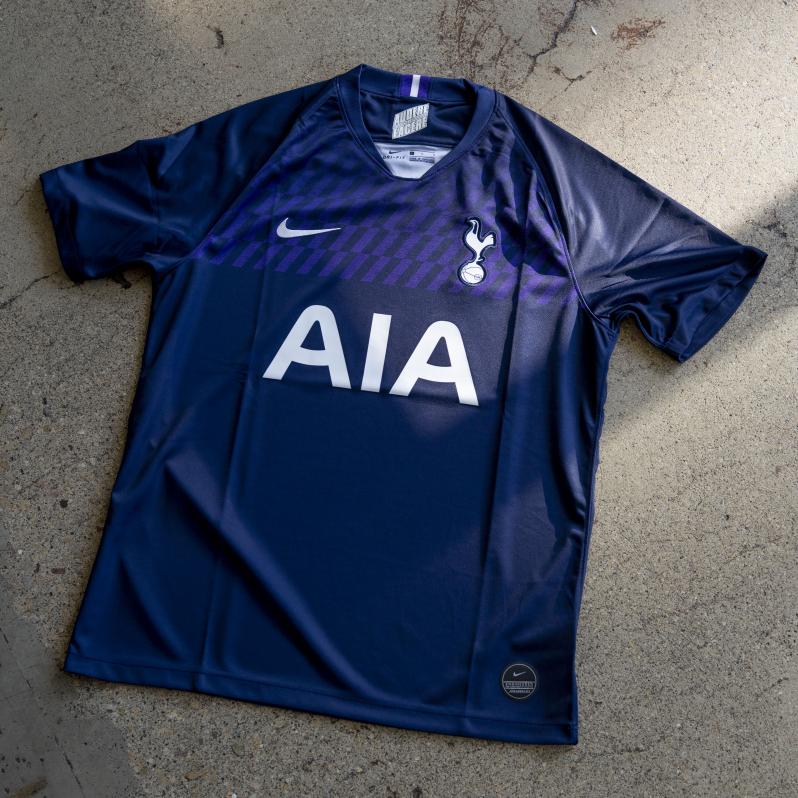 Vintage: 1992 Away Kit
Tottenham is flying higher than ever right now. After reaching the Champions League final for the first time, the club can actually claim it is the best team in London for the first time in recent memory. 
That said, Spurs are still looking back with their 2019-20 away kit, sporting a unique top chest that invokes images of Jurgen Klinsmann. 
Honestly, it's a great look, even if you aren't a Tottenham fan.
12. PSG
Vintage: 1995 Home Kit
A lot of the headlines — and rightly so — will go to PSG's stellar away kit, an infrared Michael Jordan jersey.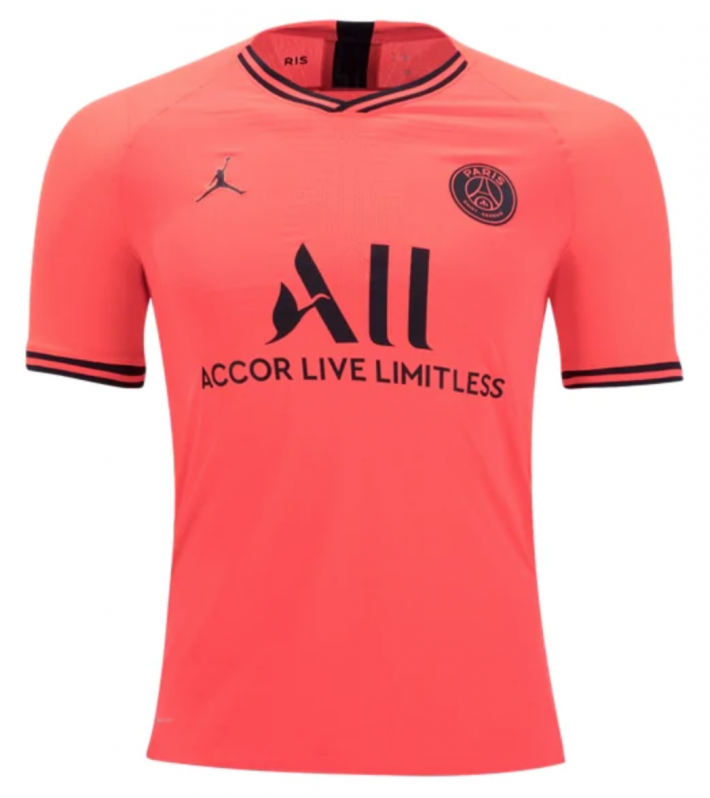 But there's something about the dark blue 2019-20 home kit that screams: We're here to win.
PSG has dominated Ligue 1 for years now but knows its legacy will come down to how it performs in the Champions League. This year's home kit reminds us of the home kit from the 1994-95 season, when PSG beat Johan Cruyff's Barcelona in the Champions League quarterfinals. An omen, perhaps?
13. Manchester City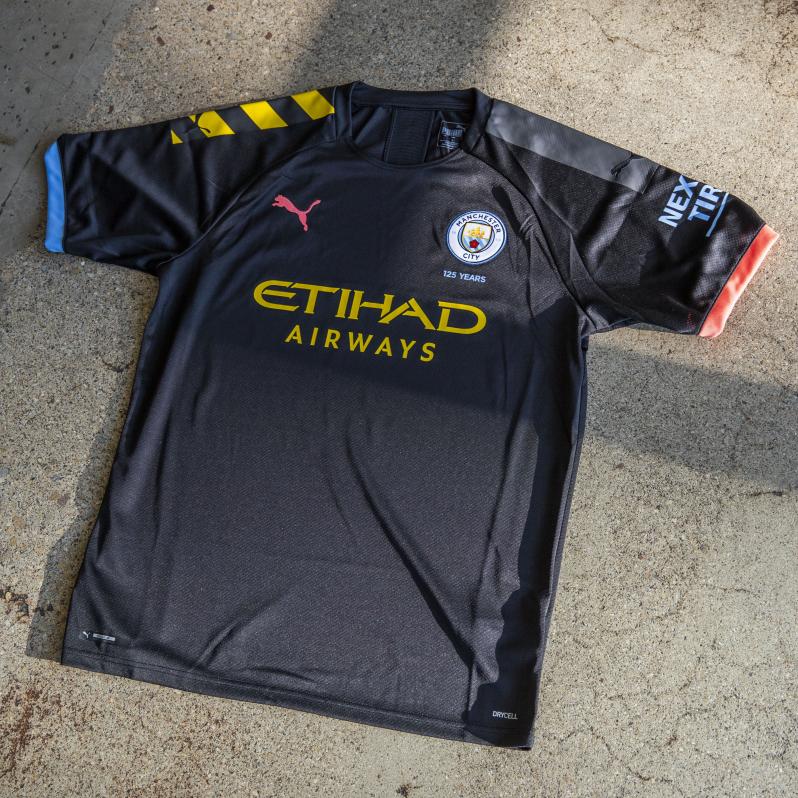 Vintage: 1894 Home Kit
The Manchester City 2019-20 away kit is absolute fire. The colorful jersey — with yellow, pink and City Blue — like all three of the club's kits this year, pays homage to 125 years of Manchester City. The vivid design was inspired by the storied Hacienda nightclub in Manchester. 
The defending Premier League champions will see plenty of haters try to take them down, but as long as they're wearing this sleek kit from Puma, few will look better than the Citizens.
That said, the third kit is really something special, too. If not one of the best soccer jerseys of the year, it is certainly one of the brightest.
14. Chivas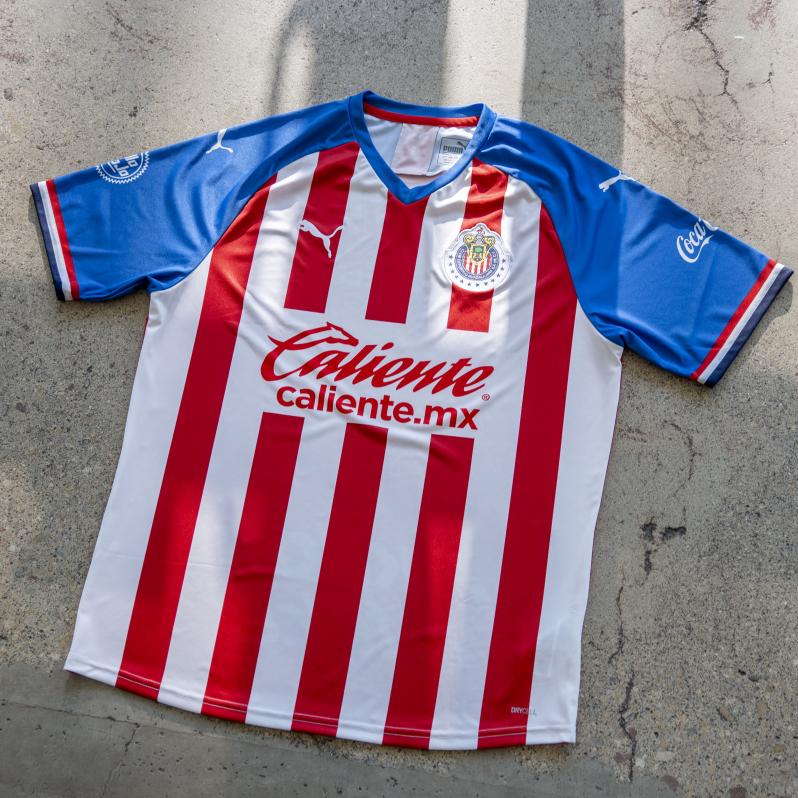 Vintage: 2008-09 Home Kit
Chivas' iconic red-and-white stripes will never get old, and Puma's latest take on the club's home kit is no different.
Taking a bolder step than ever before with the blue shoulders, Guadalajara will stand out as having one of the best kits in all of North America.
15. Bayern Munich
Vintage: 2005-06 Home Kit
Similar to the aforementioned Chelsea kit, Bayern Munich's 2019-20 home kit pays homage to its stadium with a subtle graphic design.
The bold red kit reminds us of the first season Die Roten played at Allianz Arena in Munich back in 2005-06. 
16. Benfica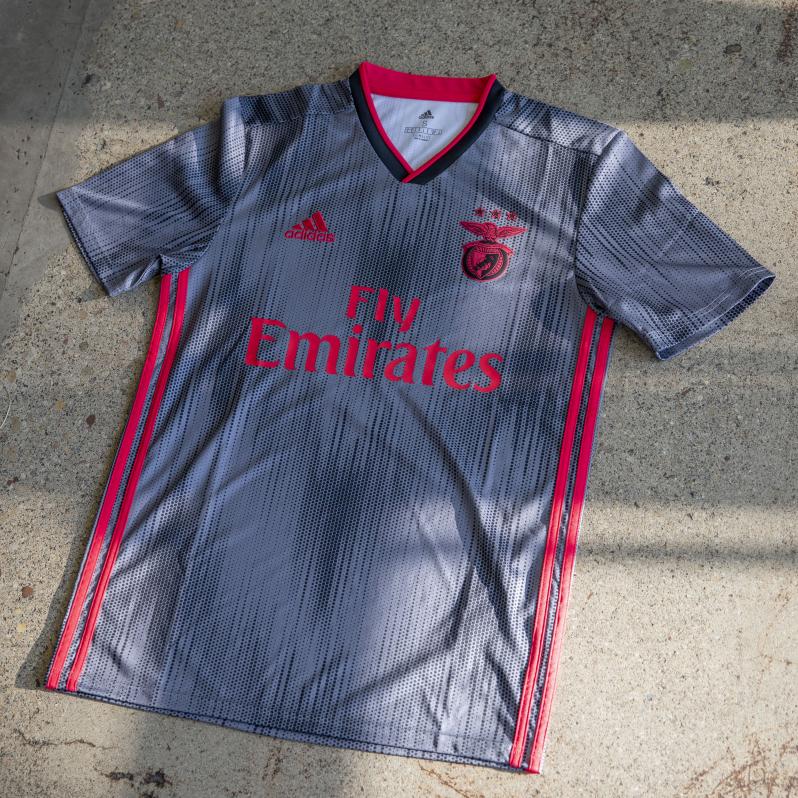 Vintage: 1963 Kit
A grey kit with a dark grey all-over graphic, this 2019-20 Benfica away kit will turn heads this season whenever the club leaves Lisbon. 
Though the 2018 Primeira Liga champs sold João Felix in the offseason, there's still plenty to like about the club, starting with this stunning look.
17. Boca Juniors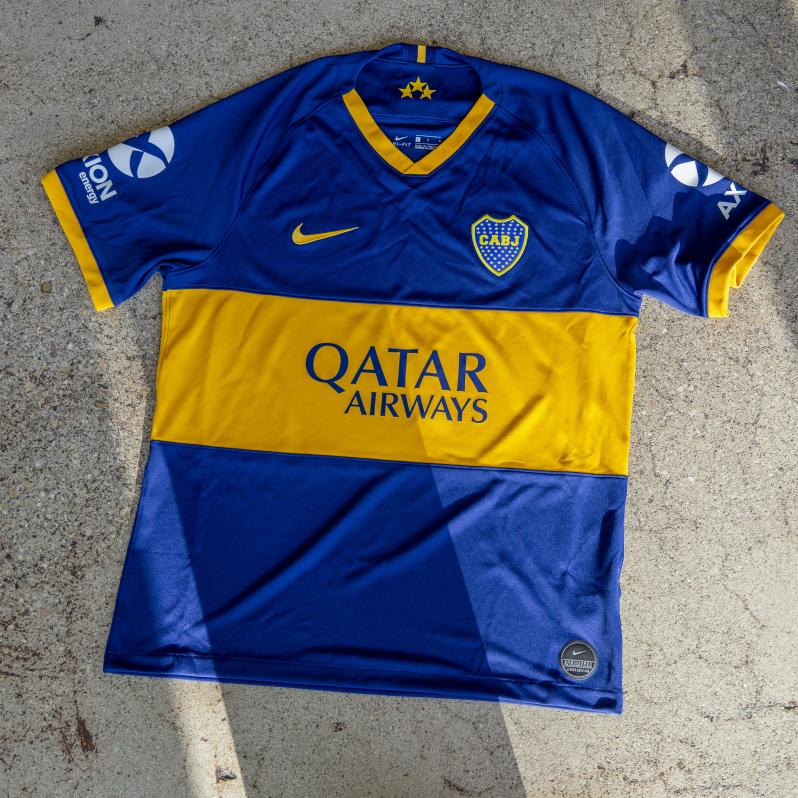 Vintage: 2000 Home Kit
Boca Juniors has an iconic look that, like Juan Román Riquelme highlight videos, will never get old and will always be among the best soccer jerseys money can buy. 
While the advertisers on the front come and go, the passion for the club never fades. And the stars on the crest continue to multiply.  
18. St. Pauli
Vintage: 1998-99 Home Kit
FC St. Pauli has always embraced the brown, as in the late 90s when the club's shirt sponsor was none other than Jack Daniel's Whiskey.
St. Pauli has had its share of ups and downs of the years, having dropped to the third division as recently as 2003. But the club remains a hipster favorite, not the least because of a 2017 collaboration with the punk band Dropkick Murphys.
No matter what club you support, you'll find the latest home, away and third kits at World Soccer Shop – the ultimate destination for super fans.