You did it. After nervously watching your nation navigate qualifying, compartmentalizing travel guilt and adding up your precious pennies, you've arrived at your $200 a night, seven-yard-long shipping container in Doha alongside 6,000 others who'll serve as your fellow shanty-townspeople over the coming weeks.
This old home might not be much to look at now, but by the time we go over some DIY projects you can implement to spice up your container, your neighbors will be absolutely losing their minds trying to keep up with the Joneses.
7 ways to turn your shipping container into your dream container   
#1. Febreze "Apple Cider" plug-in air freshener
Nothing says autumn vibes like this little modern wonder from the fine folks at Febreze. Somehow it even knows when it's empty and blinks blue — it'd almost be creepy if it wasn't so convenient! Just don't forget your outlet converter for Qatari shipping containers. You should be able to find them on your local dark web. 
#2. A little tapestry goes a long way
Remember when you were a freshman in college and needed some room decor that spoke to your soul while also serving as a welcoming invite to lost souls in the hallway? Channel that moment in time and find a tapestry that says, "I'll be your psychedelic rotten solider if you'll let me."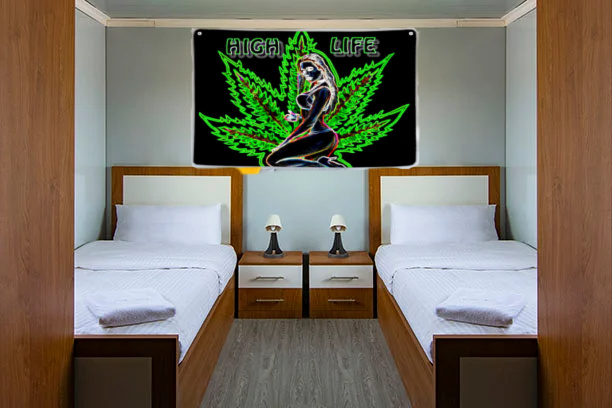 #3. Create a protest sign for your yard
Do you find yourself in Qatar but with some reservations over all these human rights violations? Well it's too late to turn back now, but you can still do your part with the greatest form of social disobedience in the modern era: a yard sign.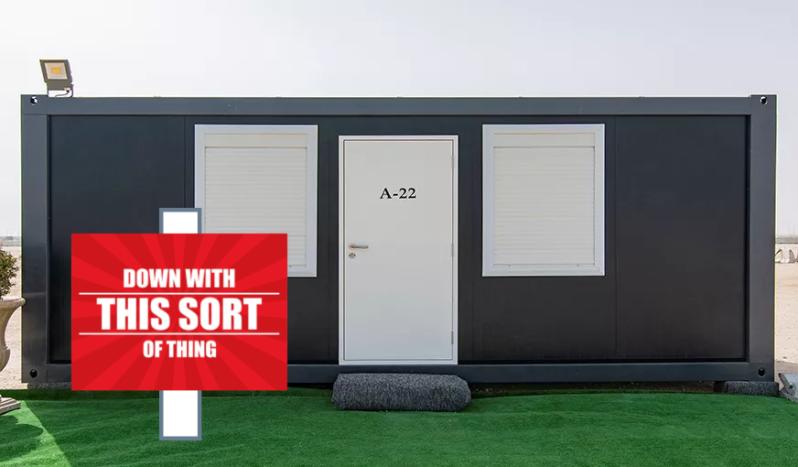 #4. Turn your shipping container into a shipping man-trainer 
We get it. It's vacation but you don't want to miss a work out. Not a problem — turn your space into an Anytime Fitness with a Peloton, weightlifting rack, gym climbing rope and still have room for your body to get crushed by it all.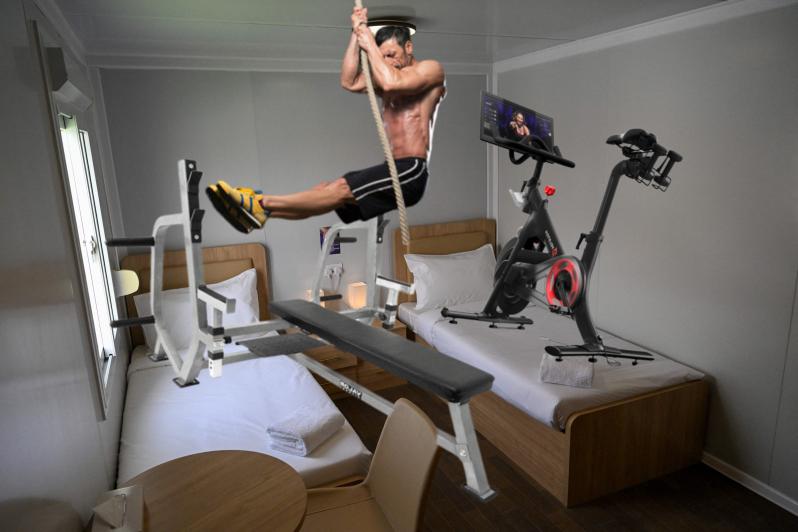 #5. Add an HVAC unit
Nothing increases property value like the simple addition of a good AC unit. It's still supposed to be hotter than two rats fornicating in a wool sock out there, so keep your seven-yard space comfortable with a good Mitsubishi Electric system.  
#6. Distill your own moonshine out back for a speakeasy down below
I know what you're thinking: "Me? Open a blind big without Qatari approval? Couldn't I like, go to jail forever for that sort of thing?"
The simple answer is yes. But let's not bring the law into this. It's gonna be hard to get your hands on the good stuff in Doha, so you'll be doing your neighbors a favor by distilling some 80% ABV ruckus juice. Just make sure to keep a close eye on your still or the ethanol vapors could explode and destroy the whole town.  
#7. Gargoyles always send the right message
Call me outdated, call me "Goliath" like the character from the 1994 Gargoyles TV series, but I just don't think you can go wrong with a bit of grotesque Gothic architecture. 
Used to protect inhabitants from evil or harmful spirits, having a couple gargoyles around your container helps to keep the horned vipers and redback spiders away.