32 Teams In 32 Days: Previewing Every Team In The 2018 World Cup
Over the next 32 days we are going to preview all 32 teams participating the the 2018 World Cup. We will release one team per day with all the information you need to know to impress your friends, so you can pass as the soccer hipster guy.
Get the best email in soccer.
Folks, we are so close to the World Cup we can taste it. Over the next 32 days, we will be releasing our team by team preview for the 2018 World Cup.
Day-by-day leading up to the opening match in Russia, you will learn everything you need to know about every World Cup team. From their coaches, to key players, to schedules and much more, we will have you feeling like you've been watching soccer every day since the last World Cup ended. OK, maybe that's a stretch, but we'll give you enough information so that even if your team isn't in the World Cup (hey, USA) you'll be able to hop on a bandwagon with ease. 
Croatia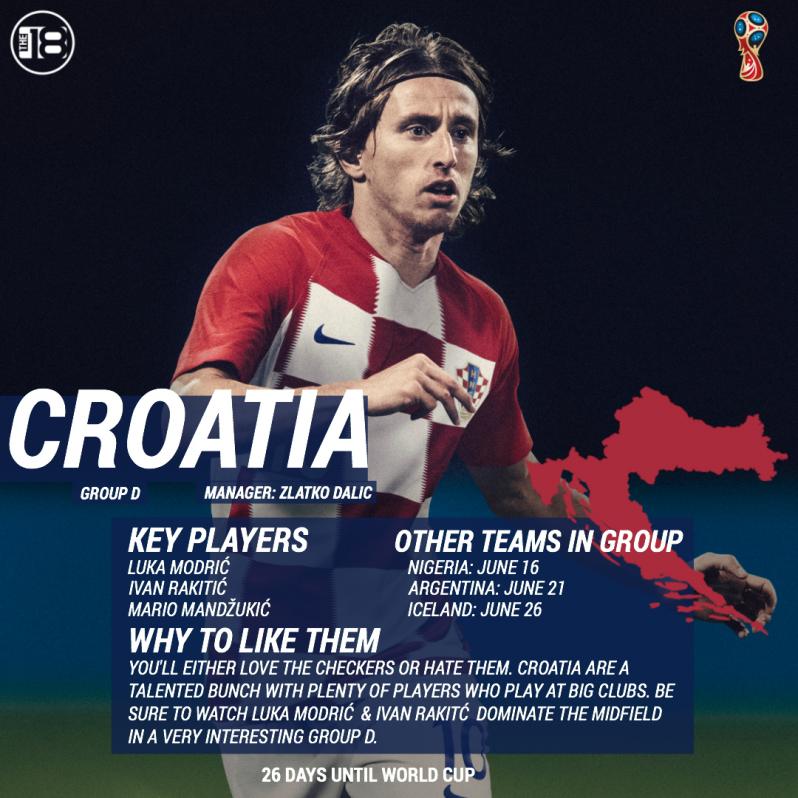 Nickname: Vatreni (The Blazers)
Prior World Cup Appearances: 4 (last in 2014)
Best Finish: Third place (1998)
Breakout Star: CM Mateo Kovačić
Croatia hasn't advanced out of the group stage since its incredible run in 1998, the first year it was allowed at the World Cup. But Croatia has never had as much quality as it currently possesses.
Real Madrid's Luka Modrić and Barcelona's Ivan Rakitić are two of the best midfielders in the world while Mario Mandžukić is a proven scorer up top. Other quality pieces include Ivan Perišić, Nikola Kalinić, Mateo Kovačić, Šime Vrsaljko, Vedran Ćorluka and, on occasion, Dejan Lovren. 
Best Case Scenario: Croatia takes advantage of a convoluted Group D to finish in first place and avoid playing France in the Round of 16 and then upsets Spain in the quarterfinals before bowing out in the semifinals. 
Worst Case Scenario: Croatia is unable to navigate its way through the talented Group D and finishes third in the group, once again failing to reach the knockout rounds. 
Costa Rica

Nickname:  Los Ticos
Prior World Cup Appearances: Four (last in 2014)
Best Finish: Quarterfinals (2014)
Breakout Star: FW Joel Campbell
Costa Rica was the Cinderella of the 2014 tournament after reaching the quarterfinals. Los Ticos are bringing pretty much the exact same squad to Russia, with little youth but plenty of experience as the oldest team in the field.
Real Madrid goalkeeper Keylor Navas remains one of the world's most underrated players and he's got a strong defense in front of him that allowed 11 goals in 16 World Cup qualifiers. The silky Bryan Ruiz and still-just-25 Joel Campbell lead the offense but it will be up to a midfield with Celco Borges, Christian Bolaños and Yeltsin Tejeda to balance the team, which scored just five goals in five matches in Brazil in 2014. 
Best Case Scenario: Keylor Navas plays out of his mind and Costa Rica finishes second to Brazil in Group E before going out to Germany in a close Round-of-16 match. 
Worst Case Scenario: Age catches up to Costa Rica, which fails to score a goal and goes winless in the tournament. 
Colombia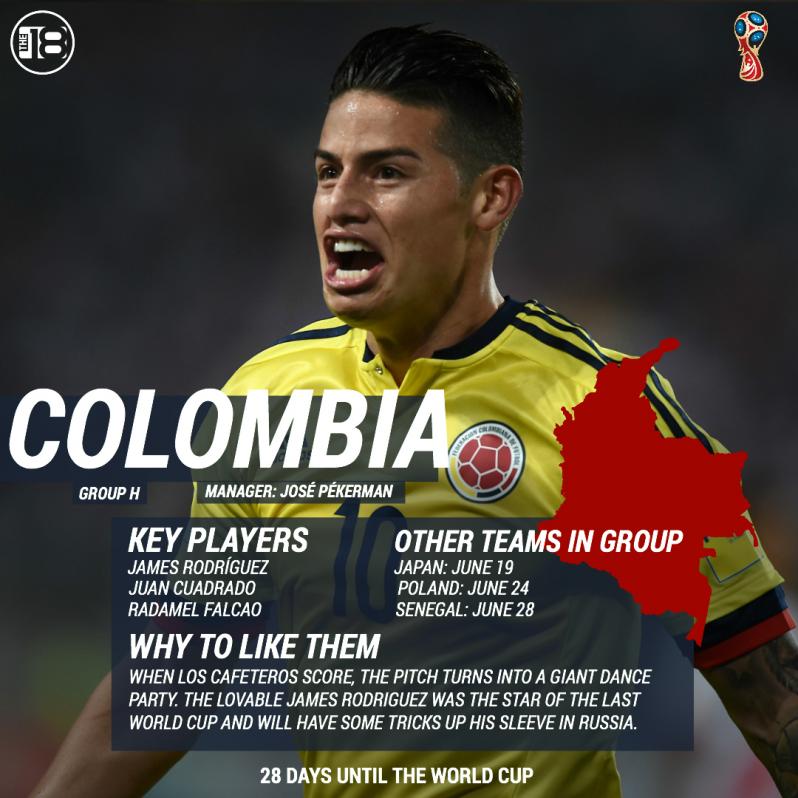 Nickname: Los Cafeteros (The Coffee Growers)
Prior World Cup Appearances: 5 (last in 2014)
Best Finish: Quarterfinals (2014)
Breakout Star: Davinson Sánchez
José Pékerman is now in his sixth year as coach for Los Cafeteros and the Argentine has Colombia geared for another run to the quarterfinals. Placed in the relatively tame Group H with Poland, Senegal and Japan, Colombia will expect to advance to the group stage, though a matchup against either England or Belgium likely awaits in the Round of 16. James Rodriguez regained his 2014 form with Bayern Munich this season and could once again be the straw that stirs the Colombian drink. 
Best Case Scenario: 32-year-old Radamel Falcao scores eight goals in his first World Cup and Los Cafeteros reach the semifinals. 
Worst Case Scenario: James Rodriguez injures himself dancing to celebrate a goal he didn't even score and Colombia goes out in the group stage. 
Brazil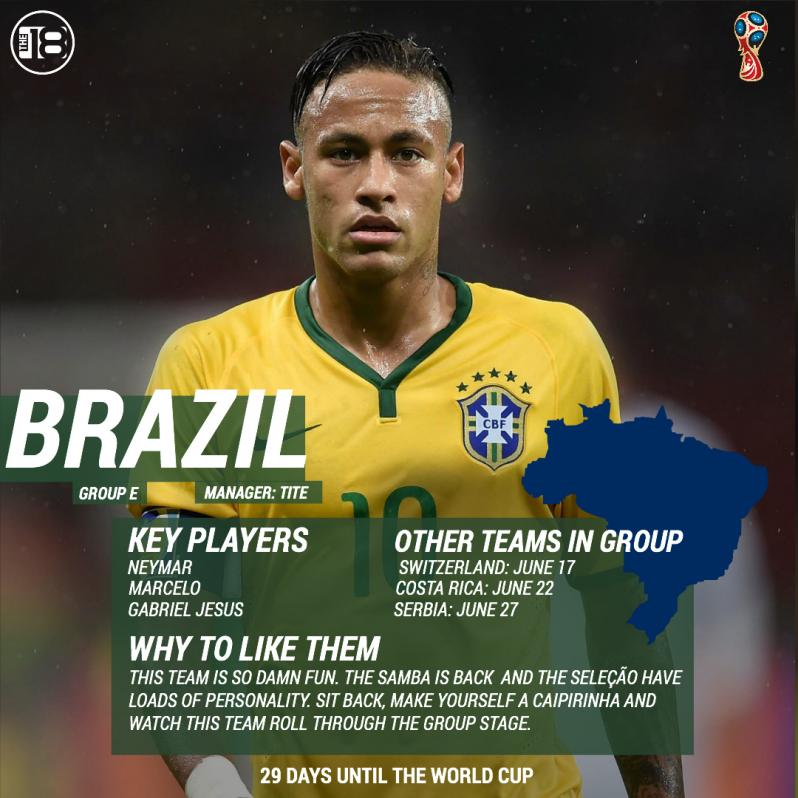 Nickname:  Seleção (The Selection)
Prior World Cup Appearances: 20 (last in 2014)
Best Finish: Champions (1958, 1962, 1970, 1994, 2002)
Breakout Star: Alisson
Brazilians (especially Neymar) will be on a mission to put the embarrassment of the 7-1 defeat to Germany in 2014 behind them. As one would expect with Brazil, this team has plenty of flair from the likes of Neymar, Gabriel Jesus, Douglas Costa, Philippe Coutinho and Willian. But the Seleção will need captain Thiago Silva to avoid suspension to keep things organized in the back.
Best Case Scenario: Neymar overtakes Ronaldo and Messi as the best player in the world by guiding Brazil to the World Cup. 
Worst Case Scenario: Neymar is injured in the second match like Pele in 1962, only this time Brazil doesn't have enough talent to go on and win the Cup anyway. 
Belgium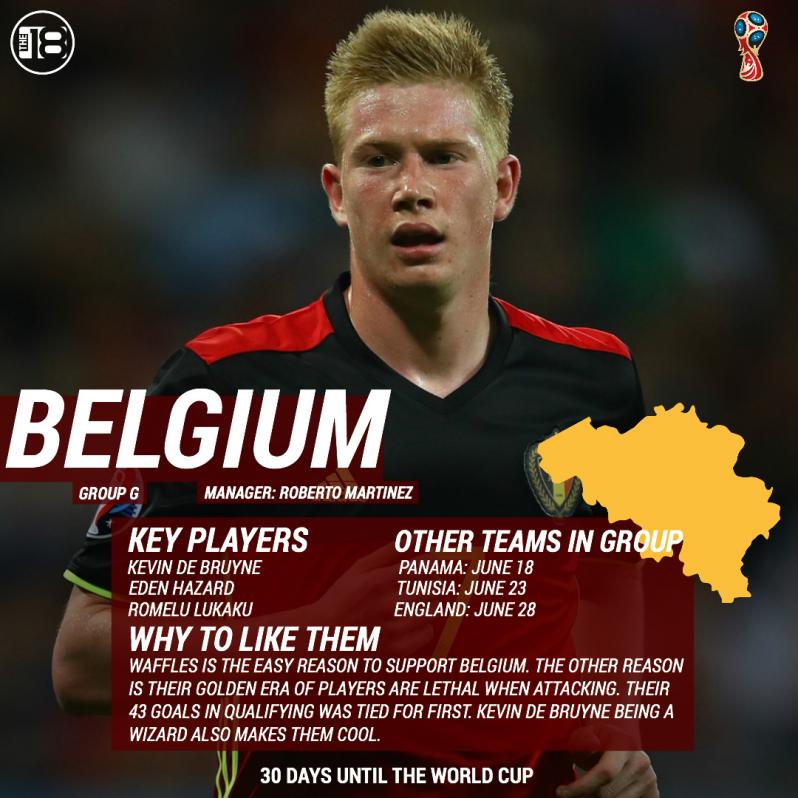 Nickname: De Rode Duivels (The Red Devils)
Prior World Cup Appearances: 12 (last in 2014)
Best Finish: Fourth (1986)
Breakout Star: Yannick Carrasco
Belgium is in a golden age with as much attacking talent as any team in the world. Kevin de Bruyne (Man City) pulls the strings alongside Eden Hazard (Chelsea), Romelu Lukaku (Man U), Dries Mertens (Napoli), Yannick Carrasco (Dalian Yifang) and Alex Witsel (Tianjin (Quanjian). Mousa Dembélé (Tottenham) and Marouane Fellaini (Man U) provide strength in midfield while the Tottenham duo of Toby Alderweireld and Jan Vertonghen add chemistry in the back in front of Chelsea keeper Thibaut Courtois.
Best Case Scenario: De Bruyne scores a couple screamers, Carrasco reminds everyone of what he did for Atletico before he left for China and the defense is air tight as Belgium wins its first world championship. 
Worst Case Scenario: De Bruyne gets fat on waffles, his face breaks out in pimples and Belgium loses in the quarterfinals just like in the last World Cup and Euros. 
Australia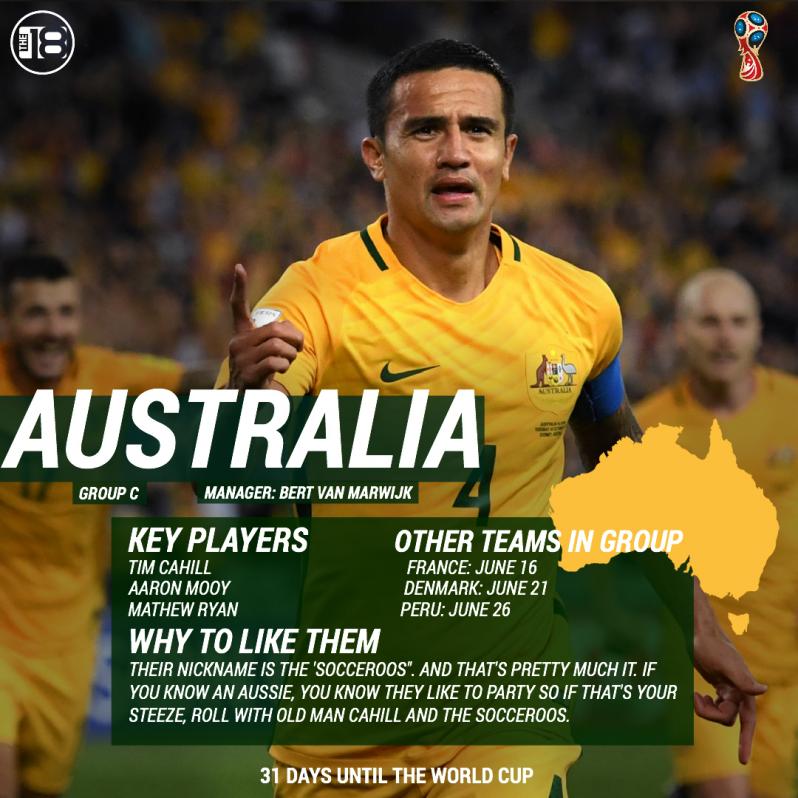 Nickname: Socceroos
Prior World Cup Appearances: 4 (last in 2014)
Best Finish: Round of 16 (2006)
Breakout Star: Aaron Mooy
The Socceroos have become a regular presence at the World Cup, qualifying for a fourth straight time after one appearance in the first 17 tournaments. But they've rarely done much more than participate other than a Round of 16 appearance in 2006 when they gave eventual champion Italy a run for its money. While 38-year-old Tim Cahill could become the fourth player to score at four consecutive World Cups, this team will rely on captain Mile Jedinak if it hopes to advance. But if Cahill can score another screamer like this one this summer, it will be a good tournament for the underdog Socceroos.
Best Case Scenario: Reaching the Round of 16 and scoring a great goal.
Worst Case Scenario: Losing all three matches and running out of beer.
Argentina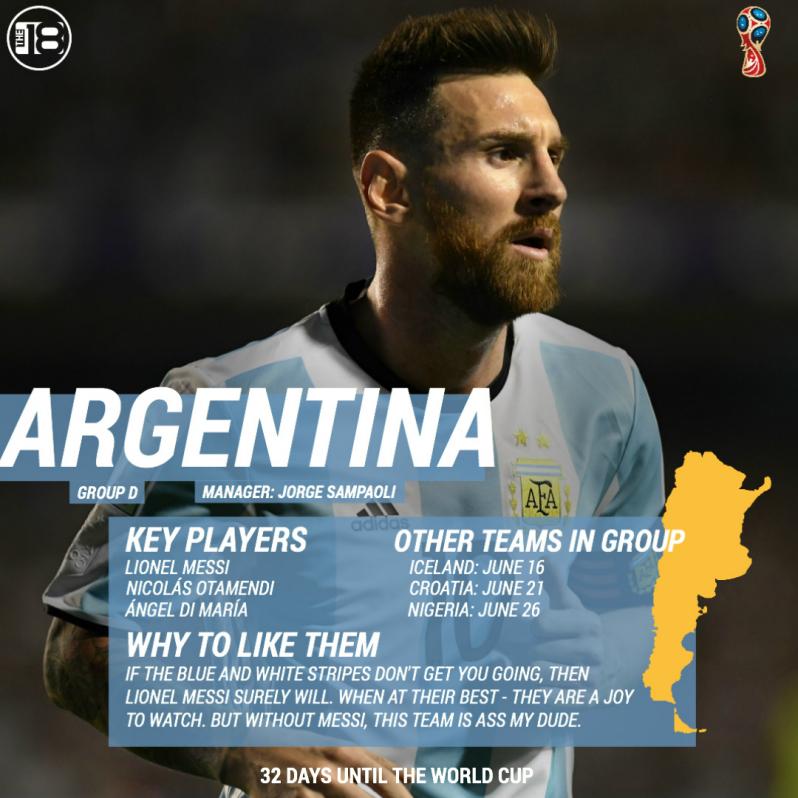 Nickname: La Albiceleste
Prior World Cup Appearances: 16 (last in 2014)
Best Finish: Champions (1978, 1986)
Breakout Star: Paulo Dybala
Lionel Messi is in the conversation as one of the best players of all time, but he's yet to win a World Cup like Argentina legend Diego Maradona. If Messi is ever to live up to his country's high expectations, his national teammates need to perform up to their potential. Argentina reached the 2014 final before falling 1-0 to Germany in extra time and nothing short of championship will do for fans of La Albiceleste. Without Messi this team has been an absolute disaster. If Messi is Messi and the supporting cast can just not mess up, they'll have a chance to lift the hardware.
Best Case Scenario: Winning it all. Nothing less will suffice for Messi's critics.
Worst Case Scenario: Going out in the group stage against a determined group. 
This story will update everyday with a new team leading up the start of the 2018 World Cup
Bookmark/Search this post with