Pep Guardiola Calls For His Own Head If He Were Manager Of A Big Club
Manchester City manager Pep Guardiola expects he'd have been sacked if he managed a big club.
Get the best email in soccer.
Each narrative in the English Premier League has a nauseatingly long lifespan until it utterly annihilates itself — it's annually cyclical, like the depiction of a serpent eating its own tail. We belabor the same statistics, the same trends and the same memes until we've had our fill, proceeding to damn them out of existence like a child pop star whose career of cultural martyrdom has run its course.
This season we had the saga of Claudio Ranieri and Leicester City, ending with Ranieri's head placed on a spike outside of the King Power Stadium. We've also witnessed the besiegement of the Emirates — the hordes of ArsenalFanTV laying waste to Arsene Wenger's 21 years of dominion while Le Professeur attempts to land one final coupe de grace on his haters in the form of another top four finish and FA Cup trophy.
Jose Mourinho is an ever present vacuum of sound while in England, and his Manchester United have delighted the statisticians who've continued to be amazed that after every match, they can continue to proclaim that United are still in sixth and that Mourinho's record isn't much better than that of David Moyes or Louis van Gaal before him. Unfortunately for this core group of people, a Europa League final victory over Ajax is going to have made all their endeavors a giant waste of time (until next year!).
For a bit of levity we can turn to the towering rage and frenzy of desire that is Antonio Conte and Jurgen Klopp, or the obstinate uselessness of Moyes and Bob Bradley (RIP).
Forgotten in all these tasty plots has been the Premier League's greatest offseason acquisition, the man who melted the hearts of purists everywhere with his ability to unbalance center backs through Lionel Messi and unleash Joshua "Philipp Lahm 2.0" Kimmich upon us all: Pep Guardiola.
It now feels as though the aesthetic gods of football, the ones that order you to pay homage and make sacrifice to the stats of possession, pass accuracy and heat maps, simply forced us to write and devour thousands of words of preseason babble surrounding the cult of Guardiola and then these gods were placated. 
That was enough. It was time to go back to the finer things in English football. He's just not been as interesting as all that. Hiss press conferences are terse, communicated under the breath, his ability to clearly express himself in English a conscious decision to either answer a worthy question or to be done with the exercise.
He's tired of being asked what makes English football special, what makes it difficult and how it compares to La Liga or Bundesliga. He's tired of pointing to his own ridiculous trophy haul as a measure of his methods, and he's tried of being asked where it's all gone wrong.
"Maybe you have more experience than me and can explain to me how it's more difficult here than in Germany, Spain and Italy," Guardiola told reporters on Monday. "…But I'm here to [be] helped so maybe you can tell me why it's so special. You English guys - why is it so special? I'm not from here, I don't know the answer."
He's reverted to the telltale sign of a manager fed up with the lot of it: he's taken to calling out Arsene Wenger's "voyeurism" of other clubs.
With all the belabored storylines above having run their course, you can almost feel the needle shifting to Guardiola, whose season will now be analyzed in maddening detail over the coming weeks. An inability to beat relegated Middlesbrough in two matches (results which were largely ignored at the time because they were exceedingly boring) will now be put under the microscope. 
The romance of a defenseless encounter between City and Monaco in the Champions League round of 16 suddenly becomes a mere figure in the offseason: how could you have possibly surrendered six goals in two legs? How did you get thrashed by Everton and Leicester City?
Is Claudio Bravo worth all the personal defending? Is Raheem Sterling good enough or developing fast enough? Why, oh why did you spend so much money on John Stones?
"Here they gave me a second chance and we will try to do it," Guardiola says. "In my situation at a big club I'm sacked. I'm out. Sure. Definitely. At the clubs I worked at before I am not here [for the following season], but here we have a second chance and we will try to do it better than this season."
Perhaps the spotlight was never on Guardiola because we always recognized that it wasn't do or die time — that he'd always have a second year that would be infinitely more interesting than the first, a year where we could actually chew him up and spit him out should he fail. 
With rumors of a mass exodus of current players, a transfer war chest of around £250 million and the expectation that he'll lead the club beyond the Champions League round of 16 and to a Premier League title, it's safe to say that next season's narrative will be Pep-heavy.
Related: Jose Mourinho's Anti-Football Peaks With Oafish Marouane Fellaini Red Card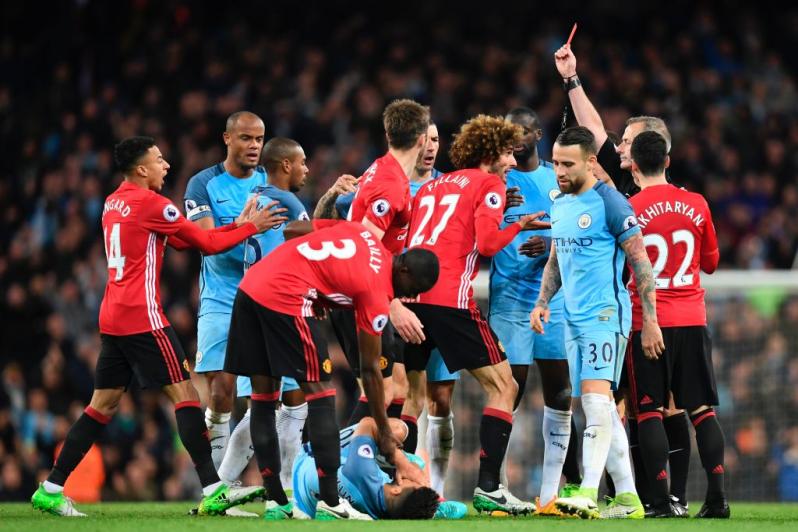 Bookmark/Search this post with