How To Watch Women's World Cup 2019 (TV, Streaming, Apps)
Everything you need to know to watch the 2019 Women's World Cup on TV or streaming.
Get the best email in soccer.
The Women's World Cup is here. As the U.S. women's national team begins its quest to repeat as world champion, there's one thing on the mind of every soccer fan: How to watch Women's World Cup 2019?
The 2019 Women's World Cup will be broadcast in the United States by FOX (English) and Telemundo (Spanish). But not every game will be on FOX or Telemundo, as both networks will spread the matches on its various networks. 
JP Dellacamera and Aly Wagner will lead FOX's coverage while Andrés Cantor is the biggest name on Telemundo's coverage. 
How To Watch Women's World Cup 2019 (In The U.S.)
TV: FOX (Fox, FS1, FS2); Telemundo (Telemundo, Universo, Telemundo Deportes), NBCSN
Streaming: FoxSportsGo.com; TelemundoDeportes.com, fuboTV, Sling Blue, Hulu Live, PlayStation Vue
Matches in the 2019 Women's World Cup will be available in English on one of three TV channels: Fox, FS1 and FS2. Of the 52 matches, 27 will be on FS1, FOX's primary cable sports network. A record 22 will be on broadcast TV (Fox), with the remaining three on FS2 (during simultaneous kick-offs in the group stage).
In Spanish, 21 matches will be on Telemundo with 24 more on Telemundo Deportes. Unfortunately, seven will only be available on Telemundo Deportes' digital platforms (TelemundoDeportes.com). But the 21 matches on Telemundo is the most ever for Spanish-language TV in the U.S., more than doubling what we got in 2015. Additionally, NBCSN will some broadcast matches in Spanish, starting with the USWNT's round-of-16 meeting with Spain.
If you want to know how to watch Women's World Cup matches if you have cut the cord, you have multiple streaming options. If you don't have a cable subscription, you can subscribe to fuboTV (our pick for soccer fans), Sling Blue, Hulu Live or PlayStation Vue. Each of those streaming options have free trials, and if you're clever you can string them all together to watch the entire Women's World Cup without paying a dime.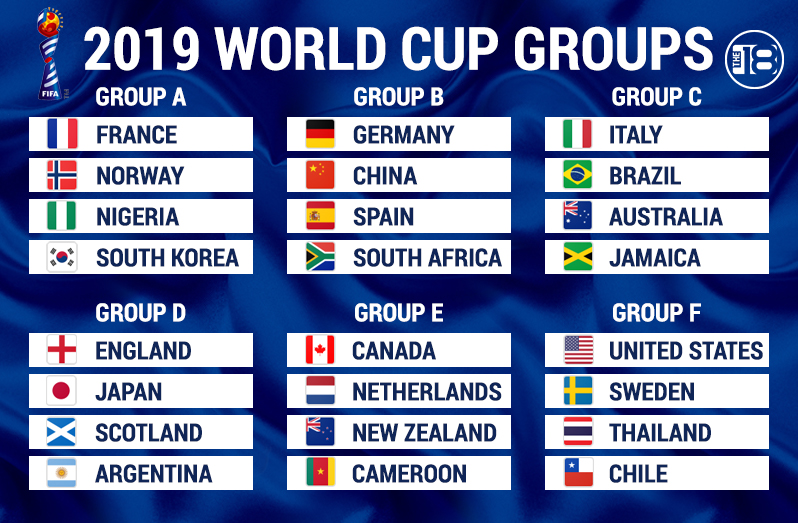 When it comes to how to watch Women's World Cup matches involving the USWNT, all U.S. group-stage matches will be on Fox. Depending on whether the team wins its group, it is likely the USWNT knockout round matches will be on FS1 until the final. 
In addition to Dellacamera and Wagner, FOX is calling on Derek Rae-Danielle Slaton, Jenn Hildreth-Kyndra de St. Aubin, Glenn Davis-Angela Hucles and Lisa Byington-Cat Whitehill as its commentary teams. FOX's studio talent will include Heather O'Reilly, Alexi Lalas, Kelly Smith, Rob Stone and Kate Abdo, while the likes of Christie Pearce Rampone, Ariane Hingst, Karina LeBlanc, Kate Gill, Leslie Osborne and Eniola Aluko also joining in for analysis. 
In addition to how to watch Women's World Cup 2019, check out our list of 18 players to watch this summer. For more on how the Women's World Cup works, check out our guide for the entire 2019 tournament. Keep reading for how to watch Women's World Cup matches, a TV schedule for all 52 games. 
How To Watch Women's World Cup TV Schedule
(All times ET)
Group Stage
June 7, Friday
Group A: France vs. South Korea, 3 p.m., Parc des Princes, Paris (FS1, Telemundo)
June 8, Saturday
Group B: Germany vs. China, 9 a.m., Roazhon Park, Rennes (FS1, Telemundo)
Group B: Spain vs. South Africa, noon, Stade Océane, Le Havre (Fox, Telemundo)
Group A: Norway vs. Nigeria, 3 p.m., Stade Aguste-Delaune, Reims  (Fox, Universo)
June 9, Sunday
Group C: Australia vs. Italy, 7 a.m., Stade du Hainaut, Valenciennes (FS1, Telemundo)
Group C: Brazil vs. Jamaica, 9:30 a.m., Stade des Alpes, Grenoble (FS1, Telemundo)
Group D: England vs. Scotland, noon, Stade de Nice, Nice (Fox, Telemundo)
June 10, Monday
Group D: Argentina vs. Japan, noon, Parc des Princes, Paris (FS1, Universo)
Group E: Canada vs. Cameroon, 3 p.m., Stade de la Mosson, Montpellier (FS1, Universo)
June 11, Tuesday
Group E: New Zealand vs. Netherlands, 9 a.m., Stade Océane, Le Havre (FS1, Universo)
Group F: Chile vs. Sweden, noon, Roazhon Park, Rennes (FS1, Universo)
Group F: United States vs. Thailand, 3 p.m., Stade Auguste-Delaune, Reimes (Fox, Telemundo)
June 12, Wednesday
Group A: Nigeria vs. South Korea, 9 a.m., Stade des Alpes, Grenoble (FS1, Universo)
Group B: Germany vs. Spain, noon, Stade du Hainaut, Valenciennes (Fox, Telemundo)
Group A: France vs. Norway, 3 p.m., Stade de Nice, Nice (Fox, Universo)
June 13, Thursday
Group C: Australia vs. Brazil, noon, Stade de la Mosson, Montpellier (Fox, Universo)
Group B: South Africa vs. China, 3 p.m., Parc des Princes, Paris (Fox, Universo)
June 14, Friday
Group D: Japan vs. Scotland, 9 a.m., Roazhon Park, Rennes (FS1, Universo)
Group C: Jamaica vs. Italy, noon, Stade Auguste-Delaune, Reims (Fox, Universo)
Group D: England vs. Argentina, 3 p.m., Stade Océane, Le Havre (Fox, Telemundo)
June 15, Saturday
Group E: Netherlands vs. Cameroon, 9 a.m., Stade du Hainaut, Valenciennes (FS1, Universo)
Group E: Canada vs. New Zealand, 3 p.m., Stade des Alpes, Grenoble (FS2, Universo)
June 16, Sunday
Group F: Sweden vs. Thailand, 9 a.m., Stade de Nice, Nice (FS1, Telemundo)
Group F: United States vs. Chile, noon, Parc des Princes (Fox, Telemundo)
June 17, Monday
Group B: China vs. Spain, noon, Stade Océane, Le Havre (Fox, Telemundo Deportes app)
Group B: South Africa vs. Germany, noon, Stade de la Mosson, Montpellier (FS1, Universo)
Group A: Nigeria vs. France, 3 p.m., Roazhon Parke, Rennes (Fox, Universo)
Group A: South Korea vs. Norway, 3 p.m., Stade Auguste-Delaune, Reims (FS1, Telemundo Deportes app)
June 18, Tuesday
Group C: Jamaica vs. Australia, 3 p.m., Stade des Alpes, Grenoble (FS2, Telemundo Deportes app)
Group C: Italy vs. Brazil, 3 p.m., Stade du Hainaut, Valenciennes  (FS1, Universo)
June 19, Wednesday
Group D: Japan vs. England, 3 p.m., Stade de Nice, Nice (FS1, Telemundo Deportes app)
Group D: Scotland vs. Argentina, 3 p.m., Parc des Princes, Paris (FS2, Universo)
June 20, Thursday
Group E: Cameroon vs. New Zealand, noon, Stade de la Mosson, Montpellier (FS1, Telemundo Deportes app)
Group E: Netherlands vs. Canada, noon, Stade Auguste-Delaune, Reims (Fox, Universo)
Group F: Sweden vs. United States, 3 p.m., Stade Océane, Le Havre (Fox, Telemundo)
Group F: Thailand vs. Chile, 3 p.m., Roazhon Park, Rennes (FS1, Universo)
Round of 16
June 22, Saturday
Match 38: Germany vs. Nigeria, 11:30 a.m., Stade des Alpes, Grenoble (FS1, Telemundo)
Match 37: Norway vs. Australia, 3 p.m., Stade de Nice, Nice (Fox, Telemundo Deportes app)
June 23, Sunday
Match 39: England vs. Cameroon, 11:30 a.m., Stade du Hainaut, Valenciennes (FS1, Telemundo Deportes app)
Match 40: France vs. Brazil, 3 p.m., Stade Océane, Le Havre  (Fox, Telemundo)
June 24, Monday
Match 41: Spain vs. United States, noon, Stade Auguste-Delaune, Reims (FS1, Telemundo, NBCSN)
Match 42: Sweden vs. Canada, 3 p.m., Parc des Princes, Paris (FS1, Universo, NBCSN)
June 25, Tuesday
Match 43: Italy vs. China, noon, Stade de la Mosson, Montpellier (FS1, Universo)
Match 44: Netherlands vs. Japan, 3 p.m., Roazhon Park, Rennes (FS1, Universo)
Quarterfinals
June 27, Thursday
Match 45: Norway vs. England, 3 p.m., Stade Océane, Le Havre (Fox, Universo)
June 28, Friday
Match 46: France vs. United States, 3 p.m., Parc des Princes, Paris (Fox, Universo)
June 29, Saturday
Match 47: Italy vs. Netherlands, 9 a.m., Stade du Hainaut, Valenciennes (FS1, Telemundo)
Match 48: Germany vs. Sweden, 12:30 p.m., Roahzon Park, Rennes (FS1, Telemundo)
Semifinals
July 2, Tuesday
Match 49: England vs United States, 3 p.m., Stade de Lyon, Lyon (Fox, Telemundo)
July 3, Wednesday
Match 50: Netherlands vs. Sweden, 3 p.m., Stade de Lyon, Lyon (FS1, Telemundo)
Third-Place Match
July 6, Saturday
England vs. Sweden, 11 a.m., Stade de Nice, Nice (Fox, Telemundo)
How To Watch Women's World Cup Final
Final
July 7, Sunday
United States vs. Netherlands, 11 a.m., Stade de Lyon, Lyon (Fox, Telemundo)
Bookmark/Search this post with