England Loses, But Does England Really Lose?
England will now play Colombia in the Round of 16, and it's not looking good for James Rodriguez at the moment.
Get the best email in soccer.
Belgium claimed top spot in Group G after defeating England 1-0 Thursday thanks to Adnan Januzaj's beautiful 51st-minute curler. Michy Batshuayi celebrated the goal by thunder punting the ball off the post and back into his own face.  
England must now face Colombia in the Round of 16 while Belgium take on Japan. What happens in the bracket after that has been a subject of much conjecture, but Germany showed yesterday that if you look ahead at the 2018 World Cup you're already dead.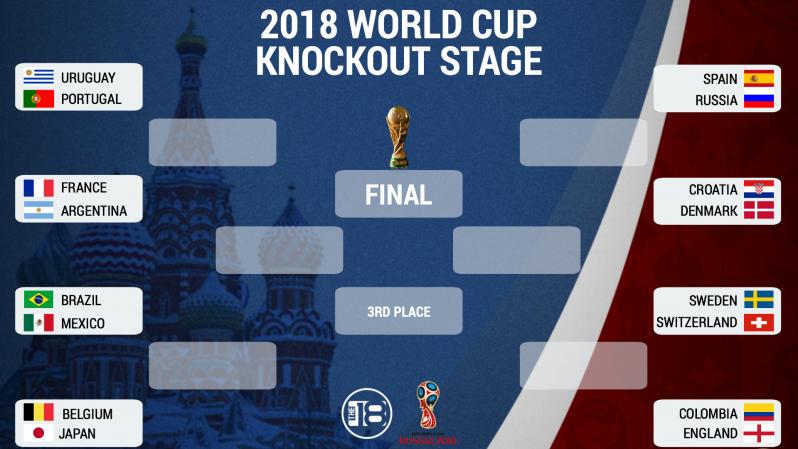 Still, all the pre-match hype centered around which nation would do a better job of throwing the game and landing on the "softer" side of the bracket. Gareth Southgate made eight changes to the eleven that thrashed Panama, Roberto Martinez went one better with nine alterations to the team sheet. 
The battle for the Group G runners-up spot was well and truly on.
In the first half, Belgium won that battle. Since a draw would see the outcome of the group decided by fair-play points, the Red Devils stormed their way to two bookings in the first half — one to Leander Dendoncker and another to Youri Tielemans. Belgium now had five yellows in the tournament compared to England's two.  
WHAT A BARNBURNER. 
Yeah. #ENGBEL pic.twitter.com/Z4q9Ll7vaE
To be fair to Belgium, they generated the only chances of note in the opening 45. Also, Mousa Dembele is very good. 
Tielemans tries his luck from distance but Pickford is there to make the save! pic.twitter.com/FJuw6vksnS
But five minutes into the second half, the script was flipped. Januzaj got on the ball in the box and absolutely abused Danny Rose before curling an effort beyond Jordan Pickford. It was a moment of brilliance from the Real Sociedad winger. 
#MundialTelemundo De zurda y al ángulo ¡Así fue el hermoso gol de @adnanjanuzaj para adelantar a su #BEL en el marcador sobre #ENG! Síguelo EN VIVO por @telemundo pic.twitter.com/DeP1vBIEks
Michy Batshuayi then tried to bury the rebound but ended up cranking a punt into his own face. 
oh no Michy pic.twitter.com/O9QhPSyHyT
Marcus Rashford had a great chance to equalize after being played through by a clever pass from Jamie Vardy, but his final shot was never going on frame.
Southgate sent on Danny Welbeck and Harry Maguire in search of something — I wouldn't say for an equalizer — and the match ended 1-0. 
So England gets Colombia, who've just described James Rodriguez's injury setback as "extremely concerning." The winner of that match will play either Sweden or Switzerland in the quarterfinals.
Conversely, if Belgium can get past Japan, it'll be either Brazil or Mexico in the quarters.  
Bookmark/Search this post with