Wenger Watch Transfer Deadline Special: At Least Alexis Sanchez Is Still On The Team
Arsene Wenger held on to his best player, but that's maybe the only positive here.
Welcome to a Wenger Watch transfer deadline special, where we will come to a conclusion on Wenger IN vs. Wenger OUT based on the deadline day happenings at Arsenal. 
The deadline day happenings at Arsenal were pretty underwhelming really. Manchester CIty is all mad because they don't have Alexis Sanchez, Arsenal have Alexis Sanchez but not Thomas Lemar or Alex-Oxlade Chamberlain, who has inadvertantly become the new Banter King of Merseyside.
(This quote is almost certainly fake, but the alternate universe in which Ox actually said this has got to be the most entertaining place in the whole space-time continuum.)
Alex Oxlade-Chamberlain: "We're in good form after beating Arsenal 4-0 last week."  pic.twitter.com/fRCorkA9r8
Despite the loss of Ox and no replacement in the cards, the howling for Wenger's job has mostly abated and been replaced with a sense of "this is what there is, it's not going to change." So, the Wenger-O-Meter is still pointing to Wenger OUT, but its heart really isn't in it.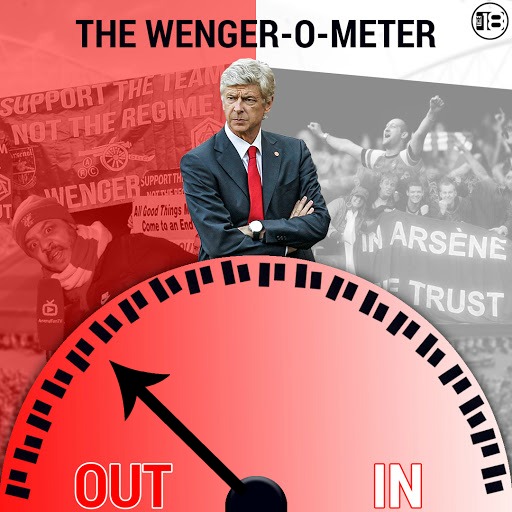 Today The Wenger-O-Meter is indicating Wenger OUT, but with a note of resignation hanging over its head. Not Arsene Wenger's resignation, though. Resignation to the Frenchman staying around for a while and things not getting much better. Goodbye Ox! Goodbye Lucas Perez! Hello existential dread and a squad that finished fifth last season not being particularly improved.
It would be unwise to speculate as to what Alexis Sanchez is thinking right now, but his contract runs until next summer and all indications have been that he is not going to sign a new one with Arsenal. Having almost single-handedly carried Arsenal last season, it looks like he will be doing a lot of the heavy lifting this season as well.
The hollering for Wenger OUT is not going to abate any time soon.