You Think Your Day Sucks? Watch This Player Have His Penalty Kick Saved 3 Times In A Row
If at first you don't succeed: try, try again.
The last 24 hours haven't been too kind to supporters of Olympique Lyonnais. Lyon's senior team received the Bayern boot from the Champions League and the youth squad was eliminated from the UEFA Youth League on Wednesday.
But Lyon's youth team had a far more devastating exit after losing to RB Salzburg 4-3 in the quarterfinal. The most brutal part is that Lyon had a clear opportunity for that fourth goal at the start of the match. Watch as this poor Lyon youth player misses a penalty kick three times in a row.
There's a lot to dissect in this clip. Let's start with the Salzburg goalkeeper clearly not having the slightest clue of how to stay on his line. After the first penalty, the replay shows that he slightly creeped over the goal-line to make the save. Fair enough, in his mind he should've thought: "Scheiße, better stay on my line for this next penalty."
Instead this absolute madman jumped a country-mile off of the line and acted surprised when it got called back.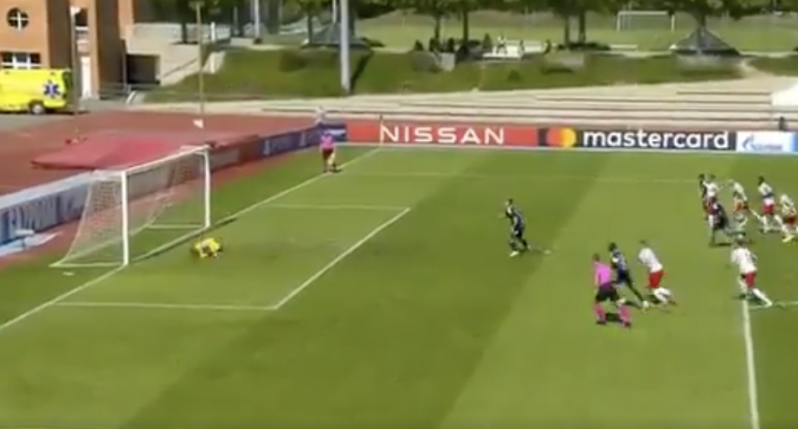 It's not even close, but he makes up for his errors with a third save, which brings us to our next point. What in the hell were those penalties?
Penalty 1: Weak shot to the goalkeeper's right
Penalty 2: Medium shot two centimeters to the goalkeeper's right
Penalty 3: Tiddly-piddly cupcake shot to the goalkeeper's left
After having the first two attempts saved, the Lyon player should have gone for gold and attempted a panenka penalty. Why not? You've got nothing to lose at this point after those first two shoddy penalties.
Another popular suggestion was to switch out the penalty-taker after the first two tries were saved. This suggestion also led to the most mind-numbing Twitter interaction you will ever read.
Can't decide if the three penalties or having to read that conversation was worse.