USWNT 2019 Women's World Cup Drinking Game To Play With Your Friends
Watch the U.S. women's national team kick ass in France while having a little fun from home.
The 2019 FIFA Women's World Cup is here. More importantly, we've got a USWNT Women's World Cup drinking game for you and all your friends to play as the Americans attempt to defend their title in France this summer.
There is no bigger global party than the World Cup. If you missed out on scoring tickets to watch the action in person, hopefully you find some friends (or make new ones) with whom to watch the USWNT as it navigates the 24-team field. Fans across the country will be cheering on the women in red, white and blue (well, red or white, per their snazzy uniforms) as they watch from their homes, the local pub or a watch party. 
You may, should you be of age, want to pick up an adult beverage or two while watching, and we're totally with you on that. After all, nothing makes a 5 a.m. kickoff more tolerable than a sweet mimosa or savory Bloody Mary. 
For fans like you, we've put together a Women's World Cup drinking game. It's similar to the one we produced last year for the men's World Cup, which can still mostly be used for this tournament, but this particular Women's World Cup drinking game is entirely centered around the USWNT. 
Fortunately, the USWNT matches will not be too early in the morning in America, for the most part. The U.S. plays Thailand at 3 p.m. ET on June 11, Chile at noon ET on June 16 and Sweden at 3 p.m. ET on June 20 in the group stage and the knockout rounds will be at similar times. Whether it's an after-lunch beer, morning screwdriver or just an anytime cider, join us in adding even more fun to what should be the most exciting Women's World Cup yet.
Given the level of opposition for the USWNT's first two games, there could be a lot of goals — and a lot of drinking. We encourage you to drink responsibly and get a designated driver if necessary. And above all, have some damn fun watching the Women's World Cup.
USWNT 2019 Women's World Cup Drinking Game Rules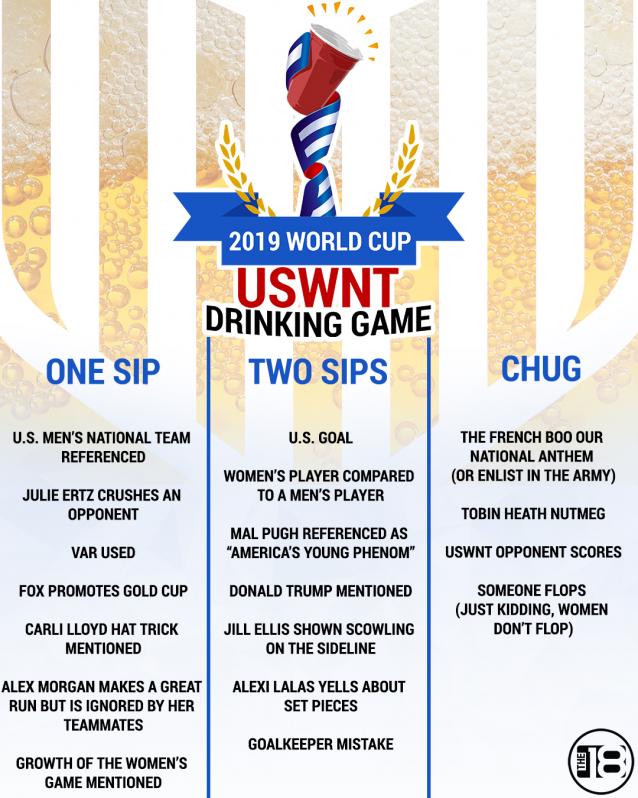 One Sip
U.S. men's national team referenced
Julie Ertz crushes an opponent
VAR used
Fox promotes Gold Cup
Carli Lloyd hat trick mentioned
Alex Morgan makes a great run but is ignored by her teammates
Growth of the women's game mentioned
Two Sips
U.S. goal
Women's player compared to a men's player
Mal Pugh referenced as "America's young phenom"
Donald Trump mentioned
Jill Ellis shown scowling on the sideline
Alexi Lalas yells about set pieces
Goalkeeper mistake
Chug Your Drink
The French boo our national anthem (or enlist in the army)
Tobin Heath nutmeg
USWNT opponent scores
Someone flops (just kidding, women don't flop)