My Day At Allianz Field, Or: How Sean Johnson Made All Our Wildest Dreams Come True
Minnesota United's home opener was surreal, both on and off the pitch.
Yesterday, I was one of the fortunate 19,796 to witness Minnesota United open Allianz Field in Saint Paul. Ultimately I was very blessed because I got to take part in a spectacular atmosphere, but more so because I got to watch NYCFC goalkeeper Sean Johnson finesse one into his own net.
The match took place at 4:00 p.m. with the temperature hovering around 40 degrees and the sun appearing about as frequently as a Minnesota clean sheet.
But since the Twin Cities had been subject to a two-day April snowstorm on Thursday and Friday alongside bitterly cold weather, Saturday felt like a proper spring afternoon. I wasn't even wearing gloves, although it must be admitted that one of my fellow match attendees was wearing snow pants. That's how we do fashion up here.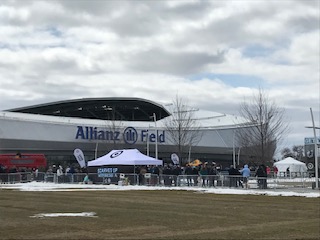 Besides, despite trying to purchase tickets at the earliest opportunity, the only remaining available seats were in the supporters' section (dubbed the "Wonderwall"), and it's really not difficult to stay warm when your standing and bouncing alongside 2,920 fanatics for 90 minutes. 
The gates to the field opened at 1:30, allowing fans to tour the ground at their leisure and make merry. Despite all the swill being handed out by Target and The Star Tribune, the true winner of the advertising battle had to be "Men in Blazers." A filming of the duo's show at the Ordway Center was shown on the large television screen at the stadium's south end, and then Roger Bennett was interviewed just prior to kick off. 
For being suboptimal, their omnipresence is strong. And yeah, the Jucy Lucy at Matt's Bar is great. 
First Ever Jucy Lucy. Seriously Life Changing pic.twitter.com/D53inif6gX
What struck me prior to kick off was the Brew Hall at the north end and its enormous selection of beers and 96 taps. But don't come expecting Atlanta United prices — the cheapest option is a Coors Light at $9.50 while high rollers can drop $13 on a Surly Furious. 
Anyway, it wasn't a day to worry about your wallet, and there was something charming about a beer vendor informing you that you're the first customer they've served at the stadium. There's also something charming about walking into a men's stadium bathroom and not being struck by the odor of the bowels of hell. You could eat your Kramarczyk's Bratwurst Basket off the floor in there, but then you'd have to answer to security. 
Also immediately worth noting was the sheer verticality of the supporters' section. The Wonderwall rises at a 35% incline, and the overhang of the stadium does a great job of capturing the noise generated within. 
There's a basic "M-N-U-F-C" chant that rings around the stadium from time to time, but its simplicity allows the entire ground to participate. Initially, the club's acronym is chanted slowly alongside the beat of a drum, but as the pace builds and the team seemingly responds by moving the ball that much quicker on the pitch, the crescendo of noise inside the Allianz grows deafening. 
This'll be a great place for the USMNT to kick off Gold Cup group play.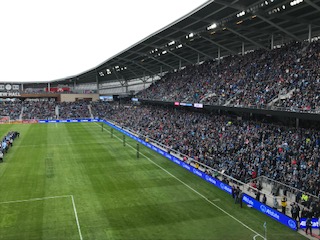 As for the tifo that was displayed . . . I'll be honest, I had no idea what was going on. I was located somewhere underneath the Minnesota Thunder portion of the display, but this struck me as a cool coincidence because I remember watching the Thunder play an AC Milan youth team at Wayzata High School on a turf football field and thinking: "This'll probably be the coolest soccer thing to happen in Minnesota in my lifetime." 
Times have changed. People grow up. They think new things.   
Biggest tifo in MN soccer history! #MNUFC #COYL #MINvNYC pic.twitter.com/Br0IvmfxbK
The action out on the pitch was classic Loons ball. The club has been hugely entertaining at home throughout its MLS history, and the opening 32 minutes of Saturday's game were ludicrous. 
We witnessed five goals in that half-hour span, including the first-ever, courtesy of Minnesota's Ozzie Alonso, and culminating in a howler from Johnson that was initially greeted with stunned silence. 
Blame
It
On
The
Jelly #BlameItOnTheJelly | @allianzfield pic.twitter.com/dvRj72nSb7
Ultimately, the 3-3 scoreline seemed a proper representation of the day's festivities. Minnesota fans were denied a victory-accompanying rendition of Oasis' "Wonderwall", but a point was earned despite star player Darwin Quintero still clearly not at his best after suffering a groin injury during training on Apr. 3. 
It's hard to believe that it'll again be home on April 24 when Zlatan Ibrahimovic's Galaxy comes to town, and again on April 28 when Wayne Rooney's D.C. United visits.
It's surreal to have this mecca of soccer in our backyard, playing home to "the team that nobody wanted."