Kealia Ohai's Fiancé Calls Out Media Treatment Of Her Move To Red Stars
Houston Texans star JJ Watt criticized a local ABC affiliate for a bad headline.
The Houston Dash lost their captain, all-time leading scorer and most-recognizable player on Monday. The Dash sent Kealia Ohai to the Chicago Red Stars after the forward had requested a trade.
Ohai's fiancé, a popular professional athlete also based in Houston, was incredibly supportive of the move but became upset Tuesday when it came time to read the headlines.
Ohai was perhaps the biggest draw for the Houston Dash over the last couple years. The Dash were the only NWSL club without a USWNT player/Women's World Cup winner on the roster, but the charismatic Ohai did her best create interest — and not just because of who she's dating.
Ohai understandably wanted more than what the Dash were offering (no playoff appearances in its six-year existence) and requested a trade. The club acquiesced, acquiring defender Katie Naughton and the 18th pick in the upcoming NWSL College Draft for Ohai. 
Thank you, @KealiaOhai 

— Houston Dash (@HoustonDash) January 6, 2020
Kealia Ohai is a good get for Chicago — not quite a Sam Kerr replacement, but who is? — and a tough loss for Houston. Ohai, a Utah native and UNC alum, had nothing but good things to say about Houston upon her departure from the club for which she scored 28 goals.
Thank you @HoustonDash Houston will always feel like home  pic.twitter.com/Onhbnkgebs
But too many of the headlines around the country and in Houston centered around Ohai's boyfriend, Houston Texans defensive end JJ Watt. 
Ohai is engaged to Watt, probably the most popular pro athlete in Texas. The two dated for years before Watt popped the question last May. 
Despite seeing his fiancée shipped off across the country, Watt donned Chicago Red Stars gear and celebrated Ohai's move. 
Very proud of you and excited for you!!
I'll hold it down here, you dominate in Chicago!
  https://t.co/2nXTDhRJ3K
Here for it!!!
Let's go @KealiaOhai!!!
So excited for you.

— JJ Watt (@JJWatt) January 6, 2020
But it wasn't all smiles and puppy pics on Tuesday.
When the Houston ABC affiliate did a story on the move, the focus was on Watt, not Ohai, the player with more than 100 appearances for the city (within two of Watt's number of appearances for the Texans).
Watt was having none of it.
This headline is trash.
Kealia Ohai (which is her name by the way, since you didn't even bother to mention it) is incredible entirely on her own merit and deserves to be treated as such.
Be better than this. https://t.co/82GMrYOv9U
While ABC13 fixed the headline on its website, the tweet remains up. Here's a screenshot of both tweets, in case either are taken down.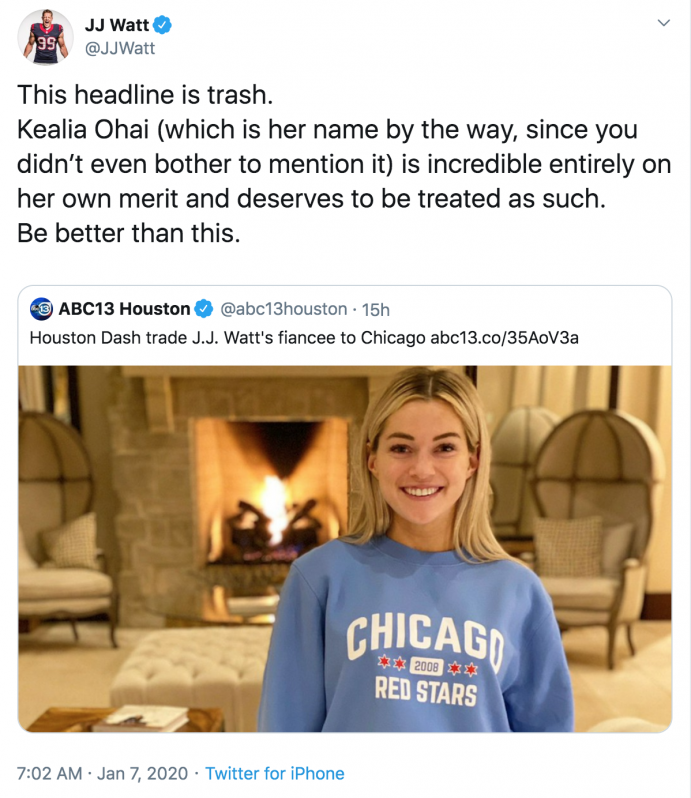 ABC13 wasn't the only outlet to focus on Watt. Yahoo/NBC Sports' Kelly Twardziak led with JJ Watt and focused on the NFL angle. People.com's headline seemed to only cared about Watt supporting Ohai (a novel idea, someone supporting their partner). At least KHOU, the local NBC affiliate, led with Ohai before explaining she's Watt's fiancée.
I understand media entities wanting to get the largest reach with posts, but they should be more responsible and not ignore what the actual story is. Kealia Ohai is a star athlete in her own right and the klutzes running ABC13's social accounts should have recognized that. 
The media ignoring Ohai while focusing on Watt is, sadly, nothing new. 
Last fall, during the World Series, Fox pointed out Watt while failing to even mention Ohai as the two cheered for the Astros. 
Perhaps most damning of all, none of the stories from the major Houston media outlets focused on how the Dash are losing their best player with no apparent plans to replace her. 
For much of the media in the U.S., women's soccer only matters for the World Cup and how it relates to men's sports. The NWSL is an afterthought, at best.
What actually matters is Ohai is leaving the Dash, the lowest scoring club last season, without any notable offensive players. The club's two leading scorers last year with a measly five goals each were midfielder Sofia Huerta and forward Rachel Daly, who plays fullback for the England national team.
The club desperately needs a big-name signing, one that works out better than the last one. Once upon a time the Dash snagged Carli Lloyd, but she was so disinterested in playing in Houston she bolted after appearing just 27 times in three injury plagued seasons. 
Ohai leaves a big hole in the Dash lineup, and the Houston club's inability to obtain or keep star players should be the real headline here.