Paris Saint-Germain is the clear favorite for the best summer transfer window. The Parisian club hasn't even remotely broken the bank as the potential PSG starting XI 2021 continues to get beefier.
According to Transfermarkt's player market values, PSG has signed about $200 million worth of talent this summer. The club has only spent $83.6 million. The free transfers of Sergio Ramos, Gianluigi Donnarumma and Georginio Wijnaldum have come in clutch for PSG.
Now PSG is on the hunt for Lionel Messi after his shocking exit from Barcelona. The Paris club appears to be the clear front-runner to sign the Barcelona legend. If PSG add a Messi signing to the litany of other moves made this summer then this club could have one of the strongest lineups in history.
Paris Saint-Germain are confident to find the right 'deal structure' soon to sign Leo Messi after opening direct talks since yesterday. PSG are already working on Leo's potential contract. #Messi

Been told confidence is growing also in PSG dressing room - Neymar is pushing.

— Fabrizio Romano (@FabrizioRomano) August 6, 2021
#WelcomeSergio @PSG_English is delighted to announce the arrival of @SergioRamos!

The Spanish central defender has signed a two-year contract that runs until 30 June 2023.

#WeAreParis https://t.co/qq31qmzDyt

— Paris Saint-Germain (@PSG_English) July 8, 2021
Paris Saint-Germain is delighted to announce that Gianluigi Donnarumma has joined the club.

— Paris Saint-Germain (@PSG_English) July 14, 2021
— Paris Saint-Germain (@PSG_English) June 10, 2021
Add Achraf Hakimi and Danilo Pereira into the mix and you have yourself the best transfer window out of any team in Europe.
— Paris Saint-Germain (@PSG_English) July 6, 2021
To the dismay of PSG fans, and joy of just about everyone else, Lille stole the 2020/21 Ligue 1 title. The French giants had won seven of the previous eight titles and will be keen on reclaiming the league. With a lineup like this it would be shocking if PSG didn't win by at least ten points.
Potential PSG Starting XI 2021/22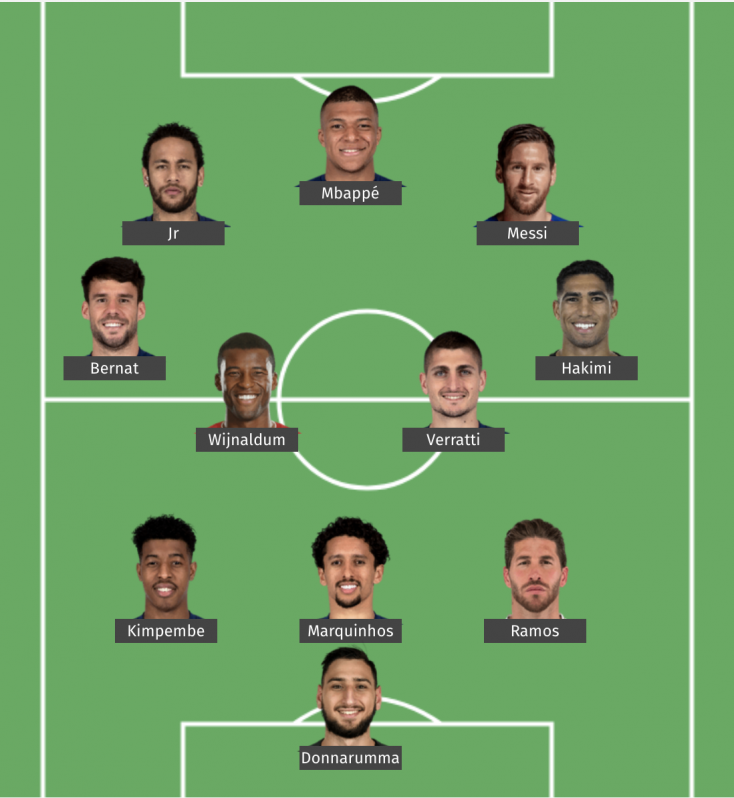 You're looking at about $760.1 million worth of players. This is about as close to a super team as you can get in European soccer. If Team Oil Money fails to win the Champions League with a roster like this, then there's really no helping these guys. I haven't even mentioned yet the players who will be challenging for spots in Mauricio Pochettino's lineup. Xavi Simons, PSG's 18-year-old phenom, went off in the club's preseason game and will be raking in the minutes this season.
PSG's first competitive game is on Aug. 1 when it plays Lille for the Trophée des Champions. The prestigious Ligue 1 Uber Eats resumes on Aug. 8.
Bookmark/Search this post with