Arsenal's quest for the top four has been a torturous battle for Gunners fans over the past few seasons. Last season was extra painful — and we'll all get to see the extra juicy details in Amazon's All or Nothing series — as the team saw top four slip from its grasp in the final weeks. Will this potential Arsenal starting XI 2022-23 lineup right the wrongs of last season?
Manager Mikel Arteta has some new faces in the Arsenal camp after a few big transfers. How much of an impact will they make is the real the question?
Potential Arsenal Starting XI 2022-23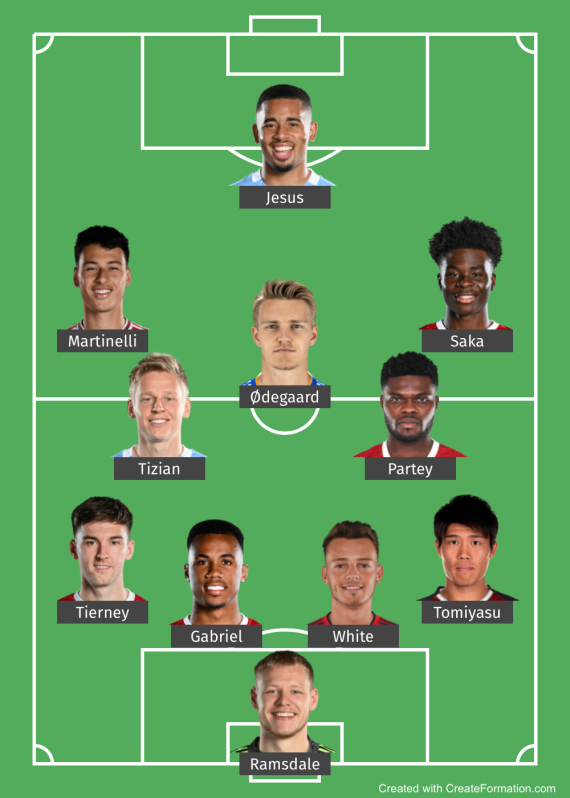 If you're confused about the spiffy blonde guy in the midfield, there was a slight glitch with createformation.com's website. That "Tizian" guy is Oleksandr Zinchenko. 
As Americans, we really wanted to put our guy Matt Turner in at goalkeeper, but deep down we know Aaron Ramsdale will be the starter. In front of him is the same back four from last season. 
Zinchenko was a big $36 million signing this summer for Arsenal. The Ukraine star might have played left back for Manchester City, but reports indicate that Arteta will use him in the midfield. 
If this is the case, then Kieran Tierney will keep his starting spot at left back.
Oleksandr Zinchenko to Arsenal, here we go! Full agreement in place since Friday with Man City for £30m guaranteed fee, personal terms also agreed. Zinchenko, always been keen on re-joining Arteta. ⚪️ #AFC

— Fabrizio Romano (@FabrizioRomano) July 18, 2022
So many stories & tweets revolving around the Zinchenko to Arsenal move & still talking about him being a LB first and CM second

He's not only after game time - he's after game time in midfield that # 8 role he does for

Box to Box is where he excels pic.twitter.com/C8iYtdmvOU

— Zorya Londonsk (@ZoryaLondonsk) July 15, 2022
If Zinchenko joins the midfield then he should get a starting role. He has featured in the role for Ukraine and can boss around the middle of the field. In the potential Arsenal starting XI 2022 we created, he takes Granit Xhaka's spot.
The rest of the midfield is unchanged. A new CAM enters the scene after Arsenal completed a $38.5 million signing for Fábio Vieira from Porto. The 22-year-old was an assist merchant last season with 16 assists.
Official, confirmed. Fábio Vieira has joined Arsenal on a permanent deal from Porto for €35m plus €5m add ons. It's finally completed after the medical tests last Friday. ⚪️ #AFC

— Fabrizio Romano (@FabrizioRomano) June 21, 2022
Gabriel Jesus will spearhead the Gunners' attack. With Pierre-Emerick Aubameyang leaving for Barcelona and Alexandre Lacazette going back to Lyon, it will be up to Gabriel Jesus to bag some goals. The Brazilian forward had 13 goals and 12 assists last season with City and will look to increase those numbers in the 2022-23 campaign.
He's already off to a flying start in preseason and is one of the best transfers this summer.
Gabriel Jesus is ridiculous man, that first touch to kill that ball makes the goal pic.twitter.com/72982xpgJu
His competition for the starting gig will be Eddie Nketiah, who scored 10 goals in 27 appearances for the Gunners last season.
Arteta will have options for the attack with Nicolas Pépé and Emile Smith Rowe also available.
Time will tell if this potential Arsenal starting XI 2022-23 lineup can end the Europa League nightmares.
If potential starting XI's is your cup of tea then be sure to check out potential Chelsea, Barcelona, Manchester City and Juventus lineups for next season.
Bookmark/Search this post with