What the actual fuck just happened? Orlando City beat NYCFC in a shootout in the first round of the MLS Cup Playoffs. We already wrote a story about the first 120 minutes of the match, which included some despicable play from Orlando's Ruan, but the shootout was such madness it deserves its own write-up.
;lkasjd;flkajsvl;akjs;lkans;vpuupokmqwlknxchbodihboklqmwr;lsbponfdbkmwrlkndbpoixjcvlksnrgpoqkwrgnadfkbna;.x,bn;lkfgn[oignaldfnb;alsnglaksnopqrwnsbnajg!
Orlando City finished Saturday's epic playoff game with nine men on the pitch but with a stunning victory — the club's first ever in the playoffs. NYCFC will travel home for Thanksgiving wondering what the hell went wrong.
The home side was reduced to 10 men late in regulation when Ruan took a cheap shot at Gary Mackay-Steven. The entire Orlando City team tried to dupe the officials into saying Ruan was the one stomped on, but VAR didn't allow it. 
The match went to extra time and no one could break the deadlock, which was set in the opening 10 minutes after a penalty by Nani was canceled out by a goal from Maxime Chanot.
Then came the absurd shootout. 
Orlando City vs NYCFC Shootout 
Maxi Morález hit the post on the first attempt and Orlando thought it had won it 4-3 when goalkeeper Pedro Gallese denied Valentín Castellanos. 
At that point, Orlando coach Óscar Pareja left the pitch thinking it was all over, probably having to pee real bad because that match took over three hours to complete. 
But VAR ruled Pedro Gallese left his line early, resulting in a yellow card — it was his second of the game, so he was sent off.
Orlando tried to bring on backup Brian Rowe but wasn't allowed to because you can't make substitutions in a shootout. Instead, defender Rodrigo Schlegel came in as goalkeeper.
¡Orlando estaba ya clasificadoooo jugando solo con 10!

— TUDN USA (@TUDNUSA) November 21, 2020
Schlegel looked awful trying to save Castellanos' retake. Then Sean Johnson made an impressive save on Nani to send the shootout to sudden death, tied 4-4. Johnson looked close to having come off the line early, but VAR didn't step in.
After both sides converted in the sixth round, Schlegel — an Argentine fullback — stepped up to deny Gudmundur Thórarinsson. 
Long live @RodriSchlegel pic.twitter.com/ymaQyJzpop
Immediately Orlando players began celebrating as if the game was over. It was not, they still had finish the seventh round.
After some delay as the ref got everyone back into their positions, Benji Michel stepped up and converted to finally end this epic match, Orlando City claiming the insane shootout 6-5.
Final cardíaco ⚽

— TUDN USA (@TUDNUSA) November 21, 2020
Schlegel was the hero, and his Wiki page was immediately updated to change his position.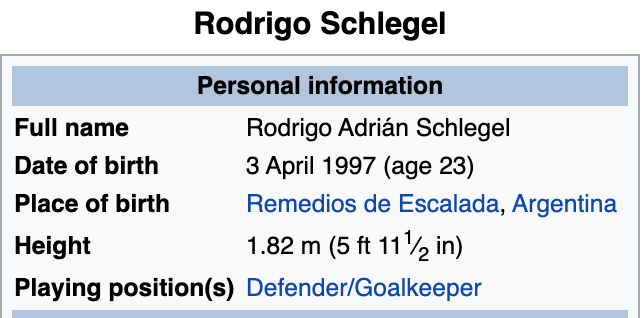 With that, Orlando advances to face either top-seeded Philadelphia or New England next week.
Bookmark/Search this post with