Alexander-Arnold Avenges Loris Karius By Hammering Real Madrid's Vinícius In Stay And Play Cup
Brondby, Roma, Porto And Liverpool are through to the quarterfinals.
Get the best email in soccer.
Welcome to our wall-to-wall coverage of Day 2 of the FIFA Stay and Play Cup — it's the first four matches of the Round of 16!
If you missed yesterday's play-in round, catch up on all the action here. Wednesday was dominated by Scandinavian clubs while Marseille, Valencia, PSV and Helsinki all ate it. 
But the big dogs enter the competition Thursday, including Chelsea, Tottenham and heavyweight contests between PSG-Roma and Real Madrid-Liverpool (a rematch of the 2018 Champions League Final). What's more, we also see the return of Brondby and the ridiculously talented Jesper Lindstrøm. Chelsea — represented by captain César Azpilicueta — needs a miracle to survive that one.
EA Sports FIFA 20 Stay and Play Cup
Thursday, April 16: Round of 16 (Day One)
Match #1: Chelsea vs. Brondby
Chelsea (England)
The Player: César Azpilicueta
Our skipper @CesarAzpi will be representing Chelsea in the @EASPORTSFIFA #StayAndPlay Cup!

— Chelsea FC - #StayHomeSaveLives (@ChelseaFC) April 10, 2020
Profile: 30-year-old Spanish right back. The Chelsea skipper has appeared in 37 matches across all competitions this campaign, scoring four goals and providing three assists. At 30, he's the oldest player in this competition, so we'll see if he can represent all the Original Gangsters that fondly remember the UEFA Euro 2004: Portugal game.
Brondby (Denmark)
The Player: Jesper Lindstrøm 
Det bliver @jobbe2902, der skal spille os til succes i #StayAndPlay Cup, som @EASPORTSFIFA arrangerer

— BrondbyIF (@BrondbyIF) April 12, 2020
Profile: We already know the 20-year-old Danish attacking midfielder from yesterday's play-in round, where he crushed Marseille's Saîf Khaoui 8-2 while revealing himself to be in the top 0.5% of FIFA players in the world. He's already the early favorite.
Match Recap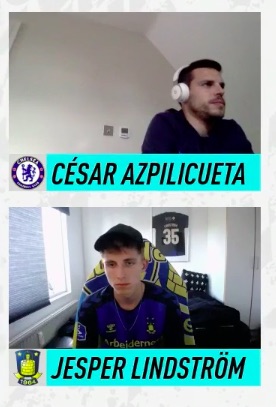 "I can see that he has good quality, but the most important thing is to stay home and stay safe," says Azpilicueta before the match. He then reveals that he hasn't played much since having kids. This could be a disaster.
Azpilicueta keeps the ball for the opening six minutes, passing it around his defense and keeper ... Lindstrøm finally gets it and scores immediately. The Brondby player pulls off a myriad of step-overs and Cruyff turns while the commentators predict a 10-goal victory.
#StayAndPlay ¡GL! ¡Ya le están ganando al @chelseafc de @CesarAzpi!

— Telemundo Deportes (@TelemundoSports) April 16, 2020
But credit to Chelsea, the Blues battle hard before a reckless penalty makes it 2-0 Brondby at the half.
That's how it ends — the only notable event of the second 45 is Lindstrøm subbing himself off. Brondby now plays the winner of PSG-Roma in the quarters.
Match #2: PSG vs. Roma
PSG (France)
The Player: Juan Bernat
It's Juan Bernat who will represent our colours in the #StandAndPlay Cup

— Paris Saint-Germain (@PSG_English) April 11, 2020
Profile: 27-year-old Spanish left back. He's appeared in 27 matches across all competitions this season for PSG, scoring one goal and providing seven assists. He's had some calf problems recently so hopefully he spent that time on the sticks.
Roma (Italy)
The Player: Justin Kluivert
Our @EASPORTSFIFA #StayAndPlay Cup representative will be...

— AS Roma English (@ASRomaEN) April 12, 2020
Profile: 20-year-old Dutch winger. The son of the legendary Patrick Kluivert, Justin is in the midst of a breakthrough season with Roma, scoring seven goals and adding two assists in 27 appearances. More is still expected to justify his $19 million transfer from Ajax, but victory in the Stay and Play Cup could go some way towards total vindication.
Match Recap
How has Bernat juggled PSG's all-stars? He's going with Icardi, Mbappe, Neymar and Di Maria up top. He must not like Cavani :(  
Are nerves weighing on the players with 80K watching on Twitch? It seems like it in this match after a scoreless opening 45 minutes, and the opening goal in the 52nd comes from a massive mistake from Bernat.
#StayAndPlay ¡GL! ¡Cayó el primero de la @OfficialASRoma!

— Telemundo Deportes (@TelemundoSports) April 16, 2020
Bernat seems shook, and Justin puts it away in the 81st minute with a goal from close range.
Match #3: Tottenham vs. Porto
Tottenham (England)
The Player: Serge Aurier
Our #StayandPlay Cup player...

— Tottenham Hotspur (at ) (@SpursOfficial) April 11, 2020
Profile: 27-year-old Ivorian right back. He's appeared in 33 games across all competitions, scoring two goals and providing seven assists. He's playing in front of his trophies, and there's definitely a potential joke about how it's bigger than Tottenham's trophy cabinet. I'll resist. 
Porto (Portugal)
The Player: Fábio Silva
Trocamos a pelo e o Fábio Silva será o representante do FC Porto na #StayAndPlay #FIFA20
Força Fábio #FCPorto #StayAndPlay #FIFA20 @EASPORTSFIFA pic.twitter.com/tBBouIKN4d
Profile: 17-year-old Portuguese striker. He's appeared in nine Primeira Liga matches, scoring one goal. He's got the salad of a Greek god — just look at that flow.
Match Recap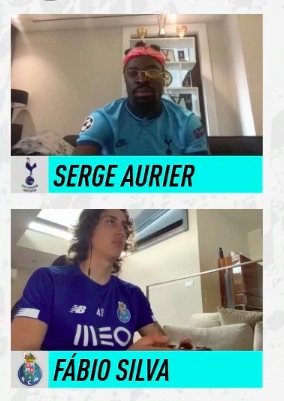 Silva looks good, taking an early 1-0 lead, but then he throws the ball straight at Harry Kane with his keeper.
#StayAndPlay ¡La cara de @Silva49Fabio lo dice todo!

— Telemundo Deportes (@TelemundoSports) April 16, 2020
It's a madcap opening 30 minutes with four goals split evenly between the sides, but the final hour is a nervy affair with hyper sweaty palms. Despite scoring both goals for Spurs, Aurier elects to hook Kane before a corner kick. The commentators can't believe it.
We have to go to golden goal, where Silva takes it with the first shot on target.
Match #4: Real Madrid vs. Liverpool
Real Madrid (Spain)
The Player: Vinícius Júnior 
¡Vamos @viniciusjr! ¡A ganar nuestra segunda eSports!
¡Vini nos representará en la Copa #StayAndPlay de @EASPORTSFIFA!
Profile: 19-year-old Brazilian winger. He's got four goals and three assists in 28 appearances this campaign. It's time for him to deliver. Zidane is watching.
Liverpool (England)
The Player: Trent Alexander-Arnold
Swapping the for the @trentaa98 will be representing us in the @EASPORTSFIFA #StayAndPlay Cup! #LFC | #FIFA20 pic.twitter.com/3AmTPOnQlI
Profile: 21-year-old English right back. Corner taken quickly.
Match Recap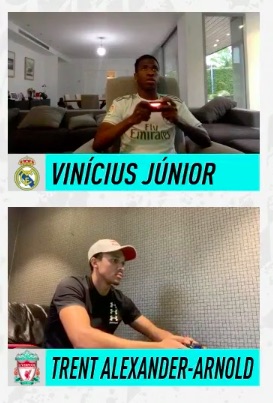 The game begins but then abruptly stops as Vinícius has to go to town on his settings. Trent Alexander-Arnold sportingly spends this time looking at his phone. I can't believe how high the Brazilian holds his controller — that's usually the hallmark of someone who's never played a console game before and doesn't understand wireless.
12 minutes in, Karim Benzema opens the scoring. That's who opened the scoring in the 2018 UCL Final! Wild. Six minutes later, Jordan Henderson equalizes. Fist pump from Alexander-Arnold.
It's 1-1 at the break with Liverpool looking in the ascendancy but perhaps overplaying in dangerous areas. Vinícius strikes the woodwork early in the second half, but TAA responds with a sweaty cutback to go up 2-1. It's then quickly 3-1 after another cutback. Now it's a reverse of the 2018 final! 
It ends 4-1 with Trent looking like the closest competition for Brondby's Lindstrøm so far. 
#StayAndPlay ¡Llegó el empate del @LFC!

— Telemundo Deportes (@TelemundoSports) April 16, 2020
That's it for today. The Round of 16 continues tomorrow with the following matchups:
Manchester City (Phil Foden) vs. AIK (Nabil Bahoui)
Atletico (Joao Felix) vs. Lyon (Bruno Guimaraes) 
Ajax (Sergino Dest) vs. Copenhagen (Mo Daramy) 
Borussia Dortmund (Achraf Hakimi) vs. Durgarden (Jesper Karlstrom)
Bookmark/Search this post with