Davies Faces Stiff Competition For Becoming First CONCACAF Golden Boy Winner
Sergiño Dest and Canadian forward Jonathan David are also listed in the 20-player shortlist.
Get the best email in soccer.
The 20-man (boy) shortlist for the 2020 Golden Boy award was revealed on Thursday and it's bursting at the seams with talent. Here's the full list of star players under the age of 21 that could win this prestigious award.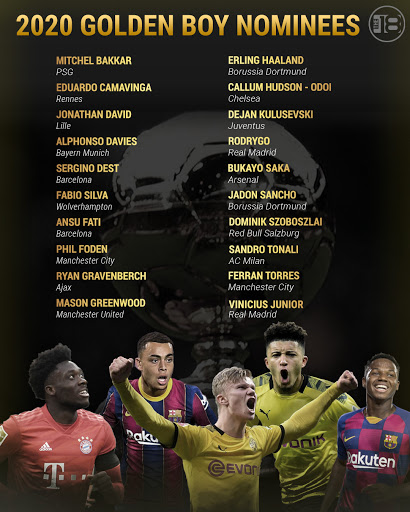 I'm thanking my lucky stars that I'm not in charge of choosing the winner because picking only one is nearly impossible.
Bayern Munich and Canada phenom Alphonso Davies has the edge on the competition in terms of silverware. In 2020, Davies got his hands on a Bundesliga league title, lifted the DFB-Pokal, torched Lionel Messi and company on his path to a Champions League title, raised the UEFA Super Cup over Sevilla and recently captured the DFL-Supercup. 
The kid has been unstoppable on defense and offense with his record-breaking speed and brilliance. Davies can play as a left back or winger but typically starts in the back for Bayern. If Davies wins the 2020 Golden Boy, he would become the second-ever defender to claim the award. Matthijs de Ligt won it in 2018 during his spell with Ajax.
Ajax is practically a factory for young talent. The Dutch club has two players (if you count Sergiño Dest) on the shortlist this year. Dest is the second American in the last two years to be on the 20-man shortlist after Christian Pulisic made an appearance in 2018.
American soccer fans will still have some waiting to do before a USMNT player wins the Golden Boy award. Dest was electric with Ajax and is looking to become a mainstay for Barcelona. As exciting as he's been, it's highly unlikely that the American will beat out the young stars already established with the big clubs. Ansu Fati, Erling Haaland, Jadon Sancho and Davies are the clear front runners.
Davies winning the award would be a historical moment for CONCACAF. Every Golden Boy winner since the award's inception in 2003 has been from either Europe or South America. Here is how the awards have been claimed by country:
Golden Boy Winners By Country
France: 3 (Paul Pogba, Anthony Martial and Kylian Mbappé)
Netherlands: 2 (Rafael van der Vaart and Matthijs de Ligt)
England: 2 (Wayne Rooney and Raheem Sterling)
Argentina: 2 (Lionel Messi and Sergio Aguero)
Spain: 2 (Cesc Fábregas and Isco)
Brazil: 2 (Anderson and Alexandre Pato)
Portugal: 2 (Renato Sanches and João Félix)
Italy: 1 (Mario Balotelli)
Germany: 1 (Mario Götze)
A kid from Canada winning this prestigious honor would not only be historic but another landmark for CONCACAF players placing a firmer foothold in the esteemed European leagues. The 2020 Golden Boy winner will be announced in December.
Bookmark/Search this post with