The Ted Lasso Season 3 return date of Wednesday, March 15 on Apple TV Plus is upon us, and I've got five burning questions before watching the premiere. There are obviously spoilers below, so quickly binge Season 2 (like I did this past weekend) if you haven't already.
Otherwise, here are my thoughts before the final season of Ted Lasso.  
5 questions for Ted Lasso Season 3
#1. What is a fitting end to Ted Lasso's journey?
So AFC Richmond are back in the Premier League and the show has made no secret of the club's trophyless existence up until now, but would a title (either in the EPL or FA Cup) really be a fitting end to Lasso's experience?
Despite the absurdity of the show's basic premise, it's treated the Greyhounds performances on the pitch with a degree of realism — it was entirely fitting that Richmond suffered relegation in Season One, but then, by retaining the same Premier League squad and buffing up the coaching staff with Roy Kent, the club achieved promotion at the end of Season Two by finishing second in the Championship.
Richmond's magical run in the FA Cup also ended with a 5-0 beatdown by Manchester City in the semifinals at Wembley, another example of the show treating the actual football with a bit of realism. But is it time for Richmond to pull a Leicester City? Well, Leicester's 2015-16 title came the season after promotion, not directly following it, and the Foxes weren't captained by Isaac McAdoo. To be honest, I've never been convinced by McAdoo's ability.
Do we even want the series to end with a trophy lift? That'd be awfully cliché and a departure from the show's amazing ability to balance the ridiculous with the heart-wrenching. What would be a more fitting ending? Ted Lasso getting fired.
The reality is that there are only two kinds of coaches in the world, coaches that are fired and coaches that will soon be fired, and not many managers last three full seasons in today's game. I could see Coach Beard taking over towards the end and doing just fine.
Rather than ending Season 3 with a victorious Lasso, maybe his own "Hero's Journey" demands that Lasso's final acts of transformation, atonement and return include the end of his time in London and a reunion with his son Henry. 
#2. Where does the transformation of Jamie Tartt lead?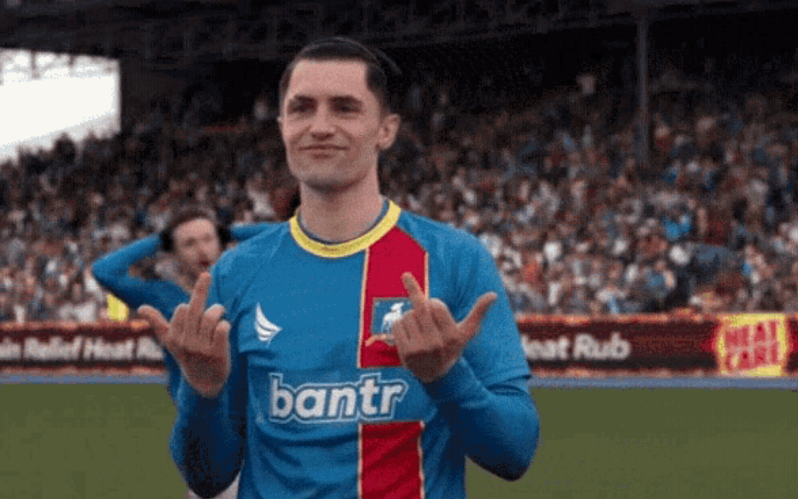 But maybe Richmond does have the pieces to challenge for the title. We know they've got a great attack with Tartt and Dani Rojas up top and Sam Obisanya on the wing, so maybe they'll shock everyone (except viewers at home) by climbing up the table. 
You get the feeling that Tartt is going to be a central figure in Season 3 given where we left off in both his love life (the declaration to Keeley) and personal life (his dad's a sheep, a muggle and a twat). Jamie's becoming a better man, but I really hope that doesn't mean toning down his outfits and the way he throws himself into the latest professional footballer trends.
After taking a backseat in Season 2, I expect much more in Rojas' character development as well.   
#3. Are we supposed to suspend disbelief for head coach Nathan Sheley?
Richmond's rival in Season 3 is a West Ham squad led by Nate the Great. Hell hath no fury like a Nate scorned. 
But really, Nate's two-year transformation from kit man to West Ham boss is no more believable than Ted making the jump from the Wichita State Shockers to the Premier League. 
In a role that's all about perception, it has to be acknowledged that Nate has zero charisma. No matter how often he spits at his own reflection in the mirror, he's never going to be a leader of men. 
I'm still laughing about how his two tactical masterstrokes in Season 2 were (1) when reduced to 10 men late in a match, the "wunderkind" instructed everyone to park the bus and (2) adopting a false nine in the season's final game when Richmond plays a 4-4-2 with two great strikers. That's the most heinously awful strategy ever conceived. He's gonna last about as long as Bob Bradley. 
#4. Is this the end for Roy and Keeley?
We all love Roy and Keeley. Their coming together was the triumph of Season One, but holy shit did that teary-eyed, thousand-yard stare during their photoshoot together in Season Two scream some hard truths about relationships that you only learn through experience.   
The puppy love phase is over, and now there's that very common understanding that one person cares a little bit more than the other. Roy is obviously the one that's more smitten, and there's an added imbalance in the fact that Roy's glory days are now behind him while Keeley is entering her's as the CEO of a PR Firm.
That's life. That's relationships. It's not all "happily ever after" when you actually expand the story beyond the heady days of initial infatuation, which is typically where most romances leave it.  
Could Keeley get back with Jamie? That could be a spicy turn. 
#5. Will Rebecca die alone?  
That question sounds incredibly dramatic and negative, doesn't it? But why? This whole show is probably going to square away all the romances as tidily as the epilogue of Harry Potter and the Deathly Hallows (although hell if I know what Coach Beard's destiny is there), but wouldn't it be brave of the series to craft a character that's actually a "boss ass-bitch" and undaunted by the single life? Maybe Luca and Sam will be into it?
Maybe it'll be Keeley facing the toughest choices, but Rebecca and Sam's escapade is also on the rocks. Their chemistry was textual and sexual, but they both have a giant-red-flag reluctance to a longterm relationship.
What about Rebecca and Ted? That idea still seems a lot more like fan fiction than a believable direction at this point given how wonderfully crafted their friendship has been, but that all could change with one quick piece of dialogue (cross-sex friendships rarely persevere on TV).  
Bonus question: What does Trent Crimm do next?
The reporter from The Independent has been fired, a tale as old as time for those in the industry, and I'm excited to see where the independent man lands. Could he join Richmond in some capacity? I guarantee it.