The Houston Dash won their first NWSL title with a 2-0 victory over the Chicago Red Stars in the Challenge Cup final on Sunday in Utah. Shea Groom, a journeywoman midfielder who joined the Dash in the offseason, was named MVP of the final after scoring the second goal, rounding USWNT keeper Alyssa Naeher to seal the win.
Houston lifted the Challenge Cup trophy despite having never qualified for the playoffs in its seven-year history, a remarkable achievement for the only NWSL team without a USWNT player. Challenge Cup MVP Rachel Daly and Co. were quite simply better prepared and better organized than the rest of the league and deserve every bit of credit they get. Their reward? A unique NWSL Challenge Cup trophy, a large glass vase just begging to be filled with beer. 
CHALLENGE CUP CHAMPIONS #HoldItDown pic.twitter.com/DVbNGdDMdy
The league as a whole deserves credit for showing the U.S. how professional team sports can return in a country still in the midst of a pandemic. The bubble in Utah proved effective (once they decided to leave Orlando at home) and the matches on CBS were smashing successes (we just wish the rest of the matches weren't behind a pay wall).
Even the league's sponsors deserve credit for helping grow women's sports, which are far too often ignored by media organizations (even The18 could do better). Brands like Google and Secret Deodorant have shown they don't care just about the boys. 
Which brings us to Budweiser, which decided during the 2019 Women's World Cup that women's soccer would be a fun thing to sponsor. (Who can forget Kelley O'Hara shotgunning a Bud naked?)
Budweiser has been a prominent sponsor of the NWSL since 2019, often teaming up with Men In Blazers' Roger Bennett to promote the league and women's soccer in general. After the Challenge Cup final on Sunday, Budweiser got more than its money worth thanks to the celebrations of the Houston Dash players.
Think we speak for everyone when we say:

— Houston Dash (@HoustonDash) July 26, 2020
Daly, an England national team star, downed two Buds at once while her partner Kristie Mewis, who with 15 has the most USWNT caps on the Dash, was trying to hog all the beers.
A whole MOOD@budweiserusa pic.twitter.com/sYXFCkuTQ6
Throwing it down like only H-Town can  

— NWSL (@NWSL) July 26, 2020
Leave it to an Aggie to upstage both of her more famous teammates yet again. Shea Groom, who was a star at in College Station, Texas, long before she became a household name for the Houston Dash, completed an old Texas A&M tradition after Sunday's match.
When Aggies receive their highly coveted class rings, that night they fill a large pitcher with beer, drop their ring into it and chug until they reach the ring. Ring dunks are a rite of passage in Aggieland and a beloved tradition at a school full of traditions. 
So of course Groom ('15) dropped her Aggie ring into the Challenge Cup trophy full of Budweiser and downed that sucker for the first NWSL Ring Dunk. 
Shea Groom's NWSL Ring Dunk
Aggie Ring dunk for @sheabayy2 @AggieSoccer #GigEm pic.twitter.com/TWDG4rVO6Q
Groom's dismount left a bit to be desired (her ring ended up on the floor; you're supposed to catch it in your teeth) and almost as much beer ended up on her shirt as her mouth, but full points for consuming that much frothy brew after competing in the heat for two hours. (Full disclosure: I also let plenty of beer spill out when I did my Aggie ring dunk over a decade ago.)
The Dash partied hard Sunday and continued Monday as they returned home from a month in the NWSL bubble in Utah. Defender Megan Oyster supplied a great service to fans with her Instagram stories of the players celebrating, including shotgunning beers in the plane and Mewis sipping beer from the Challenge Cup.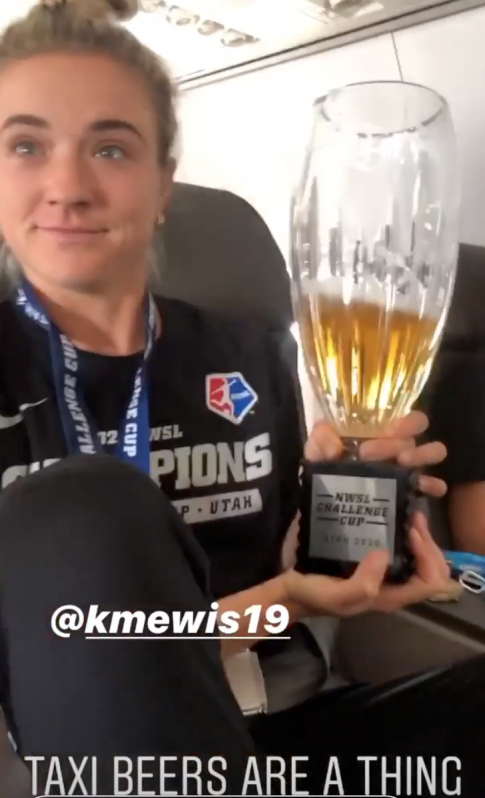 Needless to say, it's been a fun couple days for the NWSL champion Houston Dash — and Budweiser. 
If y'all were wondering if we took a break from celebrating on the flight...

— Houston Dash (@HoustonDash) July 27, 2020