World Cup Round Of 16 Preview: Matches, Dates, Locations And Times
Everything you need to know before the knockout stage gets underway.
Get the best email in soccer.
With all of the group stage matches finished, the attention now focuses on the Round of 16. This next stage will now see the loser eliminated from the World Cup. Harsh, we know. But that's just how the cookie crumbles. Here's the World Cup Round of 16 schedule with the dates, times and the stadium it will be played at. Strap yourself in, because the World Cup is about to get even better. 
World Cup Round of 16 Schedule 2018
France vs. Argentina | Saturday, June 30 | 10 a.m. ET
Uruguay vs. Portugal | Saturday, June 30 | 2 p.m. ET
Spain vs. Russia | Sunday, July 1 | 10 a.m. ET
Croatia vs. Denmark | Sunday, July 1 | 2 p.m. ET
Brazil vs. Mexico | Monday, July 2 | 10 a.m. ET
Belgium vs. Japan | Monday, July 2 | 2 p.m. ET
Sweden vs. Switzerland | Tuesday, July 3 | 10 a.m. ET
England vs. Colombia | Tuesday, July 3 | 2 p.m. ET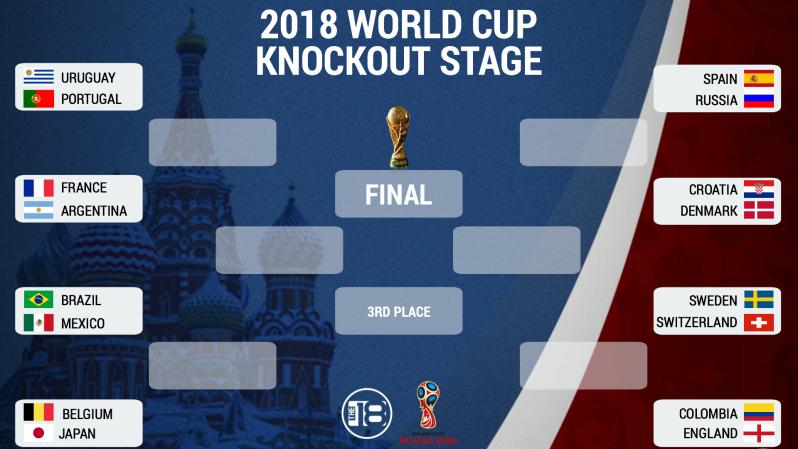 FRANCE VS ARGENTINA: Kazan Arena (Kazan), Saturday June 30, 10am ET
This game is definitely our pick of the Round of 16 matches. France, considered a strong favorite to win the World Cup before it began, have looked somewhat unconvincing at times throughout the group stages. A narrow 2-1 victory over Australia, a 2-0 victory over Peru and a 0-0 draw against Denmark secured their passage out of the group. 
Argentina made the Round of 16 thanks to a Marcos Rojo goal in the dying minutes of the game. However, as has been mentioned constantly throughout the World Cup, Argentina has not played very well at all. A 1-1 draw against Iceland in its opening game was followed by a dismal defeat to Croatia, who ended up topping the group. Argentina defeated Nigeria 2-1 to book its ticket to the Round of 16. 
This truly is anyone's game. Messi has plenty to prove and will need to be at his best if Argentina has any hope of going through.
URUGUAY V PORTUGAL: Fisht Olympic Stadium (Sochi), Saturday June 30, 2pm ET
Uruguay takes on Portugal in a match that some might consider relatively underwhelming, but could prove to be one of the best matches in the Round of 16. Uruguay beat Egypt and Saudi Arabia with a 1-0 scoreline but eventually came good with a 3-0 victory over hosts Russia. The menacing pair up front of Edinson Cavani and Luis Suarez are going to be heavily relied on for their goals, while young gun Rodrigo Bentancur has played very well for Uruguay.
Portugal opened up the World Cup with a 3-3 draw against Spain, where Cristiano Ronaldo scored a hat-trick. It was followed by a 1-0 victory against Morocco and a 1-1 draw with Iran. Portugal looked poor in its group matches at Euro 2016 but we all know how they finished the tournament, so don't underestimate this team. Ronaldo seems to have found another level at this World Cup and could continue putting the team on his back.
SPAIN V RUSSIA: Luzhniki Stadium (Moscow), Sunday 1st July, 10am ET
Hosts Russia have been dealt a cruel blow: they take on Spain in their Round of 16 clash. Russia scored eight goals in two games against Saudi Arabia and Egypt, but didn't look too great against Uruguay. However, they played without a number of their key players so take from that what you will. Denis Cheryshev and Aleksandr Golovin will be the go-to guys for Russia in this match.
What else needs to be said about Spain? La Roja looked in control in most of their matches but have been prone to mistakes that nearly cost them crucial points. The 3-3 draw with Portugal was followed by a 1-0 victory over Iran and then a 2-2 draw with Morocco to finish the group stage. Spain has quality all over the field and will need to be clinical against a Russian side backed by the entire crowd. 
CROATIA V DENMARK: Nizhny Novgorod Stadium (Nizhny Novgorod), Sunday July 1, 2pm ET
Croatia exceeded many people's expectations by finishing top of its group. They finished with nine points after a 2-0 victory over Nigeria, a 3-0 victory over Argentina and a 2-1 win against Iceland. Luka Modric has thrived playing in the No. 10 role for the side and has often been the difference in Croatia's matches. 
Denmark finished second in Group C with two draws against France and Australia along with a win over Peru in the first match. Denmark hasn't looked great and are relying heavily on Christian Eriksen in the final third to score and create chances. Is the burden on Eriksen going to become too much?
BRAZIL V MEXICO: Samara Arena (Samara), Monday July 2, 10am ET
Brazil improved as the group stage went on. A 1-1 draw with Switzerland got fans thinking that maybe Brazil isn't as good as we thought they were, but they bounced back with 2-0 victories over Costa Rica and Serbia. The attack for Brazil has shown some incredible movement that creates chances for themselves and their midfielder, but Neymar needs to start spending more time on his feet rather than rolling around on the floor if he wants to make a real difference.
Mexico shocked everyone by beating Germany 1-0 in its first match, and to be honest, El Tri could have had a few more. A 2-1 victory over South Korea continued the form, but it came to a crashing halt against Sweden, as they lost 3-0 to the Scandinavians. Can Mexico bounce back from that defeat and show the world that they are a force to truly be reckoned with?
This is also one of our must-watch games of the Round of 16. Mexico proved that it can beat the big boys but also showed that its vulnerable too. Brazil can't afford to be caught on the counter-attack so it will be a very interesting game to watch.
BELGIUM V JAPAN: Rostov Arena (Rostov-on-Don), Monday July 2, 2pm ET
Belgium finished the group stage with three wins from three games. A 3-0 win against Panama, a 5-2 win against Tunisia and a narrow 1-0 victory over England secured its passage into the next stage of the World Cup. Lukaku, Hazard and Mertens are a defender's nightmare, and if they're all flying around then it could get ugly fast.
Japan took advantage of its numerical superiority against Colombia in the first game; they won 2-1 after Carlos Sanchez had been sent off in the first few minutes. An entertaining 2-2 draw with Senegal and a 0-1 loss to Poland saw Japan through to the Round of 16 after they finished ahead of Senegal because they had fewer yellow cards. Japan will need to find a way to breach a stingy Belgium defence if they want to keep their dream alive.
SWEDEN V SWITZERLAND: Saint Petersburg Stadium (Saint Petersburg), Tuesday July 3, 10am ET
Sweden finished at the top of its group after some very strong performances. They defeated South Korea 1-0 in the opening game, but sadly conceded THAT goal to Toni Kroos in the 95th minute to lose 2-1. An outstanding 3-0 win against Mexico saw the Swedes climb up the table and keep themselves in the tournament. 
Switzerland finished the group stage with a 1-1 draw with Brazil, a 2-1 victory over Serbia and a 2-2 draw with Costa Rica. The Swiss haven't looked all too convincing, but then again, not one team at the World Cup really has. Shaqiri and friends will need to find another gear if they want to beat a plucky Sweden team.
ENGLAND V COLOMBIA: Rostov Arena (Rostov-on-Don), Tuesday 3rd July, 2pm ET 
It's coming home! Well, at least any England fan you ask will tell you that. Harry Kane secured a victory for the Three Lions with a 2-1 victory over Tunisia in the first game. A 6-1 mauling of Panama was followed a 1-0 defeat to Belgium that sees Gareth Southgate's side finish in second place, which many consider to be a good thing. Can England finally show its potential on the world stage, or will it be another "typical England" performance?
Colombia will be sweating on the fitness of star player James Rodriguez for the Round of 16 and potentially beyond. A frustrating 2-1 defeat to Japan in the first game meant that it was a bit of an uphill battle for Colombia to make it out of the group. But a 3-0 win over Poland and a 1-0 win against Senegal saw them finish at the top of Group H. Colombia will need to muster together all of its talent and strength to continue on in this World Cup.
Bookmark/Search this post with