World Cup Predictions For Final Matchday For Groups E And F
Everyone thought Group F was Germany's to lose but Mexico will look to continue its strong World Cup and lock up the group. A wide open Group E sees Brazil battling Serbia and Switzerland taking on an already eliminated Costa Rica.
Get the best email in soccer.
Aside from Costa Rica, every team in action Wednesday has some rout to the knockout stages. Our World Cup predictions start in Group F and finish with Group E.
Mexico will take on a Sweden team that will have to go against its style and push forward for goals. Germany will look to ride the momentum of Toni Kroos' absurd game-winning goal at the death while South Korea will hope for a miracle.
Then Group E takes center stage with Brazil still looking to fire on all cylinders against a testy Serbia team and Switzerland will look to lock up the group vs. an already eliminated Ticos side. 
Check out all the World Cup knockout stage possibilities here.
Here are the picks from Connor Fleming (@conmanfleming), Bryce Badwan (@bbadss) and Travis Yoesting (@travisyoesting). 
World Cup Predictions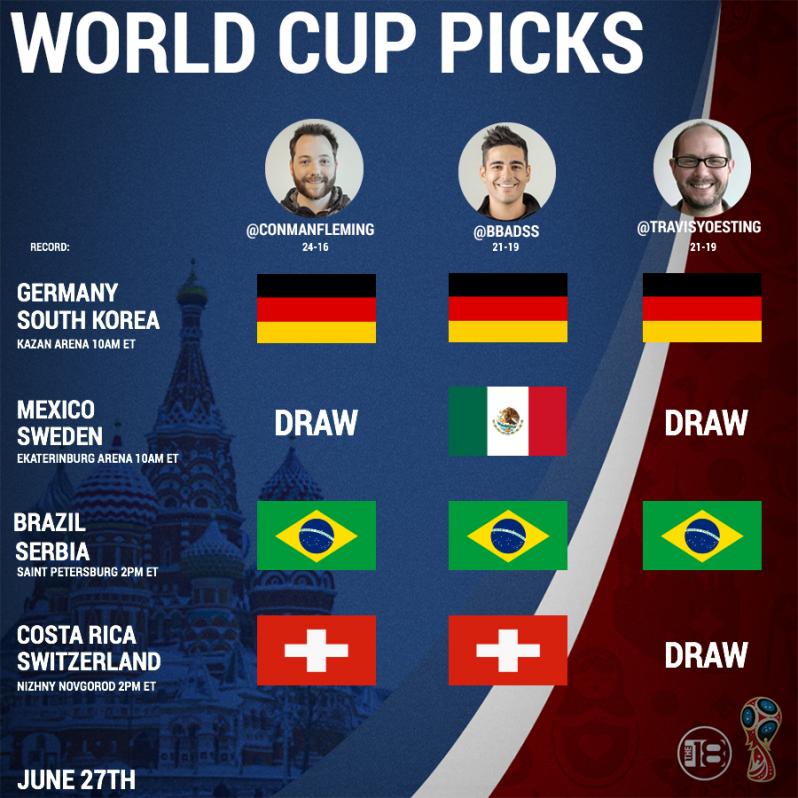 South Korea vs Germany 
Connor: Germany - I don't think South Korea has a shot — it's just been a poor World Cup for them, but the group of death does that to people. Germany wins big.
Bryce: Germany - Germany still hasn't impressed, but it isn't about to get knocked out of the World Cup with a poor result against South Korea. They should score early and often.
Travis: Germany - The defending champion was boosted by the late winner against Sweden. Even though South Korea technically is still alive, there will only be one team in this match. 
Game Info:
10:00 a.m. ET 
Kazan FS1, Universo  
Mexico vs Sweden 
Connor:  Draw - Sweden needs to win, but it can't/shouldn't/won't change its approach here. It's gonna be cagey; it's gonna be tight; there's gonna be few chances. Maybe a 1-1 scoreline here; Mexico wins the group!
Bryce: Mexico - This game really does scare me for Mexico. If Sweden didn't have to push for a win and worry about how bad Germany is going to beat South Korea, then I'd probably take them. But I think Mexico is much too dangerous on the counter and Sweden will get caught being too far forward, an area where it just isn't comfortable. 
Travis: Draw - Mexico wants to ensure it wins the group to avoid Brazil and Sweden doesn't have enough firepower to outscore El Tri. But it will be nervy.
Game Info:
10:00 a.m. ET 
Ekaterinburg Arena Stadium 
FOX, Telemundo   
Serbia vs Brazil 
Connor: Brazil - The loss to Switzerland was just devastating for Serbia. I don't think there's any bouncing back from that, especially when your next opponent is a Brazil side that still has everything to play for. 
Bryce: Brazil - Neymar is going to spend a lot of time on the ground in this one. El Mago Coutinho will get on the scoresheet again and Brazil should impress. 
Travis: Brazil - Brazil hasn't hit full stride yet and will want to put on a show against Serbia, which will probably have a player sent off trying to tackle one of Brazil's fleet-footed forwards.
Game Info:
2:00 p.m. ET 
Spartak Stadium
FOX, Telemundo 
Switzerland vs Costa Rica 
Connor: Switzerland - Just like Serbia, Costa Rica poured everything into its second game but came up short at the death. The hangover's going to be a nasty one; Switzerland advances to the Round of 16.
Bryce: Switzerland - Costa Rica has some fight. But this Switzerland team is gritty and is on a mission. They will fight with the Tico's but will deliver the knockout blow. 
Travis: Draw - Costa Rica has too much pride to go out without a point. The Swiss will see Brazil winning and realize they can advance with a draw.  
Game Info:
2:00 p.m. ET 
Nizhny Novgorod Stadium 
FS1, Universo  
Bookmark/Search this post with