World Cup Predictions For England-Panama, Senegal-Japan And Poland-Colombia
Group H continues Sunday as Poland and Colombia face off after opening-round losses. England will look to avoid an 'English' result against Panama.
Get the best email in soccer.
Group H had a surprising start with the two favorites (Colombia and Poland) picking up losses in their first matches. Now the two face a can't-lose match against one on Sunday another while Senegal and Japan will look to build off of their results and get a foot in knockout stage. England will also look to not do any "English" things when it faces off with Panama.
Here are the picks from Connor Fleming (@conmanfleming), Bryce Badwan (@bbadss) and Travis Yoesting (@travisyoesting). 
World Cup Predictions - Sunday, June 24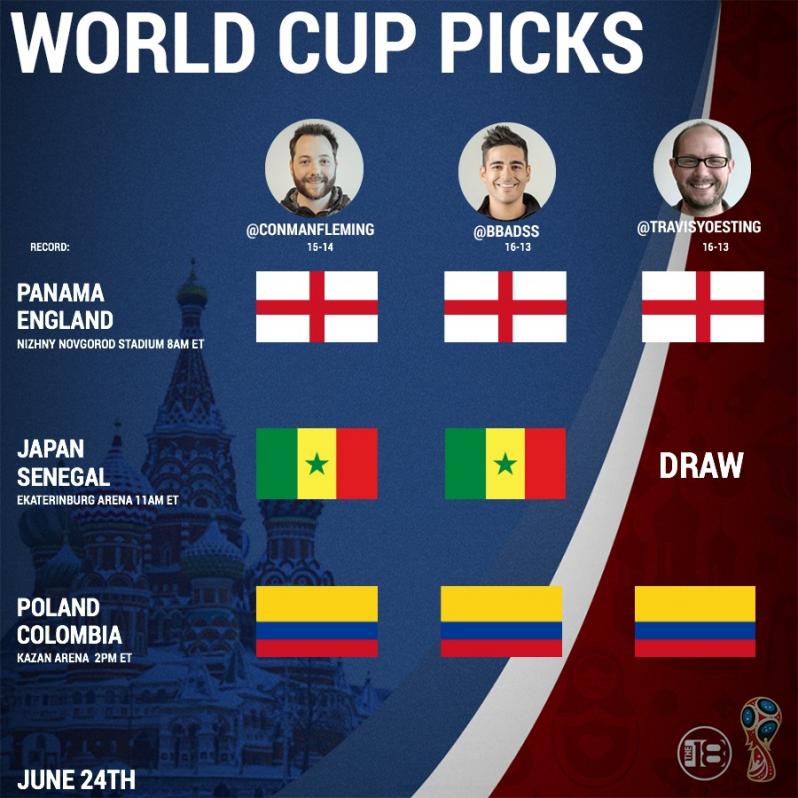 England vs Panama 
Connor: England - Leaked lineup?! That's OK, Harry Kane doesn't operate on surprises. I also think players like Marcus Rashford and Jesse Lingard will blow this game wide open. It's obviously a very young England team, but there's a lot of Champions League experience in the starting XI and that'll help to combat whatever the Concacaf nation throws at them.   
Bryce: England - After seeing Belgium finish off all of the chances England missed, I feel better about this team. I think they should get a result that will send the English media into a frenzy. 
Travis: England - This England team seems different from its last few World Cup appearances and while it won't be easy against a determined Concacaf side, the Three Lions will come away with three points. 
Game Info:
8:00 a.m. ET 
Nizhny Novgorod Stadium 
FOX, Telemundo 
Japan vs Senegal 
Connor: Senegal - I just want a huge game from Sadio Mane — a hat-trick — and then Senegal takes a commanding position in Group H. 
Bryce: Senegal - Show me the Mané!!!!!
Travis: Draw - Both teams picked up unlikely wins on the first match day. Both will know a win all but clinches qualification, but I think both will just be happy with not losing.
Game Info:
11:00 a.m. ET 
Ekaterinburg Arena 
FOX, Telemundo 
Poland vs Colombia 
Connor: Colombia - I thought Colombia looked more impressive than Poland despite playing 87 minutes with 10 men. James will start from the off this time, and Colombia gets its World Cup back on track. For Robert Lewandowski and company, game over.  
Bryce: Colombia - I really don't think Poland is that good. I'm going to go out and say that they are flat out posers. Sorry Lewy, but Colombia showed more with 10 men than your Polish side.
Travis: Colombia - While both teams lost their openers, Colombia looked the better side, even with 10 men. Poland has yet to prove it can beat a top-tier team when it really matters; Colombia has. 
Game Info:
2:00 p.m. ET 
Kazan Stadium
FOX, Telemundo 
Bookmark/Search this post with