The Value Disparity Between World Cup Rosters Will Make Your Head Spin
It would take 115 Panamas to equal one France.
Get the best email in soccer.
Soccer, unlike pretty much every other sport, regularly features massive upsets. Because sports like American football and basketball are higher scoring, typically the better team wins in the end. Soccer is low scoring, meaning an underdog can often hold off an opponent for an unlikely result. 
Part of the joy of the World Cup is watching tiny underdogs take on massive favorites — often with positive results. Think the U.S. against England in 1950, West Germany over Hungary in 1954, Croatia's and South Korea's runs to the semifinals in 1998 and 2002, respectively, and Costa Rica's triumph over England, Uruguay and Italy in 2014. 
All 32 World Cup teams submitted their final 23-man rosters this week and the level of disparity between the nations involved was revealed to once again be massive. The most valuable World Cup team is worth about 115 times more than the least valuable World Cup team.
Most Valuable World Cup Team Rankings
Coming in at No. 1 in the ranking of most valuable World Cup teams is France at $1.3 billion. The least valuable team is Panama, coming in at $11 million. Of France's 23-man roster, 21 players are more valuable than Panama's entire roster. 
(All market values are from Transfermarkt.com.)
France's value is boosted by three players valued over $100 million: Kylian Mbappé ($140m), Antoine Griezmann ($117m) and Paul Pogba ($105m). Panama's most valuable player is San Jose Earthquakes midfielder Anibal Godoy ($0.9m).
The second most valuable World Cup team is Spain, aided by top-to-bottom quality that is nearly unmatched—only one player (backup keeper Pepe Reina) is valued below $10 million. Brazil, England and Germany round out the top five, all coming in at more than $1 billion in value. 
On the other end of the spectrum, Saudi Arabia, the 31st most valuable World Cup team, is about twice as valuable as last-place Panama. The 30th-ranked team, Peru, is then twice as valuable as Saudi Arabia. From there begins a steady progression, with the largest jump between any teams between the seventh (Argentina) and eighth-ranked (Portugal) countries. 
The average World Cup value is $376.8 million, slightly less than Croatia and slightly more than Senegal. 
While FIFA seeded 31 of the 32 teams for the World Cup draw based on FIFA's world rankings (Russia not included as host), there is plenty of disparity in the groups.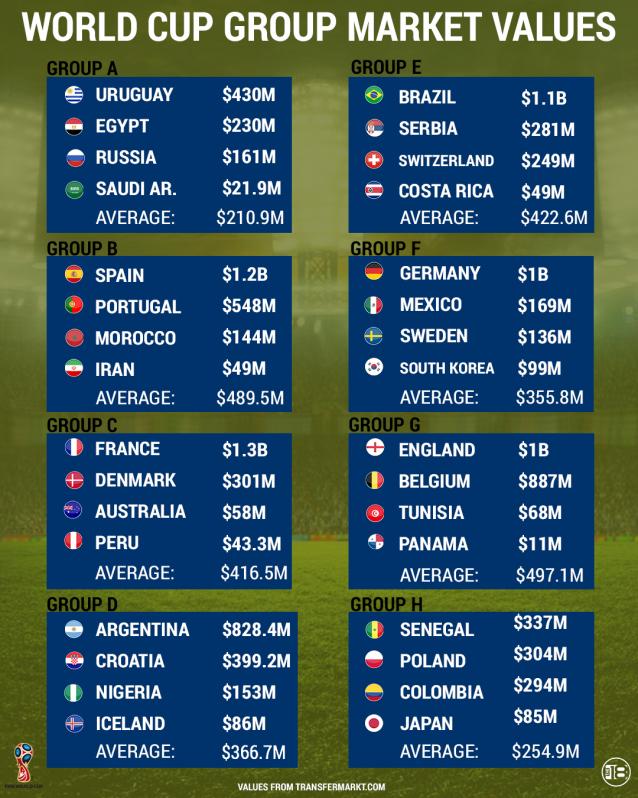 Not surprisingly, Group A with Russia is the least valuable, with Uruguay, Egypt, Russia and Saudi Arabia totaling $843.5 million, less than six teams competing at the World Cup. Group H is the next cheapest, barely breaching the $1 billion mark. 
On the other end, Group G and Group B are pushing $2 billion. Group G comes in as the most valuable World Cup group with a total of $1,988.5 million, which is impressive considering the group features the least-valuable team in Panama and 26th-ranked Tunisia. England ($1,022.6m) and Belgium ($886.9m) hold up the group.
Group F and Group H should make for interesting competition given the parity involved. In Group F, after Germany, which is expected to win the group, Mexico, Sweden and South Korea are all within six rankings of each other on the value scale. In Group H, Senegal, Poland and Colombia are within four rankings.
In a way, the value inequality is part of what makes the World Cup great. In domestic leagues you would never see such a disparity between the top and bottom teams. 
In the Premier League, Manchester City is valued at a league-high $1.18 billion compared to Huddersfield Town's $120.76 million. That puts the bottom team at about 10 percent of the top team. In the Bundesliga, Bayern Munich is 12.7 times more valuable than Hamburg. Juventus is 16.8 times more valuable than Crotone in Serie A while PSG is 20.4 times more valuable than FC Metz. The largest disparity in any league belongs to LaLiga, where Barcelona is 28 times more valuable than Las Palmas. That's still about four times less than the difference between France and Panama. 
Of course, none of this is to say France will for sure win the World Cup. While valuable players help, every team also needs coaching, chemistry and a bit of fortune to win the tournament. But it does go to show how much of an underdog most countries are, with 24 nations failing to register half the value of the top six teams. 
We'll find out exactly how the most valuable World Cup team fairs when the tournament starts on June 14, with the final set for July 15. 
Bookmark/Search this post with