Marcelo Admits To Handball While Arturo Vidal Rages On Social Media
It's all happening off the pitch after Bayern Munich's bottle job at the Bernabeu.
Get the best email in soccer.
In the end, Bayern Munich only has itself to blame. If you want to get particular about it, it's left back Rafinha and goalkeeper Sven Ulreich who deserve the most condemnation. The duo absolutely gifted Real Madrid two of its four goals, a devastating bit of self-sabotage against the back-to-back world champion.
However, this is a particularly bitter pill for the Bavarians to swallow given their dominance over the two legs. If you limit Cristiano Ronaldo to nothing and win the midfield battle against Real, you should be home free. 
Two-legged xG map for Bayern Munich - Real Madrid. There's little question which team was better. But "playing better football" is no match for the uncanny power of the threepeat. pic.twitter.com/Leb4nIe3zN
Obviously, something more nefarious is at play here! Or so the thinking seems to be. So rather than saying, "Yeah, Rafinha and Ulreich effectively combined to destroy all our hopes and dreams," the rallying cry from injured duo Arturo Vidal and Jerome Boateng is that Turkish referee Cuneyt Cakir is a villain (and that Cristiano Ronaldo is a shit head).
With regards to Cakir, both Boateng and Vidal voiced their displeasure over a Marcelo handball no-call on social media. 
Vidal posted two stills during the match, one showing Marcelo's handball with the caption "Once again!!! Criminal shit" and another labeling Real players "rats."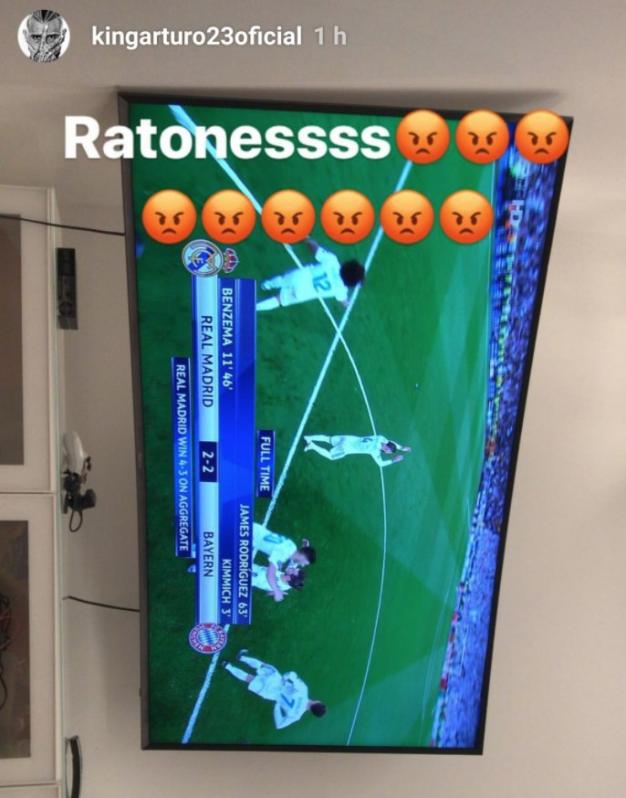 He also replaced an image of Cristiano Ronaldo's face with the poo emoji, because he's a content cowboy. 
Boateng wasn't pleased either, communicating that feeling with a displeased emoji as well. Bunch of lyricists out here.  
No penalty?!? Come on... #rmafcb pic.twitter.com/arST1s1FMw
In fairness to both, although it will come as no consolation, Marcelo admitted that it probably should've been a penalty. 
¡ACEPTA QUE ES PENAL!#ChampionxFOX "Si te digo que no ha tocado mi mano, SOY UN MENTIROSO"

— FOX Sports MX (@FOXSportsMX) May 1, 2018
"Yes, it hit my hand," Marcelo said after the match. "Well, if it hit my hand, I'd say so (that it should be a penalty). … Well, it is what it is. It was difficult for the ref, because there were many players blocking his view, but if I came here to tell you that the ball didn't touch my hand, I'd be lying to you."
As for the Bayern players on the pitch, they were more circumspect regarding the defeat.
"We deserved it," defender Mats Hummels said. "Toni (Kroos) told me after the game: 'We did not win that thing. You only have yourselves to blame that you are not in the final.' Unfortunately he is right.
"I think it's an even bigger disappointment (than 2017) because throughout the game we were so close to knocking out one of the best teams in the world, which is rare. But somehow Real gets through these matches again and again this year. These games are things to remember after your career. But honestly, I think it will hurt in 10 years."
As for Ulreich, he shouldered the blame himself.
Absolutely brutal.

— The18 (@the18com) May 2, 2018
"Words can't describe how disappointed I am for being knocked out," he wrote on Instagram. "We desperately wanted to reach the final and we gave our best and then this needless mistake happens to me. I can't explain it. I'm sorry for my team and for you fans." 
Bookmark/Search this post with