Cruz Azul Bound To End 21-Year Curse vs. América — Or Fail Miserably
Cruz Azul vs. Club América is the Liga MX final, and the stakes could not be higher.
Get the best email in soccer.
It's going to happen: A Club América vs. Cruz Azul Liga MX final will kiss 2018 goodbye. La Máquina beat Monterrey, and Las Águilas destroyed Pumas in the semifinals last weekend, thus securing the high-voltage final most soccer enthusiasts in Mexico were looking forward to.
It's been five years since the two teams clashed in the one of the most dramatic finals in Liga MX history. Back then, Miguel "Piojo" Herrera led Club América to victory via a penalty shootout after a legendary Moisés Muñoz stoppage-time equalizer.
But is it finally payback time for Cruz Azul? Or will Club América claim absolute dominion as the most successful team in Liga MX?
Liga MX Final Apertura 2018 Schedule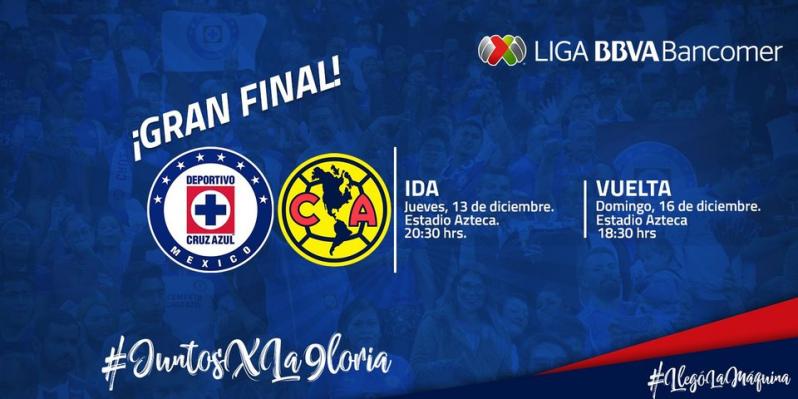 Consistency Throughout The Tournament
Both sides merit an appearance in the final. Cruz Azul ended on top of the Apertura table and América finished second. Moreover, Cruz Azul were the best defense in the tournament, conceding 13 goals in 17 matches. On the other hand, Club América were the best attacking side, scoring 33 goals in the same number of games.
Come the playoff round, Cruz Azul eliminated Querétaro and Monterrey without too much effort in the quarterfinals and the semifinals, respectively.
Club América suffered against Toluca in the quarterfinals, but absolutely thrashed city rivals Pumas UNAM in the semis.
Being the first team to reach the final, Cruz Azul was only waiting for their rivals to be defined in the Club América vs Pumas UNAM semifinal. Some Cruz Azul players declared they wanted to face Los Azulcremas in the final. However, one is left to wonder whether or not some fans would have preferred to avoid their nightmarish arch rivals.
Club America vs. Cruz Azul Knockout Stage History
Club América and Cruz Azul have faced each other 28 times in the Liguilla knockout stage. Out of those clashes, there have been nine Cruz Azul wins, 11 Club América victories and eight draws.
Moreover, the two sides have played two Liga MX finals so far (in 1972 and 2013), with a victory for each side.
This season, Cruz Azul and América tied 0-0 during week 14.
Leveled On All Sides
This season, Cruz Azul were the most consistent team throughout the tournament. They have a solid defense led by former Club América player Pablo Aguilar. They also have Iván Marcone in the midfield and a solvent attacking line with Edgar Méndez, Martín Cauteruccio and Milton Caraglio.
Club América is the most powerful team in attack. Roger Martínez, Oribe Peralta and Henry Martín are all strong center forwards. Furthermore, Club América's wingers Renato Ibarra, Diego Lainez, Andrés Ibargüen and Cecilio Domínguez are absolute dynamite.
On the midfield, Matheus Uribe and Guido Rodríguez have been outstanding. Center back Bruno Valdez is on fire, scoring eight goals in the season so far.
The two teams have seasoned goalkeepers in Jesús Corona and Agustín Marchesín.
On the sidelines, both Miguel Herrera and Pedro Caixinha have been Liga MX champions.
Both legs of the final will be played at Estadio Azteca, as both teams host their local games there. Level on all sides, it's hard to say who has the upper hand. Strategy, efficacy and good fortune will most likely play a significant role in defining who will become champions.
What's At Stake
Cruz Azul is looking to end a 21-year drought in Liga MX. Since they last won the title in 1997, Los Celestes have played five league finals, losing all of them.
Moreover, Los Celestes have been unbelievably unlucky. So much so, they have  earned a hilarious reputation for being cursed. Last time La Máquina reached the final, they dramatically lost it to Miguel Herrera's side at Estadio Azteca. And the wound is still open.
If Pedro Caixinha is able to lead Cruz Azul to victory, all past miseries will be forgotten and the sun will again shine for Los Celestes. However, if Club América succeeds in claiming the title, the burden will be too great. The curse will be confirmed. 
No matter who wins it, it will be a battle for the ages.
Bookmark/Search this post with