Google Doesn't Know The Name Of LaLiga
Google, Wikipedia and countless other media outlets don't know how to spell Spain's top division.
Get the best email in soccer.
Google gets it wrong. Wikipedia doesn't do it right. Sky Sports, BBC, The Guardian, ESPN, Fox Sports and Goal.com all spell it incorrectly. Al Jazeera and BeIN are inconsistent in their usage. Shit, even the nearly infallible staff at The18 used to make the mistake and we're pretty sure you get it wrong all the time too. Spain's Primera División is called LaLiga not La Liga. 
That's right, the best league in the world right now, home to the two strongest clubs with the two best players, can't even get it's own name spelled correctly by the only search engine anyone actually uses. 
There's an important distinction there, but maybe you missed it. Most spell LaLiga as two words when, in fact, it's one word. Yes, we know LaLiga isn't actually a word in the Spanish dictionary, but it is a proper noun. LaLiga is thus named not because it is Spanish for "The League" but because it stands for the Spanish league.
But type "laliga" into Google and you get the condescending "Showing results for la liga" message as if you spelled the damn thing incorrectly. Right below you'll see a schedule of "La Liga" matches, even though no such league exists in Spain. The Wikipedia-created information tab on the right has it wrong as well, despite the logo clearly showing it's LaLiga not La Liga.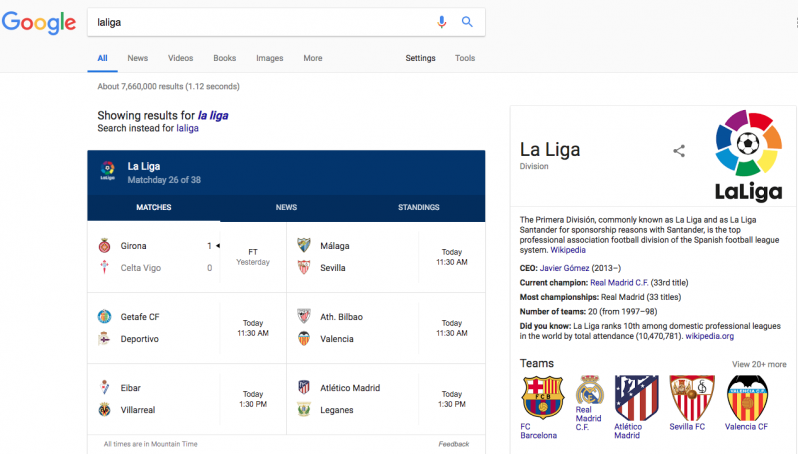 Lauren Steinberg, LaLiga international communications manager, explains the branding, the brainchild of Javier Tebas, the current president of Liga de Fútbol Profesional, the organizing body for LaLiga.
"We used to be La Liga de Fútbol Profesional but we wanted to be more modern and catchy," she said. "The world always referred to us as La Liga, so in 2014 Javier Tebas decided to change the name to LaLiga, which better suited the brand."
It's similar to the sometimes-greatest university, sometimes-greatest cult in the United States: Texas A&M University. The school's name does not actually stand for Texas Agricultural & Mechanical University. In 1963 when the school changed its name from a college (T.A.M.C.) to a university (TAMU) the acronym was dropped, with the 'A&M' merely a name for branding purposes. 
Few media sites get it right. Marca is good about spelling it LaLiga, but not many others outside of Spain make the effort to fact check the simplest of items. 
So if you want to show you're truly a fan of Real Madrid or Barcelona, Cristiano Ronaldo or Lionel Messi, spell the league's name correctly. It's LaLiga not La Liga. Don't be a dummy. 
The18's Bryce Badwan contributed to this report.
Bookmark/Search this post with