These Disabled Players Dreamed Of Their Own League, So La Liga Made It Happen
Two years ago, Rubén Almazán and Álvaro Cano dreamed of a league for players with intellectual disabilities. Today, La Liga Genuine is a reality – and it's got more heart than any other league.
Get the best email in soccer.
It's called the beautiful game for a reason. It has the power to unite millions of people with 90-plus minutes of magic.
At its highest level, the practitioners of this magic are superstars like Messi, Ronaldo, Ramos, Iniesta and many more – household names, heroes to many and icons to the world. But football runs much deeper than this, into the lives of anyone with a ball and a dream. And, thanks to La Liga, today we have new heroes who are living their dreams in La Liga Genuine.
To understand how La Liga Genuine came to be is to take a step back to its origins in the imaginations of two men.
WATCH THIS: LaLiga Genuine Is Changing Lives
In March 2016, the two men who would eventually become captains of the Nastic team for players with intellectual disabilities, Rubén Almazán and Álvaro Cano, had the idea to create a competition for people in the same situation as them. "We could never imagine that this idea would go so far. We just wanted that everybody could play soccer. Now we made the dream of 300 players come true."
Based on Almazán and Cano's idea, the club Nastic de Tarragona submitted a proposal to La Liga. The proposal was to create a soccer league in which players with intellectual disabilities (ID) would play, providing a new avenue for them to pursue their dream while helping to deliver on La Liga's commitment to diversity and inclusion.
It didn't take long for La Liga to approve the proposal and the staff started to work with member clubs to assemble clubs for players with intellectual disabilities. Seven clubs took part initially, but the idea became so popular that eleven more joined the initiative in short order. Soon the program was off and running, called "La Liga Genuine."
The stories that have come out of the program since are both incredible and inspiring.
The story perhaps most indicative of the spirit of the athletes in La Liga Genuine is that of Alba Blasco. She is just 19 years old, but she has been playing soccer for Levante UD since 16.
"My mother has to take me to the trainings in Valencia every day," Blasco said. "I live in Turis, so it's 40 km one way and 40 km back. But I do not care, because soccer is my passion. If I had to do them walking, I would." Her coach, Jorge, admires her. "She enjoys soccer," he said. "Her dedication and passion is incomparable."
[caption]
Alba Blasco's mother drives her 40km each way to play in La Liga Genuine. (Photo: Pau Vazquez | The18)[/caption]
The La Liga Genuine tournament is divided into four phases that are played in different cities of Spain. The second round was played on January 20th and 21st in Tarragona. All the participating teams were there:
Nastic
Villareal
Levante
Celta
Mallorca
Valencia
Las Palmas
Osasuna
Reus
Atlético de Madrid
Córdoba
Girona
Rayo Vallecano
Espanyol
Real Sociedad
Athletic Club
Deportivo de la Coruña
Huesca
Two games were played simultaneously, each with four quarters of 10 minutes.
The players showed intensity and determination, and coaches applauded every good pass, shot or tackle. Despite their disabilities, it was amazing to see how they distributed the ball in each action, how they celebrated the goals and regretted the mistakes. Like Messi, Cristiano or Neymar.
One player who stood out is Manolo Romero, Córdoba CF captain and one of its best players. His fair play and sportsmanship has made Córdoba CF one of the favorite teams to win the competition. "Winning is important, but more important is showing that we can play, that soccer is also ours," Romero said. "The training and matches make us improve in our professional life."
[caption]
Manolo Romero, Córdoba CF captain. (Photo: Pau Vazquez | The18.com)[/caption]
What this tournament and La Liga Genuine's very existence teach the world is that football belongs to everyone. Anyone with the purpose of playing and competing can do so – and with effort and proper organization, any barrier can be overcome.
More than this, La Liga Genuine represents the best of football and its capability to reveal that the real heroes of the sport are perhaps the nameless ones whose images never adorn the walls of young fans, whose stories don't often get told. Messi, Ronaldo and other superstars may represent the elite of the sport, but they stand on the shoulders of everyday players like Alba and Manolo who, like them, have fought hard and will never stop fighting for their dreams.
[caption]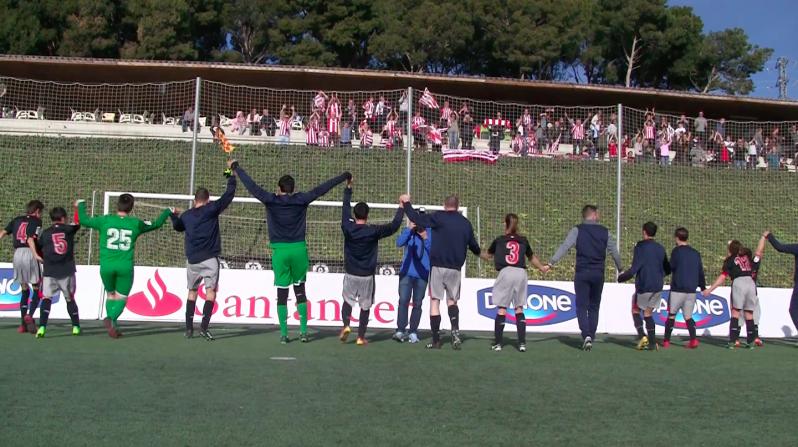 (Photo: Pau Vazquez | The18.com)[/caption]
Which brings us back to two days in January. At the end of each game, the players hugged and congratulated each other – not so unlike the legends we know trading jerseys after a big match. However, unlike so much in professional sports today, the important thing here was not who won or who lost. It was simply that La Liga Genuine had given these players a chance they never had before: to play and compete.
Bookmark/Search this post with