Beckham United's Miami MLS Stadium Plan Has No Parking
The newly proposed stadium plan from the David Beckham-led Miami expansion group left out one vitally important piece of the stadium puzzle.
Get the best email in soccer.
When it comes to stadium plans, the first thing you'd think would be an absolute must would be the implementation of a parking area that adoring fans and staff can use to actually attend a match.
In the case of the proposed expansion MLS team in Miami, they decided to omit this extremely important aspect completely.
According to ESPN FC, who were the first to report on this interesting development, the legendary David Beckham and the group he is leading to bring an MLS franchise to Miami unveiled an extravagant stadium plan that seats 25,000. However, this stadium would ultimately leave out the concept of a parking lot.
Over the past few months, Beckham United has been in a battle to try to find the perfect place to place this stadium. This particular area that they are now circling is the last piece of land that is available in the Overtown neighborhood. This has halted the project for years, and it's the main reason as to why the group is struggling to gain traction in joining MLS.
To address the issue of the parking area, the CEO of the Oak View Group, Tim Leiweke, revealed a plan that involved the use of the city's public transport. This would rely on fans wanting to march en masse towards the stadium before a game, similar to the happenings in Seattle and Portland.
Beckham's group is also hopeful that they would be able to acquire 2,000 off-site parking spaces that would be in the Miami downtown area. They would then provide a shuttle to and from the proposed stadium.
The stadium would not be ready until 2021, but it was also proposed that the team could play at an existing NFL or MLB stadium until the construction is completed.
Along with the proposed plan, Beckham United also unveiled a rendering of the new stadium.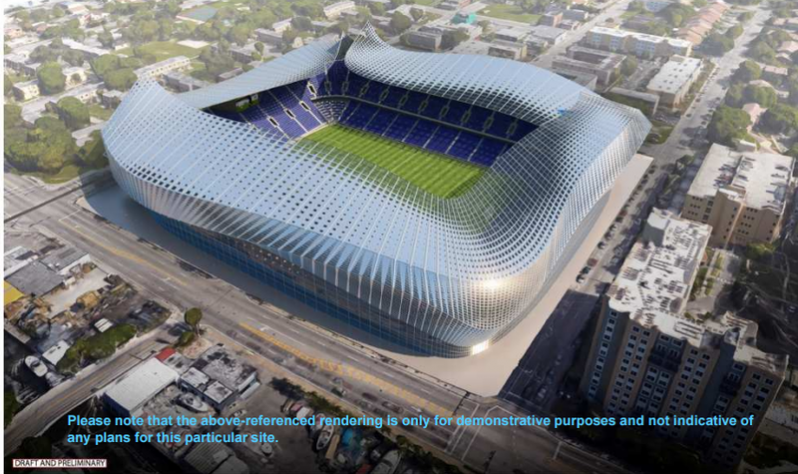 Back in 2014, Beckham exercised his option to be able to manage and build an MLS franchise for a small expansion fee of $25 million. This was part of the contract he signed with MLS and the LA Galaxy, but MLS is now adamant that any expansion team must also arrive in the league with concrete stadium plans.
There are 12 cities competing for only four additional MLS slots. Two of these slots are expected to be filled sometime this year, and the newly expanded teams would then have to pay the MLS expansion fee of $150 million.
Bookmark/Search this post with