Like The Petty Ex Who Can't Let Go, Barcelona Sues Neymar For $10 Million
Barcelona isn't making itself attractive to new relationships after demanding money from its former star for breach of contract.
Get the best email in soccer.
Barcelona is on the market for a new beau. The club is on Tinder, Bumble, Grindr, everything searching for someone to fill the hole in its left wing heart left by Neymar. But Barca sees Neymar smiling and laughing with a new love in Paris and gets angry.
Barcelona just can't let Neymar go, choosing to mope around with a bucket of Blue Bell watching Lifetime movies. The Catalan club is demanding Neymar pay them more than $10 million in damages for not fulfilling his contract.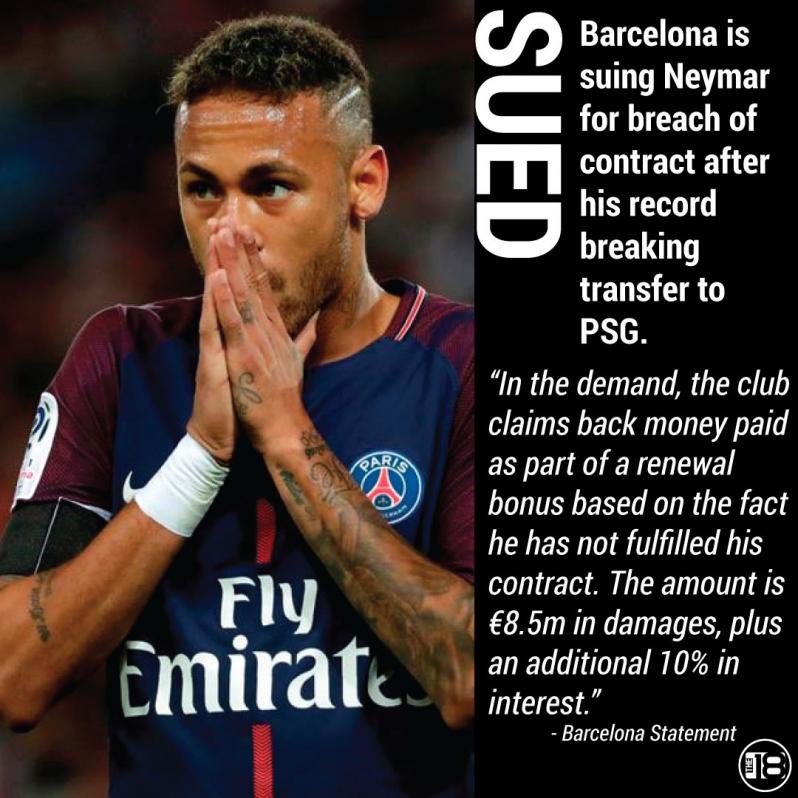 Neymar couldn't be happier about his breakup with Barca, which he thought was in the past. He did everything right, or as well as possible given the situation — it's always messy when you leave a partner you've lived with for years. But Neymar didn't break up via text, tried to keep it cordial and spent way more money than is typical to escape the relationship. 
His reward? He lost $30 million he was due in the summer and could be forced to pay back an undisclosed amount he received as a signing bonus when he renewed his contract in October, plus $10 million in damages and 10 percent in interest. And you thought you had it bad when your ex threatened to keep your cat when you moved out. 
Barcelona is claiming Neymar breached his contract by leaving for PSG. But, as has been well publicized, Neymar bought out his contract for the farcical fee of $263 million. That should be that, right? Not for the pretty girl who's not used to being dumped.
Barcelona claims to be more than a club. They hold themselves above everyone else, and often deservingly so. They can play some of the most beautiful football in the world and, for a few years, Neymar was a part of that. Like a spoiled only child, Barcelona thinks it deserves everything and can't stand it that a star player spurned them. But hey, these things happen to the best of us — that's life. 
Instead of moving on, Barcelona is dragging out the Neymar fiasco to the detriment of both parties, but mostly themselves. It's not about money, because Barca has plenty (at least $263 million). 
While there are some out there who prey on damaged goods, no decent man is going to look at Barcelona and think, "Yes, that's the type of relationship in which I want to be involved." No one wants to be in a longterm relationship with someone who is this petty and this obsessed with an ex. 
Neymar isn't entirely blameless in this. He's been in Paris talking smack about his ex, complaining about overbearing parents who just don't get it. 
Both parties should get on with their lives. Neymar should keep counting his money and scoring goals, probably in that order. Barcelona should sign Ousmane Dembele, who seems to be the only type of character Barcelona is going to attract at this moment. 
It's over guys. Just move on. And please, don't make a scene when you meet in the Champions League. It'll just get awkward. 
Bookmark/Search this post with