Jose Mourinho's Transfer Spending At Man United: The Worst Business Ever
Mourinho signed 11 players at United for over $500 million. They achieved little success to no success whatsoever.
Jose Mourinho is out of a job. After improving slightly on the work of predecessors David Moyes and Louis van Gaal, the horror of watching Manchester United attempt to play football was still enough to warrant his sacking on Tuesday. This certainly felt inevitable and there are a lot of reasons for the Portuguese's dismissal, but the Jose Mourinho transfer spending at Manchester United is the easiest way to make sense of it all.
According to Jamie Jackson, the Manchester football correspondent for the Guardian and Observer, United's hierarchy was unwavering in its support of Mourinho: The club spent over $500 million on 11 players that the manager selected during his time there. In fact, they all add up to a nice little starting XI. Here's that lineup, and a bit of information on how all of Mourinho's transfers played out at Old Trafford. Let's just say that you would certainly quit your own FIFA Career Mode if shit hit the fan this spectacularly.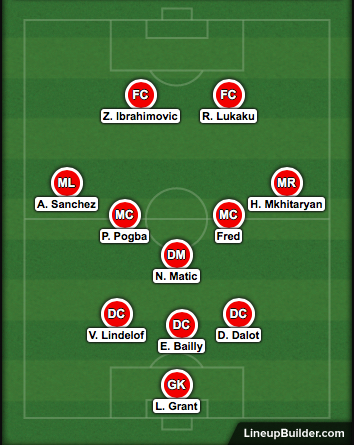 Jose Mourinho Transfer Spending At Manchester United
2016-17: Year 1
Eric Bailly (24 years old) — $43 million 
Mourinho's first signing at United, the Ivory Coast center back was an instant hit following his move from Villarreal and was voted the club's Player of the Month for August 2016. Despite being sidelined for over a month with a knee injury, he still managed to make 25 EPL appearances, and he made 11 appearances in United's Europa League-winning campaign, getting named to the Squad of the Season for his play in that competition.
Bailly's second season was effectively ruined by a challenge from Zlatan Ibrahimovic during training. He required ankle surgery and was sidelined for over 100 days, missing 26 games during the 2017-18 campaign. 
This season, Bailly was infamously hooked after 19 minutes against Newcastle back in October and dropped down the pecking order behind Chris Smalling, Victor Lindelof and Phil Jones. 
Henrikh Mkhitaryan (29) — $48 million
After illuminating the Bundesliga with Borussia Dortmund in 2015-16, Mkhitaryan showed flashes of his brilliance at United during his first season — particularly in the Europa League (where he scored in the final and was named to the competition's Squad of the Season) and with his scorpion kick against Sunderland in the EPL.
Henrikh Mkhitaryan onside scorpion kick vs Sunderland. pic.twitter.com/aTUCS5aSbV
He started out on fire in 2017-18, registering five assists in three PL games, and then his form collapsed. With only two goals in 22 appearances through January, he was transferred to Arsenal in a swap deal for Alexis Sanchez.  
Paul Pogba (25) — $120 million
The return of the prodigal son for a then-record fee of $120 million, Pogba was massive in United's Europa League triumph — he was named the Player of the Season in that competition — and he also played a large role in the EFL Cup win. Although his form in the EPL was less consistent, 30 appearances and five goals and four assists showed promise moving forward.
However, although Year 2 yielded six goals and 10 assists in 27 EPL games, Pogba's play became a constant source of division in 2017-18, and his relationship with Mourinho became a non-stop source of speculation, fueled largely by Mourinho himself.
A triumph in the World Cup was momentarily seen as the inevitable conclusion of the Pogdrama, but the situation grew entirely untenable this campaign with the 25-year-old Frenchman left to rot on the bench with a tree named Marouane Fellaini the preferred option. 
Is this the moment that lead to Jose losing the dressing room?
When Mourinho and Pogba fell out on the training pitch pic.twitter.com/N0daQQEn6v
Zlatan Ibrahimovic (37) — FREE 
Mourinho's best signing at United: a man who scored goals and achieved success wherever he went. That pretty much says it all with regards to Mourinho's ability to find and nurture talent. Ibra scored 28 goals in all competitions during his magnificent start to life at Old Trafford, but on April 20, in the Europa League quarters, he sustained a serious knee injury and his time was effectively ended. 
2017-18: Year 2
Victor Lindelof (24) — $40 million 
The young Swedish defender was brought to Manchester after really only one full season of senior play with Benfica, and he was brought along slowly in 2017-18, waiting two full months to make his senior debut. 
He's been given a trial by fire this season as he's appeared in 13 of United's 17 games. However, since the Red Devils have already conceded more goals this campaign than the entirety of last season, he's not exactly been a revelation at the back. Regardless, he's only 24 and obviously still adjusting to life in England with only 30 EPL appearances to his name. On the opposite side of the coin, the jury is still out as to whether he's of the requisite quality. 
Romelu Lukaku (25) — $96 million  
Statistically speaking, his numbers weren't the worst during Year 1 at Old Trafford. He scored 27 goals in 51 appearances, however, his return of 16 goals in 34 PL games was a lower total than what he'd managed in three out of his five seasons with Everton. After scoring 25 goals in 37 PL games for the Toffees in 2015-16, you could forgive United for expecting more from the maturing striker.
This season, it's all come off the rails. He's only got six goals in 22 appearances — including zero from five in the UCL — and he's become the meme lord of what it means to have a godawful first touch. 
First of all mans first touch is compromised of FOUR touches, which almost take the ball out of play with no pressure from the opponent. Then, unprovoked, he makes the most deluxe of passes to the opponent.... Lukaku is the gift that just keeps giving pic.twitter.com/yI67jxdQzo
Lukaku with a touch that'll Brighton up your day pic.twitter.com/kMApOCOwtO
Lukaku first touch injuring himself pic.twitter.com/FOr1L2Z9xq
At the moment, the man's broken. 
Nemanja Matic (30) — $50 million
This signing had it all: a reunion with Mourinho, a bargain price for a PFA Team of the Year player, a tantalizing solution for how to solve the Pogba-inspired problem in United's midfield. He was a constant presence in the side in 2017-18, making 36 EPL appearances, and he did score United's Goal of the Season.
SHEEEEESH Nemanja Matic with a beauty! pic.twitter.com/vhxxc61eUn
But the midfield never really clicked, and it's only gotten worse this season (Matic's own form in 14 appearances has been poor, especially in the defeats to Liverpool, Tottenham and West Ham).  
Alexis Sanchez (29) — $39 million 
He's approaching one year at United and what a year it's been — 30 appearances in all competitions and four goals. He's been entirely useless while on a four and a half year contract that pays him nearly $30 million annually. If it all ends in January, he'll go down as one of the worst signings in United history.
2018-19: Year 3
Diogo Dalot (19) — $25 million
He's only a teenager, and he was brought to Old Trafford after making only six appearances for Porto's senior side. However, given Mourinho's ties to Estádio do Dragão, he was obviously informed of the full back's immense promise, and Dalot has already made three EPL starts for United and one in the Champions League. He's one for the future. 
Fred (25) — $67 million  
I think that the effect of nominative determinism should be studied with regards to fans' treatment of players — just like when the other Fred was chosen to lead Brazil's line at the 2014 World Cup, you always knew this transfer was destined to fail. That other Brazilian Fred (the one who's now 35) had to step into the shoes of Ronaldo, Adriano and Robino, and he was hated for it — and for just being Fred.
This Fred was purchased from Shakhtar Donetsk (also not sexy) while rivals were buying the likes of Riyad Mahrez, Naby Keita and Jorginho. Again, Fred doesn't have the appeal of the aforementioned.
Who knows how the 25-year-old's career will turn out at Old Trafford, but he's currently made 11 United appearances without doing anything. For a guy that Mourinho reportedly really liked, he didn't seem to like him all that much.    
Lee Grant (35) GK — $2 million 
Signed as the third-choice keeper behind David de Gea and Sergio Romero, Grant made his only appearance following Romero's red card against Derby County in the EFL Cup. Grant was unable to stop any of Derby's eight penalties in the shootout defeat. All in all, one of Mourinho's better signings at Old Trafford. No personal problems whatsoever and no fancy haircuts.