The Women's World Cup Has Begun — Someone Tell ESPN
Go to ESPN's soccer website and you will struggle to find anything relating to the Women's World Cup.
The Women's World Cup began Friday with host France dismantling South Korea 4-0. It was a thrilling show from Les Bleues, who put down a marker as the team to beat this summer.
But all ESPN.com wants to talk about is Eden Hazard and Euro 2020 qualifiers.
If you went to ESPN.com's soccer homepage looking for Women's World Cup coverage on the first day of the tournament, you'd have to go on a scavenger hunt to find anything. 
Eden Hazard's move from Chelsea to Real Madrid dominated the front page and Josh Sargent's baffling exclusion from the USMNT Gold Cup roster was the next featured story on the site. You have to scroll down quite far to get to the first featured Women's World Cup story. 
There's a small headline for France beating South Korea on the right and a drop-down menu at the top for Women's World Cup coverage, but little else would suggest the summer's biggest soccer tournament is going on in France right now.
What gives, ESPN?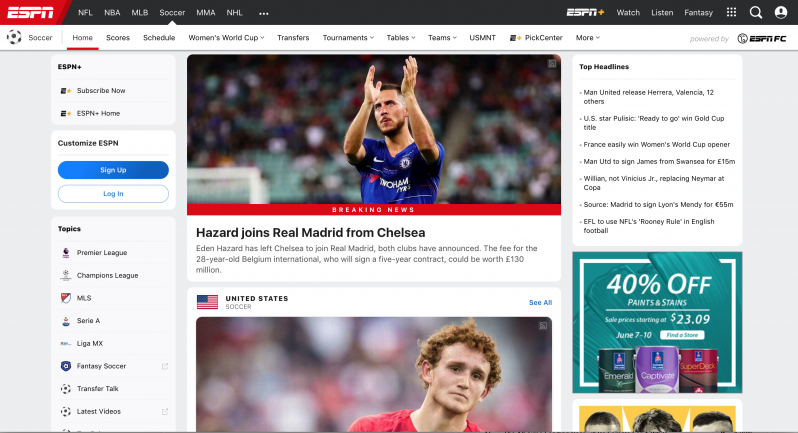 It wasn't just after the France-South Korea match. Beforehand, ESPN was more interested in promoting Friday's Euro 2020 qualifiers than the start of the Women's World Cup. 
It's disappointing to see ESPN downplay the start of the Women's World Cup. Sure, Hazard's move to Real Madrid is big news, but it's not like it was a secret — everyone knew it would happen, it was only a matter of time. An 19-year-old left off a U.S. roster isn't really that big of a deal when you understand the reasons. 
Of course, we know the reason why the coverage is so lacking: ESPN doesn't have the Women's World Cup TV rights. Unfortunately, FOX owns those rights, but it could be worse (we're looking at you, TNT).
Instead, ESPN has the rights to the Euro qualifiers, so it's pumping those matches up as if they're the only thing worth watching this weekend. According to ESPN's "Top Games" section on its soccer home page, Ukraine's 5-0 win over Serbia was deemed topper than the French women's win over South Korea.
The first game of the tournament was a blowout, but you'd expect more (and better) Women's World Cup coverage from the self-proclaimed "world-wide leader."
To be fair, ESPN generally does a good job of covering soccer overall, even if it has shoved most of it behind the ESPN+ paywall (a subscription that's actually worth it, unlike B/R Live). But you'd think they'd give a damn about 2019's biggest tournament beginning on Friday.