This 2. Bundesliga Club Is Unbelievably Screwed, Impossible Not To Sympathize
Someone please check on the Dynamo Dresden supporters and give them a virtual Zoom hug.
The return of the Bundesliga and 2. Bundesliga was a triumph for football fans in Germany and around the world. One club that didn't get to celebrate was Dynamo Dresden. The entire team was placed under quarantine after two players tested positive on May 9.
The club's situation has become chaotically horrible between scheduling, lack of training, league standings and more positive tests. On Thursday, Dynamo Dresden returned another two positive tests — one player and one staff member — to exacerbate a situation that couldn't seem to get any worse.
The decision to quarantine the team for two weeks was the correct decision, team doctor Dr. Al-Sadi said.
Teamarzt Dr. Al-Sadi: "Es zeigt sich, dass das Dresdner Gesundheitsamt mit der viel diskutierten Maßnahme der häuslichen Quarantäne verantwortungsvoll und richtig gehandelt hat, denn so konnten wir eine Infektionskette innerhalb unseres Teams frühzeitig durchbrechen." #sgd1953 pic.twitter.com/kNYNcprgtF
"It turns out that the Dresden Health Department acted responsibly and correctly with the much-discussed measure of home quarantine, because it enabled us to break an infection chain within our team at an early stage," Al-Sadi said.
Dynamo Dresden was sitting at the bottom of the 2. Bundesliga table before all football in the country was shutdown. In the first games back from suspension the two clubs above Dresden recorded victories, enlarging the margin of safety to five points.
Well, all Dresden has to do is bag some points and fight out of the relegation zone, right? Oh wait, the entire team has been under a quarantine that doesn't end until Saturday. With all of the players receiving less team-training than every other club, the majority of Dresden players won't be at the level of fitness as their competitors.
Hopefully the upcoming schedule is light and not too rigorous… NOPE! Dynamo Dresden is scheduled to play seven games in the span of 18 days.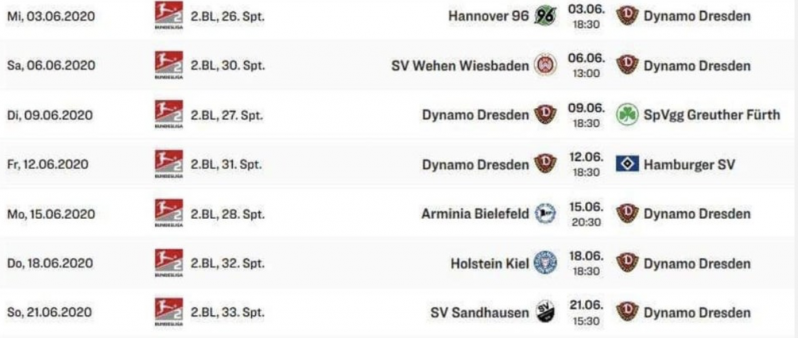 Dynamo Dresden has to climb Mount Everest and has only been given a 2-foot rope and a granola bar. The club realizes the daunting task ahead and tweeted out a hopeful message to the fans.
"Seien wir realistisch, versuchen wir das Unmögliche" Es wird Zeit, dass wir noch enger zusammenrücken, um unser Ziel zu erreichen. Ab Samstag stehen wir wieder auf dem Trainingsplatz und dann nehmen wir gemeinsam einen neuen Anlauf, Männer! #sgd1953 pic.twitter.com/DERMqPGk4Z
"'Let's be realistic and try the impossible.' It is time we moved closer together to achieve our goal. From Saturday we are back on the training ground and then we take a new start together, men!"
Godspeed, Dynamo Dresden. Godspeed.