Current USMNT U-20 Squad Could Be Best Ever, But We Might Never Know
The wealth of youth talent in America is at an all-time high.
The U-20 USMNT had one of its best showings ever at the 2007 U-20 World Cup. 
Led by Michael Bradley, Jozy Altidore and Freddy Adu, the team beat a Brazil loaded with Marcelo, David Luiz, Willian, Renato Agusto and Alexandre Pato to win Group D. The Americans then reached the quarterfinals with a 2-1 win over Uruguay, despite a goal from Luis Suarez. The U.S. eventually lost to Austria in extra time to miss out on reaching the semifinals for the second time ever, but then again the U.S. has never won more than one knockout-round match at a U-20 World Cup.
This year, the U-20 USMNT will play at the U-20 World Cup in Poland. The team could be the best ever in U.S. history.
But we might never know, because some players are too good.
The 2019 U-20 World Cup will run from May 23 to June 15. The U.S. qualified with impressive ease against Concacaf competition and was given a spot in Pot 1 for the draw by virtue of being one of two nations to reach the quarterfinals of the last two U-20 World Cups (alongside Portugal). 
Drawn against Ukraine, Nigeria and Qatar, the U-20 USMNT has a legitimate chance to top its best-ever performance at the U-20 World Cup, a fourth-place finish in 1989. 
Or Gregg Berhalter could decide to call up half the squad to play in the Concacaf Gold Cup, which begins June 15. Or clubs could refuse to release their players for an international youth tournament. 
Tab Ramos, who coaches the U-20 USMNT, has a wealth of talent at his disposal, one that makes the 2007 squad look tame in comparison.
In 2007, Bradley, Altidore and Adu were brilliant in Canada. The team also included Robbie Rogers, Dax McCarty and Chris Seitz. The Americans finished the tournament with three wins, one draw and a loss to go with a plus-six goal differential, in part thanks to Adu's hat trick in a 6-1 rout of Poland in the group stage, which was probably the height of Adu's career. 
Nine of the 21 players on the 2007 U-20 USMNT roster went on to earn senior-level caps, a decent rate of promotion (same as Brazil that year and more than Spain). 
Already though, the 2019 U-20 squad could call on five players with USMNT experience, four of whom have already been capped. (Bradley had eight caps and Adu one before the 2007 tournament.)
Among the eligible players who have appeared for the senior USMNT are RB Leipzig revelation Tyler Adams, Werder Bremen striker Josh Sargent and PSG loanee Timothy Weah, currently with Celtic. This doesn't include Bundesliga regulars Christian Pulisic and Weston McKennie, 20-year-olds who are both slightly too old to play with the U-20 USMNT this year.
(For FIFA youth tournaments, players are eligible if they are no older than the listed age at the end of the calendar year in which it is played. Therefore, the 2019 U-20 World Cup, anyone who is was born on or after Jan. 1, 1999, is eligible. Thus, there will be plenty of 20-year-olds playing at the U-20 World Cup in Poland.)
But Ramos has more than the young dynamos that Americans have already seen tearing it up in Europe at his disposal. Players like forward Ulysses Llanez, Toronto's Ayo Akinola, Philadelphia Union center back Mark McKenzie, Schalke's Zyen Jones, PSV's Richard Ledezma, Bayern Munich's Taylor Booth and Chris Richards and Atlanta United's Andrew Carleton and Chris Goslin. 
But most exciting of all might be Alex Mendez, a midfielder currently with SC Freiburg. Mendez starred at the Concacaf U-20 Championship, scoring eight goals to win the Golden Ball. 
WHAT. A. RIP. 

— U.S. Soccer YNT (@USYNT) November 17, 2018
After the tournament, Ramos had high praise for Mendez.
"If you told me you went to watch Alex Mendez play in qualifying, and after watching him somebody told you he was from Argentina and he played for San Lorenzo — guess what, now he's worth $20 million," Ramos said. "But because he's American, now he's just another kid, which he's not. That's what I am hoping for down the road. That some of our creative American players are also given the benefit of the doubt on the teams."
It's clear Ramos has talent to work with, but how much of it will he actually work with?
It wouldn't be surprising at all to see Adams, Sargent and Weah all called in to play in the Gold Cup this summer with the full national team seeing as they've all received caps within the last few months. Adams and Sargent were at the 2017 U-20 World Cup (Sarge earned the Silver Boot) so they don't really need that additional youth national team experience. 
McKenzie has yet to receive his senior debut, but the 20-year-old (his birthday was this week) was a part of the January camp with Berhalter. Jonathan Amon, a 19-year-old Nordsjælland midfielder, has one cap to his name, but probably won't make it through the deep USMNT midfield to be called up for the Gold Cup and could be available to go to Poland.
But this assumes the clubs let their players go, or they're even picked by Tab, who has admitted he'll have to leave some strong players at home. 
McKenzie has been a regular for Philadelphia's defense, which might be reluctant to let such an important player leave in the middle of the season. D.C. United's Chris Durkin and Atlanta United's George Bello and Carleton were also reportedly not released by their clubs at times in 2018. 
Six months ahead of the U-20 World Cup, Tab Ramos is already running into roster-building roadblocks. @PaulTenorio speaks with the U.S. U-20 head coach: https://t.co/Osd0vINA9E pic.twitter.com/Iwiv1oQX5Q
Ramos has since clarified that not all MLS clubs are unwilling to send players to the youth national team, but it is disappointing the league isn't universally on board. 
A blanket statement that @mls clubs are at odds with U20 YNT is not accurate. We have an excellent, collaborative relationship with MLS clubs and they have helped their players to get to the YNT. 1 or 2 clubs contemplating not sending a player happens all over the world. https://t.co/04ZOic4TAK
European-based players like Mendez, Richards, Booth, Jones and Ledezma are more likely to be released as they are not first-team regulars and the European season will be coming to a close in May. But it's unclear who exactly Ramos will pick for the final squad; for the U-20 USMNT January camp, he opted to call in a number of players who weren't involved in the Concacaf U-20 Championship in November. 
One thing is clear: The U.S. has a lot of talent at the U-20 age, perhaps more than at any time in its history.
With the 2020 Olympics around the corner, the U.S. can look at Tokyo and see a legitimate chance to bring home a medal for the first time ever (on the men's side). 
Assuming the team qualifies (not a given considering the U.S. has missed the last two Olympics), the following roster could be on display in Japan, even leaving out a number of quality youth national team players.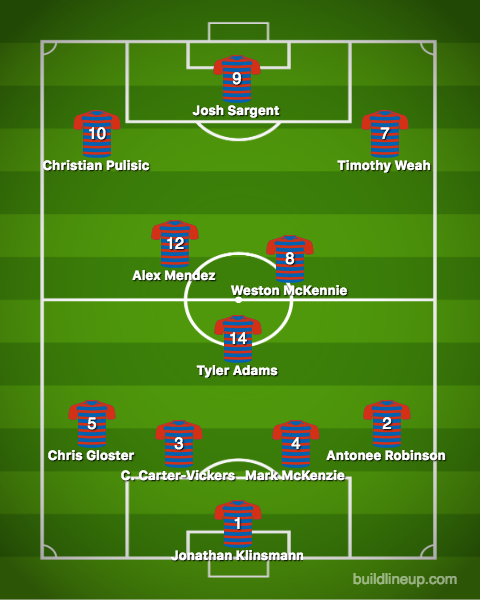 Bench: FW Ayo Akinola, FW Ulysses Llanez, FW Justin Rennicks, FW Jeremy Ebobisse, MF Luca de la Torre, MF Richie Ledezma, CB Erik Palmer-Brown, CB Auston Trusty, RB Reggie Cannon, GK Brady Scott.
Gold medal here we come!