Wenger Watch Carabao Cup Special: Bailed Out By A Child
Eddie Nketiah just blew the doors off.
ALL HAIL ARSENE WENGER, GOD OF SUBSTITUTIONS.
ALSO, ALL HAIL EDDIE NKETIAH, WHO SCORED JUST 15 SECONDS AFTER ENTERING ARSENAL'S CARABAO CUP MATCH AGAINST NORWICH CITY TO TIE THE GAME UP, AND SCORED AGAIN IN EXTRA TIME TO WIN IT.
Seriously: Arsene Wenger substituted in an 18-year-old with one previous Arsenal appearance and he found himself on the end of an Arsenal corner kick immediately and scored, then found himself on the end of another Arsenal corner kick and scored. Eddie Nketiah is already an Arsenal legend, and the first player to score for Arsenal born after Wenger took over the club.
The Wenger-O-Meter has been adjusted to reflect this. Wenger IN!
(arrow moves toward IN, onlookers applaud politely)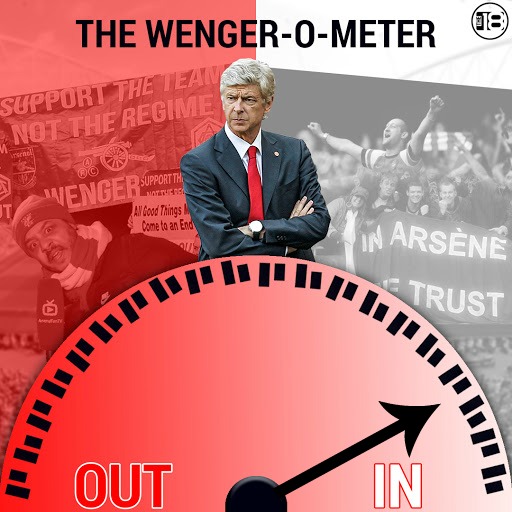 Arsenal forge on in the Carabao Cup, Arsene Wenger being better at winning these things than just about anyone. And just when it looked like Norwich might win, too. Eddie Nketiah! That's rich.
Arsenal also beat Everton on the weekend, which we should mention briefly because we didn't write about it because the Wenger Watch had the weekend off. Arsenal's 5-2 victory was the final nail in Ronald Koeman's coffin at Everton, and the Dutchman was unceremoniously sacked afterward. ANOTHER SCALP FOR ARSENE!