Juventus eked out a 1-0 win over Spezia on Sunday, maintaining its grip on a top-four place in Serie A. After the match, Bianconeri coach Massimiliano Allegri broke some bad news to Juve and USMNT fans with a Weston McKennie injury update: The Texan is done for the season.
After breaking two bones in his left foot in the Champions League on Feb. 23, initial reports suggested the midfielder's return timeline to be about eight weeks, which would see him back on the pitch in late April or perhaps early May, possibly 12 weeks at worst.
Weston McKennie Injury Status
Now it appears the two-month estimate was too optimistic, as the 23-year-old isn't expected to play again for Juventus this season. McKennie won't play again for the Old Lady until next season. 
Juventus and USMNT midfielder Weston McKennie won't come back this season, Massimiliano Allegri announces: "The season is over for Weston because of his injury. He'll be back next season". #USMNT #Juve
This is a big blow for Juventus but a bigger blow for McKennie. 
The Serie A season ends on May 22, so McKennie will only miss about an additional month beyond the best initial estimates, even if Juve somehow makes the Champions League final on May 28. The Bianconeri can probably hold on to their position in the top four to secure Champions League football for next season when McKennie is back; a title challenge or run to the UCL final was unlikely even with McKennie healthy. 
What makes this Weston McKennie injury so devastating is how good the USMNT player was prior to breaking his foot. He was in awe-inspiring form before going down, so good that I don't remember an American male ever playing as well as he was in Europe to start 2022. 
View this post on Instagram
The injury means McKennie will miss the USMNT's massive final three World Cup qualifiers later in March against Mexico, Panama and Costa Rica. The Americans still need at least another win or two to ensure they qualify for the tournament in Qatar later this year, and losing one of their most important pieces will make the path all the tougher for Gregg Berhalter and Co. 
This latest Weston McKennie injury update also puts into question his availability for a potential World Cup playoff. Should the U.S. slip to fourth in the Concacaf qualifying table, it would play the best team from Oceania (probably New Zealand) on June 13 or 14 for a single match, all-or-nothing chance to make the World Cup. It's possible McKennie will be healthy by then, but he won't have had any match preparation to gain fitness given this latest news. 
USMNT supporters will hope it doesn't come down to a playoff, and a win over Panama on March 27 is probably enough to qualify for Qatar, but no one would blame fans if they're starting to feel a little more nervous and getting flashbacks to 2017, when the U.S. just needed a point at last-place Trinidad and Tobago to qualify on the last day and couldn't get it done. 
So what's McKennie up to now that his season is over? He's back Stateside taking in MLS action. McKennie was on the pitch before the LAFC-Portland match on Sunday night, hobbling around on crutches with a boot on his left leg. 
Look's who in the house tonight for @LAFC @TimbersFC

— FOX Soccer (@FOXSoccer) March 7, 2022
McKennie was closely watching his fellow North Texan, new LAFC player Kellyn Acosta, and posed with fans from The 3252, who brought a great atmosphere to the match.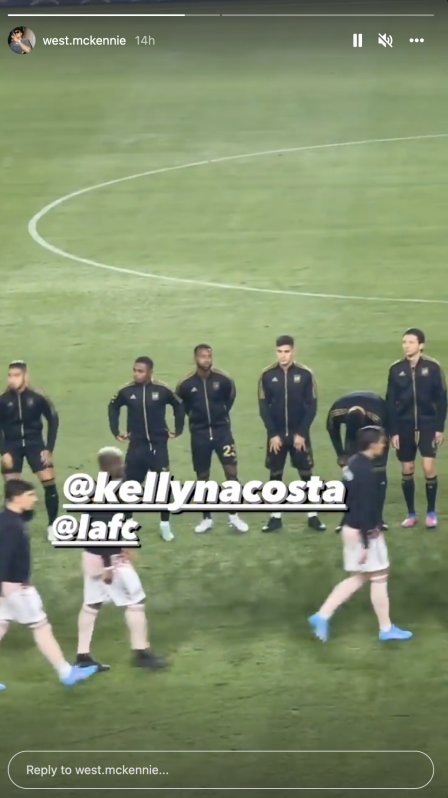 .@WMckennie @LAFC3252 pic.twitter.com/bmbOqCHsY7
We won't see McKennie again the rest of the European season, but I wouldn't mind seeing him pop up at MLS games around the country while he recovers. USMNT fans will be hoping he comes back stronger (or at least as strong as he was) and is ready to go by the time the World Cup rolls around in November, assuming the U.S. is able to qualify without him.
Bookmark/Search this post with