Everton and Ukrainian defender Vitaliy Mykolenko didn't hold anything back when he went after Zenit and Russian striker Artem Dzyuba over Instagram on Tuesday. The Mykolenko Instagram story tagged Dzyuba condemning him and the Russian national team for remaining silent on Russia's invasion of Ukraine.
Mykolenko Instagram Story Directed At Dzyuba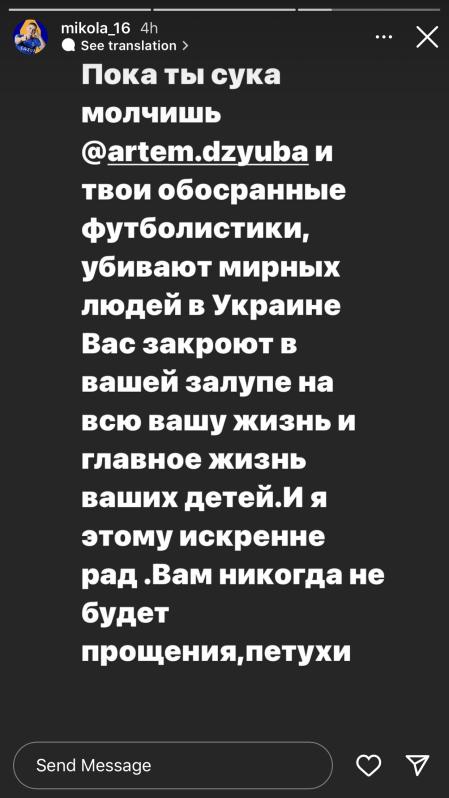 "While you (Dzyuba) remain a silent bitch along with your shithead football teammates, peaceful civilians are being killed in Ukraine. You will be locked in a prison for the rest of your life and more importantly the lives of your children. And I'm glad."
Mykolenko posted two other videos to his Instagram story before the message directed at Dzyuba. The Everton defender shared video of the grim reality taking place in Ukraine and posted security camera footage of Russians shelling Freedom Square in Kharkiv. The video is not for the faint of heart.
Dzyuba responded to Mykolenko's message with an Instagram post of his own. The Russian captain addressed his silence on the issue claiming he's not an expert on the situation but he opposes war. He did go on to say he's proud to be Russian and indirectly called out Mykolenko claiming the Everton defender can't offend him.
Mykolenko played in an emotional game vs. Manchester City on Saturday where he and fellow Ukrainian Oleksandr Zinchenko played against one another.
Amazing moment at Goodison Park between Zinchenko and Mykolenko ❤️ pic.twitter.com/8cdozCocnw
Mykolenko came over at the end of the game, gave his shirt to a young disabled lad and gave me a handshake. How someone can have so much going on and still think to do that
So proud of everyone involved with that banner today pic.twitter.com/rpBe4IIxMf
Zinchenko has also posted to social media in the past week when he wished Vladimir Putin "to die the most painful suffering death."
Only one Russian soccer player has denounced the war publicly as Fedor Smolov called for no war via Instagram when the invasion began.
Russia and Dynamo Moscow striker Fedor Smolov is the first national team player to oppose his country's invasion of Ukraine. pic.twitter.com/63QxogZS4g
FIFA and UEFA have responded to Russia's invasion of Ukraine by banning the Russian national team and club teams from the World Cup and all competitions.
Bookmark/Search this post with