Romeo Beckham Signs Contract With His Daddy's Sister Club
Romeo, 19, is following in his father's footsteps.
Get the best email in soccer.
I can't imagine the pressure of being the son of two world-famous celebrities. No matter what Romeo Beckham does with his life, it will be nearly impossible to live up to his dad, legendary footballer David Beckham, or his mother, famed Spice Girl/fashion icon Victoria Beckham. You gotta give Romeo credit for trying to follow in his father's footsteps, even if he's getting a bit of help from dear old dad in the process.
Romeo Beckham, 19, has reportedly signed a professional contract with Fort Lauderdale CF of USL League One (third tier). The club is essentially a reserve team for Major League Soccer's Inter Miami, which David Beckham runs as club president and part owner. The news was first reported by Miami Total Futbol and later confirmed by ESPN. 
David Beckham's son, Romeo, has signed with Fort Lauderdale CF, the sister club of Inter Miami a source confirmed to ESPN pic.twitter.com/8Q1VU7gPRK
Romeo's Instagram is littered with photos of the blond Beckham training with Inter Miami and now features "Footballer for @fortlauderdalecf" in his bio. 
Interestingly, Romeo won't be the only son of a famous English footballer from Inter Miami. Joining Romeo at Fort Lauderdale is 19-year-old Harvey Neville, son of Inter coach Phil Neville, a former teammate of Beckham's. 
Romeo just celebrated his 19th birthday on Wednesday with a party and giant cake with friends and family in Miami.
View this post on Instagram
Romeo is the second of four Beckham children after Brooklyn (22) and before Cruz (16) and Harper (10). Harper would be eligible to play for the USWNT as she was born in Los Angeles. Brooklyn and Romeo were born in London while Cruz was born in Madrid. 
It's quite clear the Beckham parents love Romeo unconditionally, as evidenced by recent Instagram posts. Below is David Beckham's birthday post for Romeo, followed by Victoria Beckham's comment on a recent training photo Romeo posted.
View this post on Instagram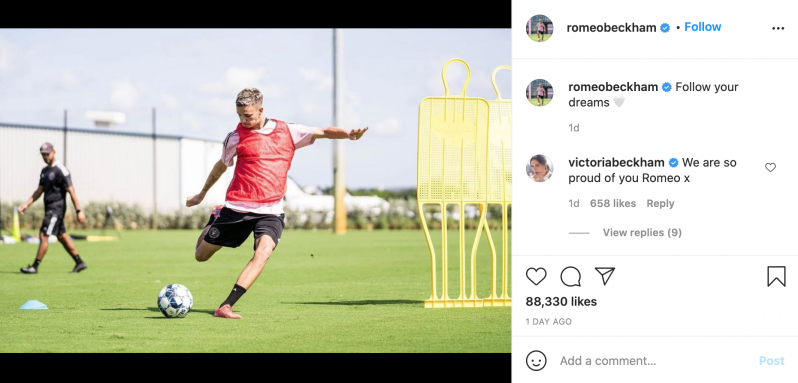 Cheesy or queasy, you can't say the Beckham's don't support their children. You love to see it, though I wonder how Romeo feels about such public displays of affection. 
According to ESPN, Romeo is eligible for selection for Fort Lauderdale's league match against Chattanooga Red Wolves SC on Saturday night, which will conveniently be available on ESPN+ at 7:30 p.m. ET. 
Bookmark/Search this post with