I'll be honest, I don't spend a lot of time thinking about how we don't have promotion/relegation in the United States. I guess I've become numb to the discussion since it seems like it's never happening. But it's days like Sunday, with Everton, Leicester and Leeds dancing with the devil for the safety of 17th-place, when it's just unfathomable that we don't get to enjoy this spectacle stateside.
They call it Premier League "Championship Sunday" on NBC, and while the moniker is supposed to delineate a title race, the fact is that Manchester City lifting the trophy over and over isn't why we tune in — it's the race to avoid the EFL Championship that really captivates.
So I had USA Network (Everton vs. Bournemouth), Telemundo (Leeds vs. Tottenham) and Syfy (Leicester vs. West Ham) all rolling.  
Three clubs enter, only one survives: The Premier League relegation battle as it happened
The action got off to quick start at Elland Road where Harry Kane put Tottenham up 1-0 on Leeds inside two minutes. Leeds always needed a miracle to climb from 19th to 17th, but the dream was effectively over when Pedro Porro got inside Pascal Struijk and the defensive shape fell apart.   
A nightmare start for Leeds as Harry Kane scores within the first two minutes of the match.

— NBC Sports Soccer (@NBCSportsSoccer) May 28, 2023
We then had our first dramatic twist of the afternoon. With Everton and Bournemouth locked at 0-0 at Goodison Park, Leicester City put one past West Ham at the King Power in the 34th-minute to momentarily climb to safety and doom Everton to the Championship. 
Harvey Barnes was the hero.  
HARVEY BARNES SCORES FOR LEICESTER!

As it stands, they are OUT of the relegation zone on Goal Difference.

@SYFY and @peacock pic.twitter.com/PHjaKxGZDI

— NBC Sports Soccer (@NBCSportsSoccer) May 28, 2023
Just before halftime struck across the league, Leeds almost grabbed an equalizer off a monstrous Weston McKennie throw but the chance was headed wide and then Rasmus Kristensen volleyed over. At Goodison Park, James Garner curled one towards to the top corner but Bournemouth keeper Mark Travers tipped it over. 
There were signs of life for both Everton (seven shots, three on target) and Leeds heading into the second halves, but Leicester was living the dream (by virtue of a significantly better goal difference than Everton).
The teams emerged for the second halves; oh to have been a fly on the wall for Sean Dyche's team talk.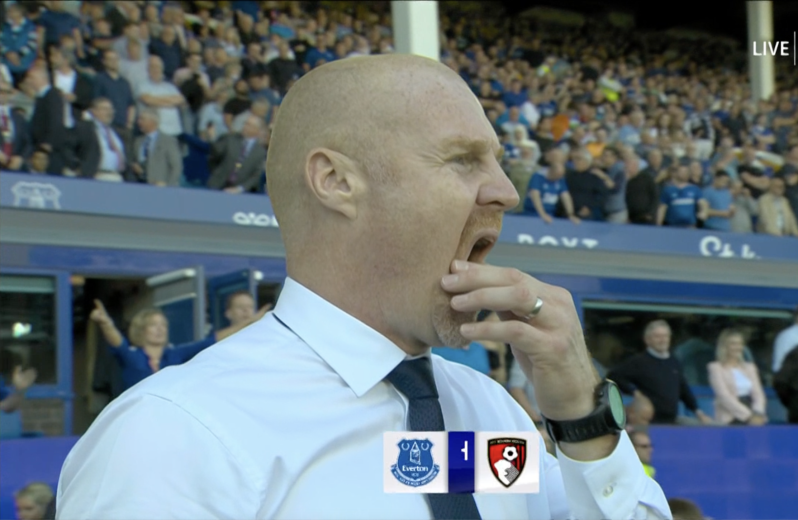 The death knell quickly sounded for Leeds as Porro put Spurs up 2-0 in the 47th. It ended 4-1 Tottenham. The biggest winner is probably American manager Jesse Marsch — he had Leeds in 17th before getting sacked. Leeds won four matches under Marsch and then only three the rest of the way under Michael Skubala/Javi Gracia/Sam Allardyce.
Leeds going down to the Championship means that McKennie returns to Juventus, Tyler Adams likely gets sold for big money and Brenden Aaronson gets to beef up in the second tier.
Leeds United look set to head to the Championship.

— NBC Sports Soccer (@NBCSportsSoccer) May 28, 2023
Back at Goodison Park, there was a sense that the all-important goal wouldn't come for the Toffees, espeically after Demarai Gray was given a golden opportunity in the 50th minute but Travers saved again. However, in the 57th-minute Abdoulaye Doucouré literally set off the fireworks with an absolute belter.
ABDOULAYE DOUCOURE BLOWS THE ROOF OFF AT GOODISON PARK!

— NBC Sports Soccer (@NBCSportsSoccer) May 28, 2023
With 30 minutes to play across the matches, Everton was again safe and Leicester was headed for the Championship with Leeds.
Leicester then made it 2-0 against West Ham through Wout Faes, so with the Foxes seemingly wrapping up all three points, all attention turned to Goodison where a Bournemouth equalizer would save Leicester and send Everton down.
All 40,000 inside the ground were on their feet.
It's getting HEATED at Goodison Park!

— NBC Sports Soccer (@NBCSportsSoccer) May 28, 2023
Over at the King Power, West Ham pulled one back with Pablo Fornals making it 2-1 and while that changed nothing in the grand scheme of things, both Leicester and Everton were suddenly on the back foot in their respective matches.
We hit 90 minutes in both games: 10 minutes of stoppage time were given at Goodison (the collective groan was audible) while six went up on the board at the King Power.
The full-time whistle sounded first at the King Power with Leicester just doing enough to preserve the 2-1 win. The players and fans quickly turned to the electronics to cheer for a redeeming Bournemouth equalizer.
Pickford made one good save off a Matías Viña volley. Doucouré threatened going the other way. Yerry Mina used the dark arts. The full-time whistle sounded and Everton's supporters stormed the pitch.
Scenes from Goodison Park, The King Power Stadium and Elland Road as Everton stay up, Leicester & Leeds go down.

— NBC Sports Soccer (@NBCSportsSoccer) May 28, 2023
After a nine-year stay in the division and perhaps the most memorable Premier League title of all time (2015-16), Leicester are out. They'd finished as high as 5th-place as recently as 2020-21 but this is the world's most unforgiving league.
Everton's run of avoiding relegation since achieving promotion in 1954 continues. 
Leeds lasted three years in the EPL, but Major Leeds Soccer was only around for one.
Bookmark/Search this post with