Ukraine phenom and star Chelsea signing Mykhailo Mudryk has apologized for a TikTok video he posted last summer where he said the N-word. Mudryk deleted the video, and his representative told the Sun that he was sorry.
The 22-year-old and another person were reciting the lyrics to rapper Lil Baby's song "Freestyle" when he said the racial slur.
Mykhailo Mudryk TikTok Video
| Chelsea star - Mykhailo Mudryk apologises after using the N-word in TikTok video for fans.

Mudryk's representative told The Sun: "Mykhailo is deeply sorry for any offence caused by the video posted on his TikTok account last July."

pic.twitter.com/EnKUbrokPz

— Footy Eye (@Footy_Eye) January 31, 2023
"Mykhailo is deeply sorry for any offense caused by the video posted on his TikTok account last July," his representative said. "Whilst his intention was solely to recite lyrics of a song, Mykhailo regrets his decision and wholeheartedly accepts it was not appropriate. The video has since been removed."
Soccer anti-racism organization Kick It Out says that any use of the word regardless of context should be condemned.
"Kick it Out condemns the use of all racial slurs, irrespective of context. The use of this term by high-profile figures in football can only serve to alienate people from the game," the organization said.
Mudryk has had a rough week on social media. He's also facing criticism for an Instagram story he posted on Friday that showed the Israel flag and Ukraine flag shaking hands.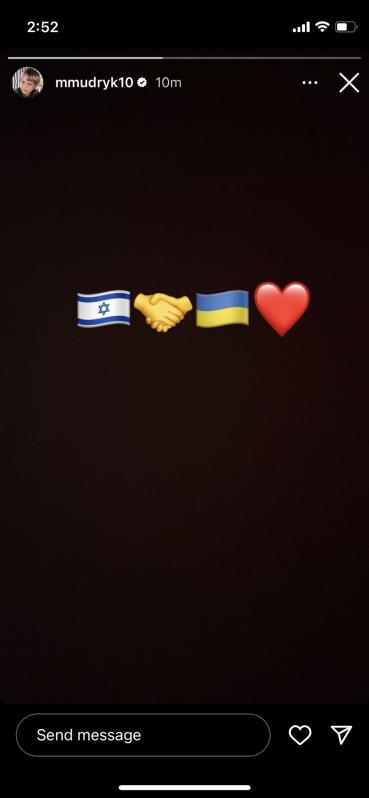 He posted this after news was revealed a Ukrainian woman was one of seven people killed in a shooting at a synagogue in Jerusalem on Friday.
After posting the story containing the Israel flag his comments have been flooded with hate messages and calls saying, "Free Palestine."
Bookmark/Search this post with