During Sunday's enthralling clash between Liverpool and Manchester City, I was struck by how fun it was to watch the two best teams in England actually struggle. The two titans breeze through most matches with such dominance, it's remarkable — and incredibly entertaining — to see them play equals where they must fight for every inch.
Wednesday's Champions League quarterfinal second leg against Benfica was mostly another stroll for Liverpool. Jürgen Klopp sent what amounts to a 'B' team onto the Anfield pitch, and though Benfica never gave up, the 3-3 draw was more than enough to see the home side through to the semifinals 6-4 on aggregate.
Having just played Premier League leader Manchester City to a 2-2 draw on Sunday and scheduled to face Pep Guardiola's side once again in the FA Cup semifinals on Saturday, Klopp rested many of his top players entering the second leg against Benfica with a 3-1 aggregate lead. So good was Liverpool's bench on Wednesday, those 12 bench players alone could've won the Portuguese league, in which Benfica currently sits third. Mohamed Salah, Sadio Mané, Virgil van Dijk, Thiago, Fabinho, Trent Alexander-Arnold and Andy Robertson all watched most or all of the match from the sidelines.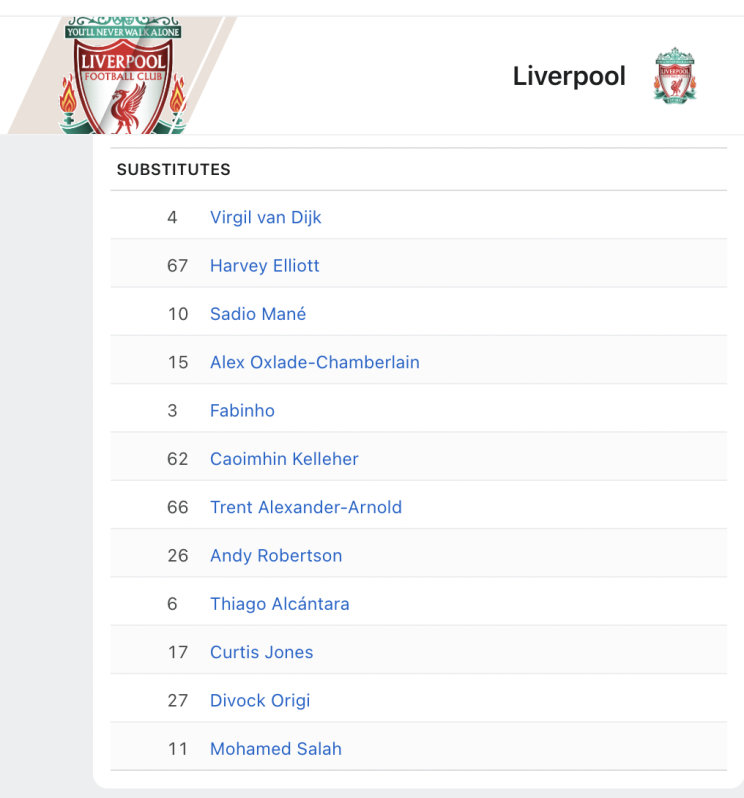 Not that it mattered too much for Liverpool, which had some pretty dang good players on the pitch to start, too. Luis Díaz, Roberto Firmino and Diogo Jota had little problem opening up the Benfica defense led by center backs and Premier League rejects Jan Vertonghen and Nicolás Otamendi. The Reds struck first and were never troubled. 
The biggest drama of the match was on the broadcast. While CBS was rewarded with a fun 3-3 match on national TV in the U.S., it was bizarre the game was televised but not the Man City-Atlético Madrid brawl only available in English on Paramount+. To make matters worse, the commentary of Clive Tyldesley and Rob Green had an awful echo at the start, so bad the CBS studio team took over announcing duties before turning on the announcers from the world feed. Finally, after 14 minutes, Tyldesley and Green had their audio working. 
Liverpool vs Benfica Highlights (Second Leg)
Liverpool stepped into cruise control in the 21st minute when Ibrahima Konaté easily outjumped the Benfica defenders to reach a header on a corner for the game's first goal.
Though Gonçalo Ramos pulled one back thanks to an assist from James Milner before halftime, Firmino struck twice in the first 20 minutes of the second half to make it 6-2 on aggregate and effectively end the tie.
Goals from Roman Yaremchuk and Darwin Núñez pulled Benfica within two goals of an equalizer, but Liverpool quickly regained control and you never felt like Benfica would have enough to overtake the Reds. 
Liverpool advances to face Villarreal in the semifinals, where Klopp is again unlikely to face a team on the same level as his. But Unai Emery has shown his masterful management abilities in coming this far after knocking out Italian giant Juventus and German giant Bayern Munich in the two rounds prior. 
Regardless of the result, we (probably) won't be seeing a 6-4 aggregate score when Liverpool and Villarreal face off in late April/early May. 
Bookmark/Search this post with