Jozy Altidore Suspension Upheld, "Snitchin" Kljestan's Conscience Remains Clear
An independent panel ruled there was not enough evidence to overturn Altidore's red card against NYRB.
Get the best email in soccer.
In the end, the snitches didn't get any stitches. Jozy Altidore believed that video evidence would clear him of any wrongdoing during the tunnel bust up between Toronto FC and New York Red Bulls, resulting in red cards for both Altidore and Sacha Kljestan, but an independent panel has upheld Altidore's one-game suspension after being unable to find enough evidence to overturn the ruling.
Altidore will now miss Tuesday's first leg Eastern Conference final between Toronto and the Columbus Crew at MAPFRE Stadium in Ohio. 
"Jozy's suspension has been upheld," said Toronto manager Greg Vanney. "The referees had given him a red card, so the burden of proof was on us to prove that it wasn't. We weren't able to do that with video we provided because there were still some gaps in the video."
This will be a huge disappointment to Altidore following the striker's conviction that the appeal would prove successful. 
"He came up behind me, tried to like grab or whatever, and I just pushed him off me, and that was it," said Altidore previously. "Then I walked right into the locker room. I didn't even see or know about the whole brawl thing until later on. I was not involved in any way. I defended myself quickly and that was it. The video doesn't lie. And hopefully the league is going to do the right thing, which I'm sure they will." 
Both players were sent off at halftime with Toronto ultimately advancing on away goals. In the immediate aftermath of the fracas, Kljestan said: "At halftime, (Altidore) shoved me into the wall. And so I have a clear conscience. I don't feel like I deserve a red card."
Altidore issued a legendary response on Twitter before quickly deleting it.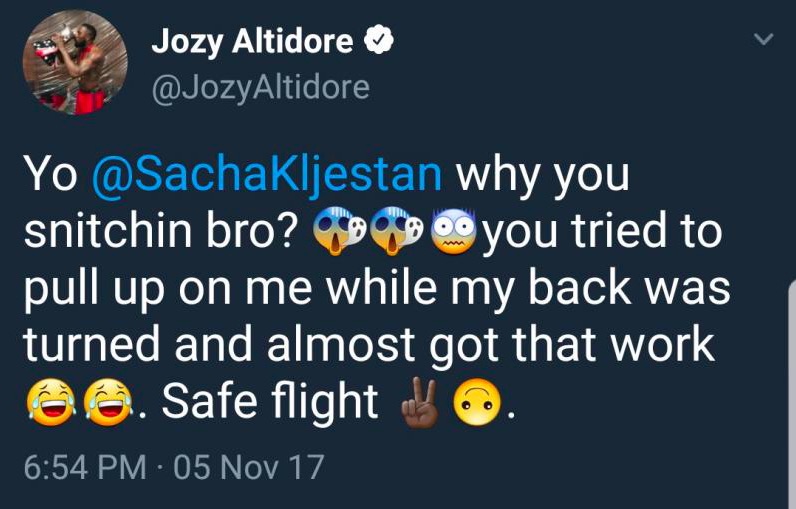 It's great news for Columbus — there's definitely something "it's written in the stars" growing for the Crew.
Bookmark/Search this post with