Two Massive, Star-Studded FIFA Tournaments Begin This Week With National Coverage
The FIFA Stay and Play Cup starts Wednesday while the eMLS Tournament Special begins Sunday.
Get the best email in soccer.
Following Burundi's announcement on Monday that its league is now suspended, one of the final bastions of actual football in the world fell by the wayside. So what do we do now? If you're jonesing for some familiar faces and the sight of that sphere rolling around a green carpet, FIFA 20 has got you covered this week with the beginning of two massive tournaments featuring some world-renowned players.
Stateside, we've got the eMLS Tournament Special beginning on Sunday, April 19 at 7 p.m. ET on FS1 and FOX Deportes. Over the course of four weekends, followed by a final round on May 17, 16 MLS clubs will battle it out while being represented by one of their players, as well as their eMLS pro in a single-elimination tournament.
Matches will be two legs, consisting of MLS players squaring off in the first leg and eMLS players contesting the decisive second legs (this will all be done remotely with participants playing from home). The team with the best aggregate score moves on.
The participating MLS players include Javier "Chicharito" Hernandez (LA Galaxy), Paul Arriola (D.C. United), Nani (Orlando City), Aaron Long (NYRB) and Sean Johnson (NYCFC). Here's the full bracket.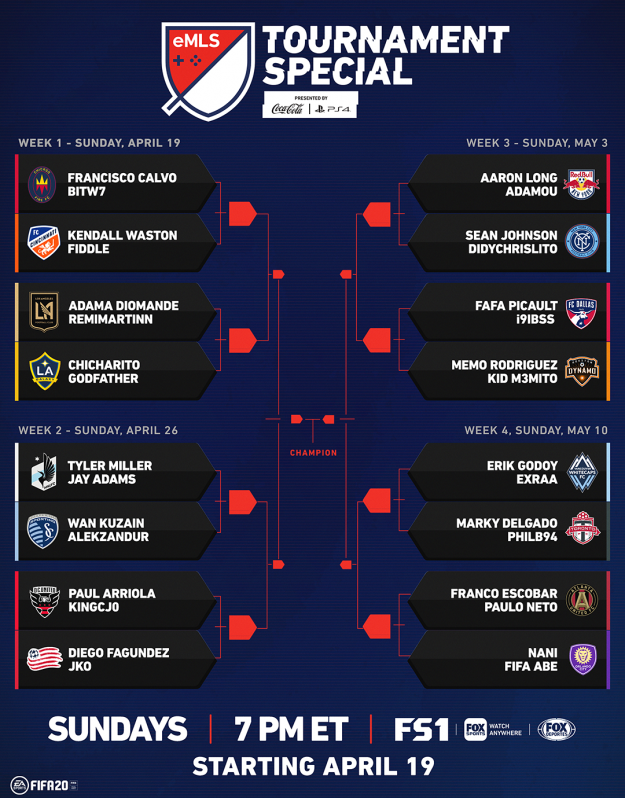 If European club football is more your thing, the FIFA 20 Stay and Play Cup begins Wednesday, April 15 at noon ET and continues over the next five days, culminating in the final on April 19.  
20 of Europe's most historic clubs will take part with a lone representative for each side, including: Trent Alexander-Arnold (Liverpool), Cesar Azpilicueta (Chelsea), Benjamin Mendy (Manchester City), Serge Aurier (Tottenham), Phil Foden (Manchester City), Vinicius Jr. (Real Madrid), Joao Felix (Atletico), Juan Bernat (PSG), Justin Kluivert (Roma), Sergino Dest (Ajax) and Achraf Hakimi (Borussia Dortmund).
It'll be a single elimination knockout tournament with the winner advancing and the loser getting bounced. 
20 historic European clubs
20 pro footballers
$1M for charity

Stay Home. Play Together.

Join us for the #stayandplay Cup starting April 15 https://t.co/1K7xWNze1y pic.twitter.com/aiHVrFjMFO

— EA SPORTS FIFA #stayandplay (@EASPORTSFIFA) April 9, 2020
You can watch the tournament play out on the EA SPORTS FIFA Twitch channel, while Telemundo is also going all in with coverage on the Telemundo Deportes app, TelemundoDeportes.com and Telemundo Deportes' Twitter, Facebook, Twitch and YouTube channels, starting Wednesday at noon ET.
Here's the Telemundo schedule for Wednesday through Friday. (We're looking forward to Thursday's match between Liverpool's Alexander-Arnold and Ajax's Dest.)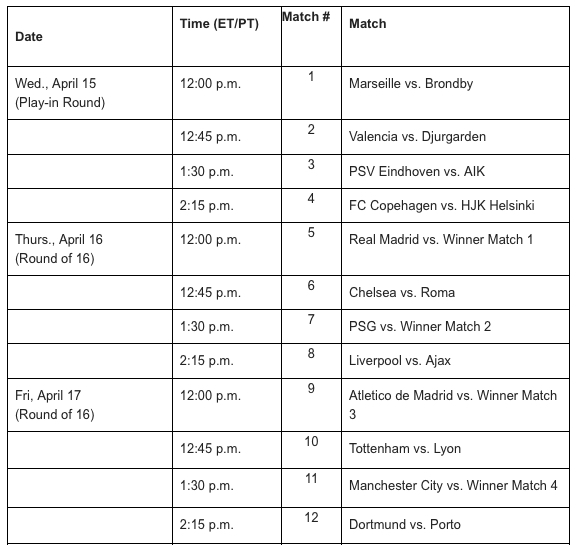 As part of the tournament, EA will donate $1 million to Global Giving's Coronavirus Relief Fund.   
Bookmark/Search this post with